The 2017-18 season starts tonight with the first UCL qualifier against Linfield taking place in Belfast. Champions League games don;t normally take place on a Friday night, but as its the marching season over there, it seems the authorities couldn't guarantee everybodys safety.
Thats a palusible enough excuse, but one does wonder what would have happened if the game had been played the day after sevral items of Celtic memorabilia -including effigies of supporters and players-were burnt in great big bonfires.
Although we kind of expected that, after all, they claim it is their culture, take a step outside and have a look back in.
A club has been forced to move the date of a game because authorities couldn't guarantee their safety in a town where effigies and emblems were publicly burned.
Little wonder Celtic are not taking their ticket allocation, despite their being a large support in the city.
Get in, get a result, and get out.
Brendan Rodgers was diplomatic;
"This is a game that the football club haven't been able to have assurances for their safety….which is sad for me. That is a problem for me. Celtic as a football club have to protect their supporters."
Interestingly, the PSNI said that this was not their decision, but entirely the decision of Celtic..Celtic replied with two statements, both of which ended in "…Off. "
Whatever the politics,and  whatever happens off the field, the job must be done on the field.
Scottish clubs have so far racked up one win, one draw and three defeats in these early games, and still no one is pushing for an earlier start to the season.
Apparently, the counter argument is that clubs will suffer in the later stages of tournaments.
Yeah. Because thats been an issue.
The problem right now is that clubs are out of Europe before the domestic season has started, largely down to a lack of match fitness.
Latter stages, and international tournaments , are something that used to concern us, but now now.
The disastrous adventures of St. Johnstone and "rangers " will have further weakened the national co eficient, which means the vicious circle is growing ever more vicious.
Yet another failing of the men who run the game.
Anyhoo, back at the ranch ahead of the game, all seems well, with new signing Olivier Ntcham finding a pal almost instantly.
We would pause here to remind you that we told you he had signed before the media did, again, but one doesn't like to blow ones own trumpet.
Oh, just once then..
Ntcham played alongside Moussa Dembele for France under 20, and seemed happy to rekindle an old friendship.
Though at that age I suppose anything longer than a couple of beers together could be classed as a long friendship.
Those of you not going to the game, no doubt a few will sneak in, and we'll show you how in a moment, can watch on Premier sports, exclusively, as the home club have all tv rights for the game, and chose to seel them to a company that very few are subscribed to.
The rights for this match belong solely to Linfield & they sold their UK & Ireland rights to Premier Sports.
Those tv rights, incidentally, fetched a lot more than had the second leg been on Belfast, which is another reason why Linfield wouldn't switch venues.
If you are going to try to get in, heres a visual aid to help you dress up.
Start from the right and work your way back. You'll be sorted.
With a hostile crowd behind the hosts, the manager may be excused for fearing a repeat of the result of his first European tie, the infamous 1-0 defeat to Lincoln Red Imps in gibraltar, the game which saw the end of Efe Ambrose in a hooped jersey;
"The game in Gibraltar was interesting. It was my first chance to see the team in a competitive fixture," 
"The conditions were tough and difficult – but there was also a vulnerability there in the team. You sensed that.
"It was my job as a coach to make sure that game was never going to be a symbol of our future.
"It was an opportunity for me to look at it and go 'OK – there's an issue here'. The club hadn't qualified for the Champions League for a couple of seasons. So it was a question of how I could help the players deal with this pressure, the mental side of the game.
"I knew that tactically and technically, we would get better as we went on. Now, 12 months on, I think we would all agree it is a different team with a different mentality."
I think we can safely say that.
"We have gone into some tough places as a team and I think what we have developed is a mentality and a one-ness that pulls you together,"
"If you go to Ibrox, in front of 50-odd thousand, with 40-odd thousand opponents against you, you have to be ready." 
Each one of those just as good as the eleven facing the team on the park, as well.
Meanwhile, there's been an interesting development on the transfer front, although it may come to nothing.
Steven Caulker, currently with QPR is going to leave the club, and he needs to kickstart what was a promising career, that has stalled due to drink, gambling and whatever else he's been up to.
Rodgers revealed…
 "I spoke to Steven as a former manager. The kid messaged me. He has been suffering for the last period of time and he looked to me as someone who looked after him when he was 19 and I was only too happy to reach out and help. 
"We spoke at length about his life and his situation and just where he is at. He is a boy that if he can get it together and find a peace then he is an awesome talent.
"He is 6ft3ins, quick, strong, he can play. You would take him to war with you. He is unbelievable, both boxes, he is an incredible young footballer but he is suffering.
"Having had experience in trying to help him then I was only too happy to do that. At this stage there is nothing more than that.
"He is obviously a QPR player and I was only too happy to speak to him and help him try to shape his life." 
so Is Brendan considering moving for him ?
 "Not at this stage. He is a boy that I have spoken to. It was only recently, the last few days. He is a big, talented player and he is only 25 but bless him, we'll see with that. Initially it is a cry for help.
"I don't think it is worth going there yet." 
We'll have to wait and see.
The SPFL have a new chairman, 68 year old Murdoch MacLennan.
No, i don;t know how he could possibly be deemed qualified for the job either.
You may remember him from the Andy coulson phone hacking trail, the one that finally saw the end of the News of the World.. court reporter James Doleman does..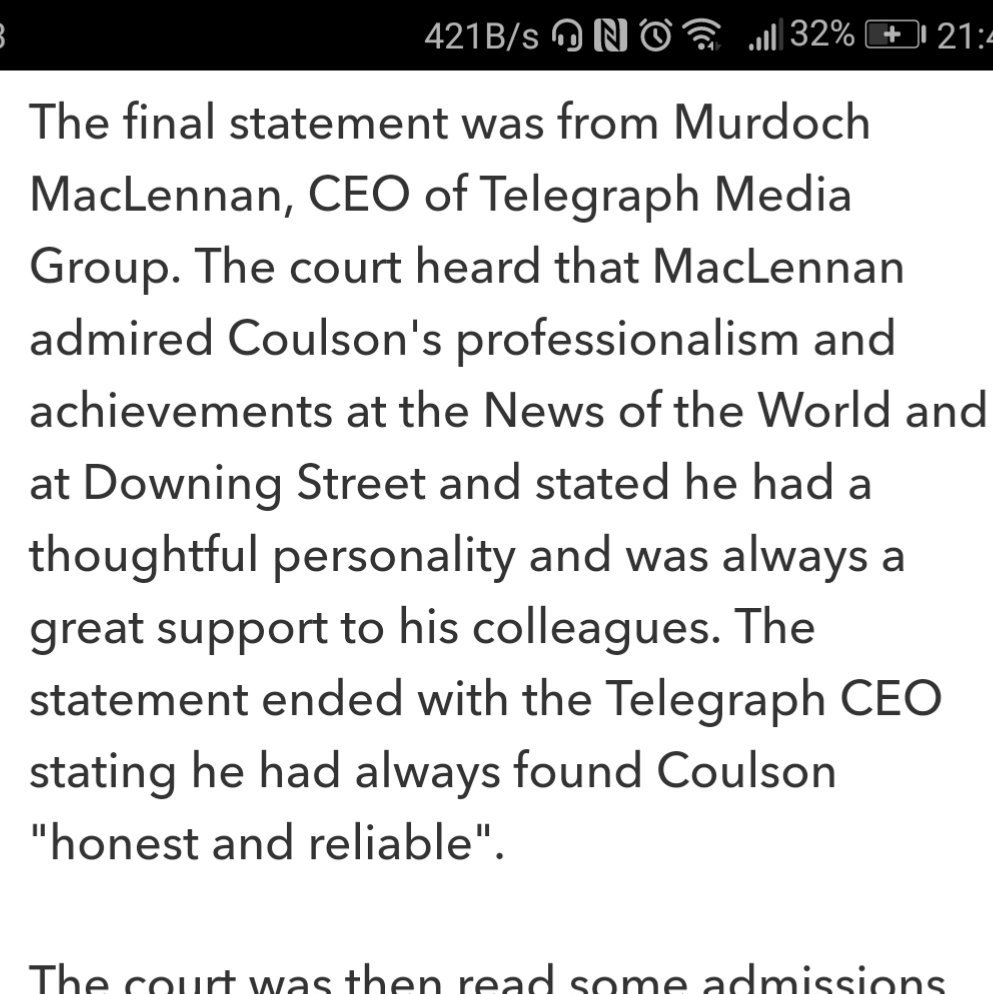 The jury weren't convinced by his heartfelt plea, and Coulson was found guilty.
And if you know a man by the company he keeps, may I be the first to say to MacLennan..
Its Friday, which means we get the chance to brighten up someones day by awarding them the title of Etims
Knob of the Week 
A late entry again this week, and its attention seeking conservative councillor Todd Ferguson, who is
But not, it seems, in that order.
Best of luck tomorrow lads 
He represents Dalry and West Kilbride and is one of a new generation of UKIP tories who have no UKIP to go to.
Common space's Michael Gray reminded us of a what nice guy Ferguson is..
Ferguson was accused of having a "xenophobic outlook" for questioning a SNP opponent's views for being Dutch-born. Ferguson "apologised" and deleted the attack. 
Well done, Todd.
This weeks Etims
Knob of the Week  
There was no diary yesterday due to circumatances beyond my control. actually, as a result of a refreshmant or two the night before, most things were out of my control, including, somewhat significantly, the ability to waken up.
We go back to Wednesday for this picture..