Celtic Diary Tuesday June 27: King's Scorched Earth Policy
Its becoming a little difficult to understand the transfer policy if whats being reported is true.
Celtic have apparently made a move for John McGinn of Hibernian, presumbly to weaken a potential title challenger for next season.
Along with Scott Allan,  and Ryan Christie, he could form the basis if an emergency midfield should the regular lads all catch some kind of food poisoning on a night out.
The spirit of Ronny Deila remains at the club.
So does the family spirit.
Brendan rodgers has taken Anton Rodgers on trial…
Now it may be that the managers unique insight into the player means we have a hidden gem. An insight that allows him to see what others cannot.
Known as " Released Rodgers " throughout his career, the 24 year old has spent a fairly unremarkable career in Englands lower divisions, and we can count ourselves lucky that our manager, who remembers him from the school run and a couple of birthday parties, has such a great memory.
In Brendan We Trust….
Apart from that, it appears Doo Lally Dave King has only gone and upset the main men back at the ranch.
His claims that Celtics titles don't count because they were won without EBTs or something have shocked the management and board-well, the board members who take their position seriously-into releasing a few more quid into Brendans pot, and you'd be surprised how close we are to the first big signing this summer.
I was, and even more surprised to find out that we might have been right about who he is.
All that remains to be done is for everyone to agree on a few minor details, and you can expect an announcement either later this week or early next week.
Which may have been what we said last week, and will probably be what we say next week as well.
Though it will be worth the wait.
King knows he has upset the high heid yins at celtic, hence his retraction this morning..
"It does bother me if there's a sense that I've been disparaging because I thought I did the opposite,"
"I, in fact, said two things at different points during the interviews. One was that we were incredibly disappointed and surprised that we ended so far behind Celtic and, of course, Aberdeen. I said that it had been a wake-up call to have had the humiliation of the 5-1 defeat at Celtic Park, in the sense that, having beaten Celtic in the Scottish Cup semi-final the previous season, we had been over-optimistic.
"The 5-1 game was a reality check, which galvanised us into making the change we did on the management side, on our structure and with the players we brought in. So that was giving Celtic complete credit for their performance in the league. 
"They won the three Scottish competitions without a defeat and I have nothing but respect for Brendan Rodgers and the Celtic team for what they achieved.
"I do not underestimate what Celtic achieved on the field. However, in the interviews I said that – when I look back over the four years when we were in the lower divisions – in terms of our recovery as an institution and as a club, we have narrowed the gap substantially." 
He then clarified his "two in a row " nonsense…
"I was making an argument that the context of the rivalry about nine or 10 in a row does not relate to any clubs other than Rangers or Celtic.
"It's not an insult to Scottish football, as some have said. It's nothing to do with Scottish football.
"I've never, ever heard an Aberdeen fan, Motherwell or Falkirk fan talk about '10 in a row'. It's something to do with Celtic and Rangers alone and for anyone to say otherwise is just wrong. It's nonsense. 
"It's a competition between these two clubs, against each other, dominating each other – and that can't happen unless they're playing at the same level, which didn't occur for a while until we came back into the Scottish Premiership.
As I see it, my contention is a perfectly logical point of view." 
King had been trying t whip up support from the hordes as the knives are well and truly being sharpened behind his back. This scorched earth policy has backfired as although the Ibrix support has proved to be of unyeilding stupidity in the past, it appears this time they haven't fallen for it.
Well, some of them, anyway..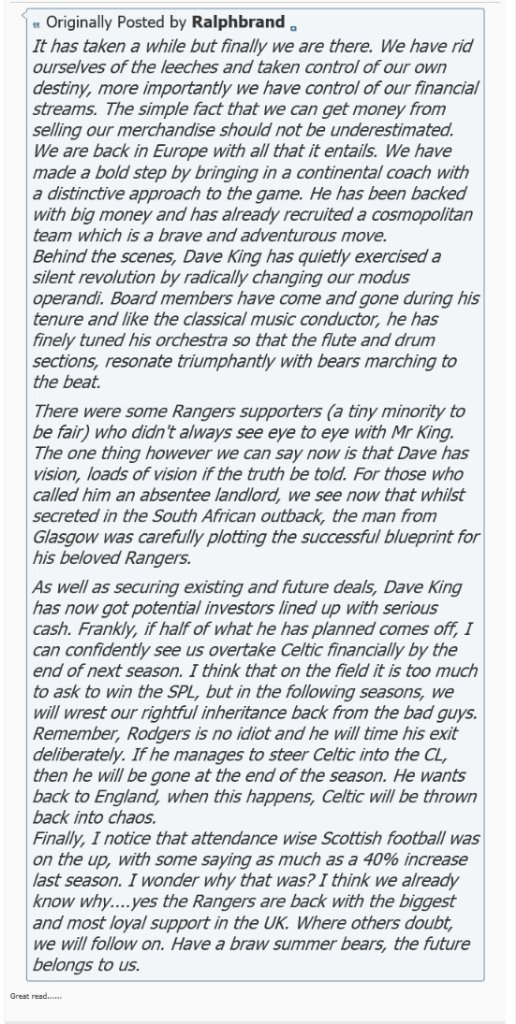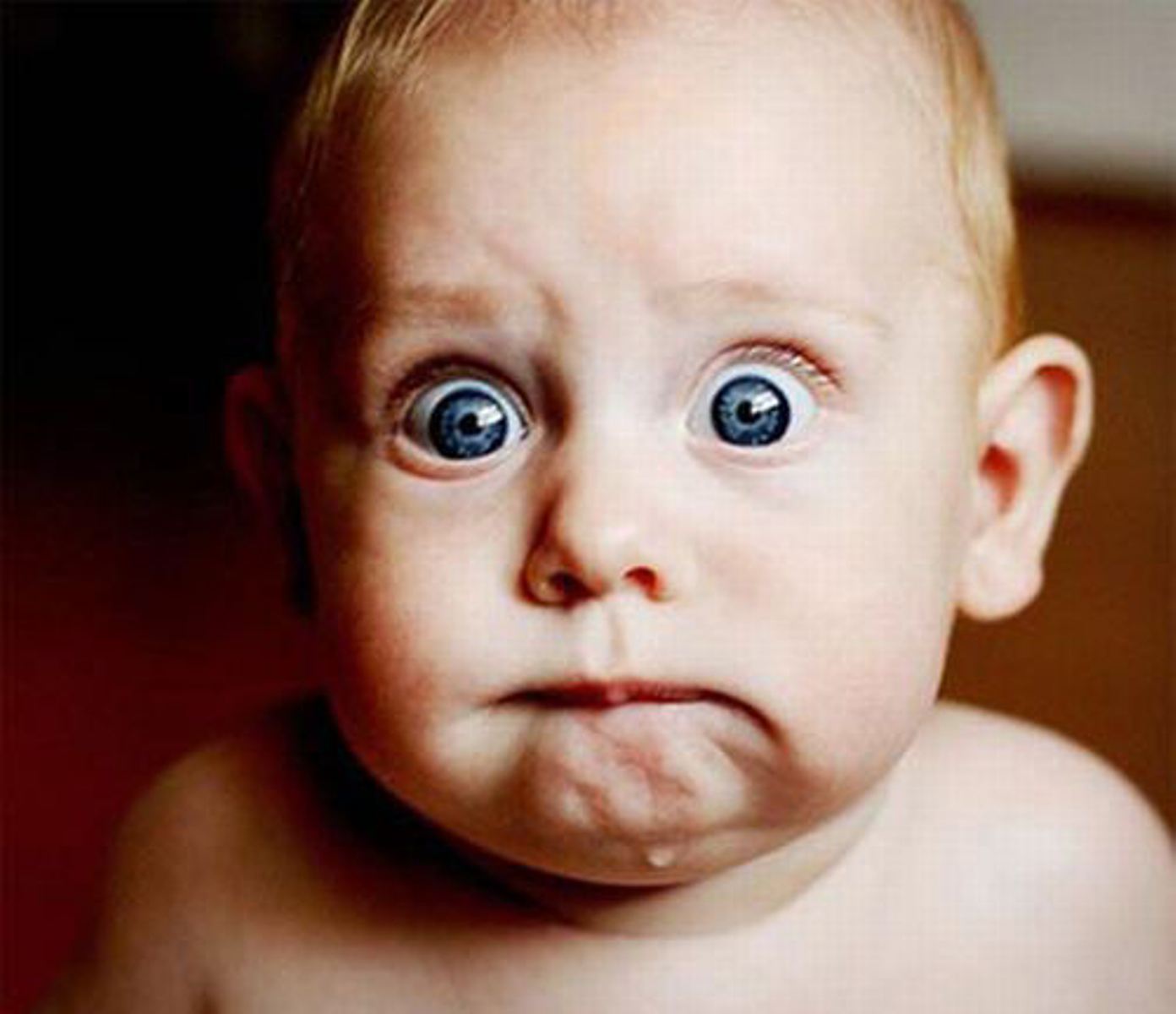 Meanwhile, as Celticv flew out to Austria for a couple of friendlies, assistant manager Chris Davies seemed relaxed about things, and explained why the European qualifiers might not be so trouser staining this time round..
"It's a little bit different in England where you can have six or seven, or sometimes even eight weeks away.
"Some players have had the three weeks' rest after the cup final while others have had 10 days and some possibly even less.
"So we've managed that in terms of physical conditioning to make sure that they are in the best place possible.
"But we have noticed straight away that they've come back in really good condition and that is linked to not having such a long break.
"So we're happy with that, they are nice and fresh and have great enthusiasm and energy for the new season, so that's all good."
 "Everyone's here, everyone's happy. We've had a great week and it was great for everyone to come together again after being away from the club for a few weeks. There's a great spirit and a good feeling." 
We'll see….
Speaking of the qualifiers, the Daily Record found Joe miller, the ex Celt, and got him to tell us all about when he played at Linfield for Aberdeen…
Joe Miller wasn't laughing as he recalled a training session when he feared he'd become target practice at Windsor Park.
The ex-Celtic winger was on Aberdeen duty in 1995 for a bounce game in Belfast when he lit up the session by becoming the subject of friendly fire for local Linfield fans.
It's with a touch of humour and horror that the 49-year-old Hoops legend recounts the tale of being the focus of neighbourhood sharp-shooters in a week which saw his old club line-up a possible Champions League second-round qualifier with the Northern Irish side. 
"I've played at Windsor Park in a friendly and trained there with Aberdeen when big Roy Aitken was manager and there were red dots on us for the whole 90 minutes.
"It was intimidating, but we just had to keep moving. 
"Roy, myself, big Derek Whyte and Tommy Craig were walking along the road and Roy was carrying the balls. They all flooded out of a pub at the top of the street, so we just continued walking while they were all shouting and bawling at us. 
"So it can be intimidating and the timing of when the game goes ahead is a difficult one. It would probably be better for everybody's safety to hold the tickets back.
"That will ensure everybody gets through this unscathed. You don't want trouble or any bother, no matter what it's over. 
The article, by Gordon Parks, has upset Linfield, who issued an official response..
Since last Monday's Champions League draw, there has been considerable press hyperbole surrounding a possible Second Round tie between Linfield and Celtic. Aside from making some contingency arrangements for this possible game, the Club's stated position is that our utmost concentration must be on our First Round tie against La Fiorita of San Marino. To do anything other than this would be to disrespect our opponents whom we look forward to welcoming to Windsor Park on Wednesday evening. The Club is providing every assistance to David Healy, his staff and the first team squad in the preparation for these vitally important games.
Linfield feel that we must, however, issue a public response to some of the more hysterical articles that have appeared in the press over the last few days. Even in this era of "fake news" and slashed media budgets, one would have not thought it beyond the capabilities of most reporters to perform some basic fact-checking before sending an article to the presses.
A particularly regrettable piece appeared in the Scottish Daily Record on Saturday 24th June, wherein the former Celtic footballer Joe Miller recalled a friendly match he had apparently taken part in against Linfield at Windsor Park whilst he was on the books of Aberdeen. The interview with Mr Miller, as told to the Daily Record reporter Gordon Parks, included such colourful details as the winger apparently being repeatedly targeted with laser rangefinders and that he and his colleagues, Derek Whyte, Tommy Craig and Roy Aitken were carrying match balls down a street after this game when they passed a public house where they were confronted by angry locals.
The latter detail may cause some bemusement to Linfield supporters, given that even in those pre-redevelopment days, Windsor Park was wholly enclosed from any surrounding streets, and there remains a distinct lack of local hostelries in the area adjacent to the ground. We have played numerous friendly games at Windsor Park over the years against such clubs from Manchester United to Flamengo of Brazil, but have yet to ask opposing players to walk around South Belfast whilst carrying various match accoutrements.
What troubles us most of all, however, is that Linfield FC has no record of having played Aberdeen at Windsor Park or elsewhere in the entire decade Mr Miller refers to, whether in a friendly fixture, training game or otherwise. In fact, it appears that Linfield have never played against Aberdeen at all throughout our entire history.
A particularly concerning allegation made by Mr Miller, printed in the Daily Record and broadcast on social media to tens of thousands of views, was that "there were red dots on us for the whole 90 minutes" of this mysterious game. This fanciful account seems to suppose that the player and his colleagues were being targeted by multiple firearms, and was provided in the context of suggesting that it would be unsafe for Celtic supporters to visit our stadium, should that tie come to pass in due course. Given that Windsor Park was, and is, an almost entirely enclosed stadium, it would have been unlikely that this could have come from outside the ground, had this fixture actually taken place. Given also that neither the then-RUC nor the British Army carried lasers fitted to their weapons as standard, and that in 1995 it would be some years before laser pointers became easily available and affordable to members of the public, one wonders where, exactly, these red dots may have appeared from in this match that didn't actually happen.
In light of everything stated above we can only suggest that this account is demonstrably untrue.
The Club has now instructed Solicitors to write to Mr Miller and the Daily Record accordingly.
This is just one of the press stories that have appeared in the last week that is easier to rebut. Our Solicitors have also been put on retainer to investigate any further attacks on the good character of this Club and its supporters. In the meantime, we would only ask that the media, like Linfield FC, concentrates on fixtures that have actually been arranged, and that any reporting of past events is conducted to proper journalistic standards.
A statement regarding the possible match against Celtic and the ticketing arrangements for that game will be released in due course, should we win the upcoming tie against La Fiorita.  
The Daily Record.
Still, with Keith Jackson racking up award after award by spouting whatever comes into his mind, its no surprise that other journalists are using his method as a yardstick to success.
Anyone on here explain this ?
Asking for a friend…
Yesterday we showed you this…