Celtic Diary Wednesday June 14: More Changes And An Open Message to Regan
He's going to be busy reading all these open letters and words of advice that have been sent his way of late.
I'll keep mine simple.
With a picture.
And now, back to the ranch….
For those of you desperate to see Johnny Hayes in the hoops, Cardiff boss Neil Warnock says his club are no longer interested in signing the winger.
"You can only wait for so long and you've got to move on,"
"Aberdeen want two players from Celtic and they've been messing us around for quite a few weeks now. And it wouldn't surprise me if their manager Derek McInnes goes to Sunderland either – there might be other motives behind everything stalling."
"We've moved on and gone on to another one or two targets that haven't been mentioned yet,"
Which means he is, but Hayes and Aberdeen should stop messing him about.
Its not really the fault of Aberdeen, as their manager Derek McInnes is looking at the Sunderland job, leaving the way clear for major change at Aberdeen, such as the introduction of laughter, ambition and the possibility of taking points off "rangers ".
Some have claimed that the Dons will now slide below second place, but to be honest, McInnes was not the man to lift them to the next level.
Alex Neil and Alex McLeish must be favourites to take over, but Tommy Wright would be the obvious choice if Aberdeen are ready to move up a level.
Meanwhile, the new contract for Brendan Rodgers has meant he won't be linked with any jobs down south for a while, which has upset a number of hacks, who must now concentrate on touting players who don't want to leave Celtic either.
They do this on a number of levels.
One is to constantly link Celtic with their replacements.
Some are quite ridiculous…
George Boyd of Burnley is one, but as we saw last season, no matter how well you perform at Turf moor, its a big step up to the Scottish league…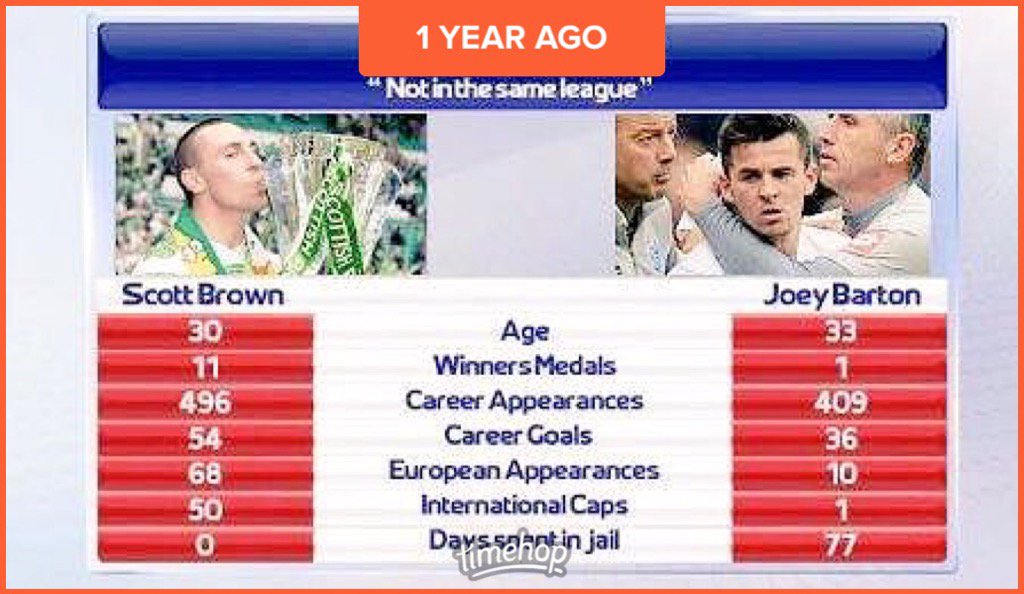 No doubt Boyd is mentioned as a replacement for Griffiths, who is wanted down south, but the Scotland sensation doesn't want to go anywhere.
Incredibly, Griffiths is just fifteen goals short of joining the hundred club after only 143 appearances in the hoops, and if he stays is certain to have his name among the all time greats.
He'd be happy with that.
With strikers such as Louis Moult and Liam Boyce probably on the move this summer, if the manager is looking for back up then he doesn't need to look far.
Both of these with the correct coaching could become class acts.
Another mentioned is Jean Kevin Duverne, a young defender with Lens in the French second tier. He was born on the 12th of July in 1997, but as we don't worry about that sort of thing he should be okay.
Again though, if its in the papers, the rule of thumb is that its probably bollocks.
Next monday is the first major date in next seasons calendar with the draw for the opening rounds of the Champions League qualifiers.
Without going into too much detail, the repetitive nature of the games at this stage of the tournament mean Celtic will probably face Linfield, Dundalk, or Vikingur of the Faroe Islands.
There is no chance of a trip to Iceland this time round as their champions , Hafnarsomething or other are seeded.
Belfast on the 12th of July is more likely than not… although should Celtic face Linfield, it would be infinitely preferable to play in Belfast for the first leg (12th ) than the second…
Glasgow Rangers will be in Northern Ireland this summer and will play friendly matches against Ards and Portadown.
First up, a Rangers XI will take to the pitch at the Bangor Fuels Arena to face Ards on Tuesday July 18 (kick-off 7.30pm).
We could all have a singalong on the ferry.
The players may be on a break, but with the draw coming round so soon, they'll have to switch back on pretty quickly.
Some however, don't seem to have switched off….
"We all know what it's like now, with six games to reach the Champions League," he said.
"That's the way it is in Scotland and we just have to knuckle down and get on with it.
"That's the mindset you need to have as a footballer. If you want to be at the top of your profession, you don't get much rest.
"I had four days away after the Cup Final and I now have ten days off to recharge the batteries. But even during that time I'll still be working to make sure I'm sharp for pre-season." 
Keiran Tierney telling it like it is.
And he was backed up by Craig Gordon…
"We will try and train the best we can to cope with it and we have to be ready for the first part of the season because they are the most important games of our entire year.
"We need to make sure we are in the right frame of mind and I am sure that the manager will ensure that we are."They are massive games because of what is at stake.
"The group stages of the Champions League have certainly been among the highlights of my career because of the magnitude of the occasion.
"It is a competition every player wants to have the chance to experience."There is another aspect, too, for the club in that there are financial rewards to be gained, but for us as players it is about the chance to play against the very best again.
"The supporters love those nights, we as players love them and it is really about making sure we are in that environment again."So, there isn't much downtime or too much time to reflect on winning the treble or playing against England. But that is football sometimes.
"We would far rather be in this position than not, so I don't think you'll hear too many complaints." 
Straining at the leash ?
Not quite, but certainly focussed.It wasn;t a great campaign last year, sure it had its moments, but when all is said and done it was disappointing not to be involved after christmas.
I think we can all be a little more optimistic for this season, the team are gelling nicely, confidence is high and surely we are due a good draw ?
With Rodgers unlikely to bring players in for the sake of it, there's little chance also of us having a Jo inge Berget moment like a couple of years ago. Celtic will only sign quality from now on, which will improve the team, and not just numbers to make up the squad.
Which will always end in disappointment..
Over the river, the rebuilding continues, and quite a few amongst the hordes are convinced that this is the start of something…
1.5 million for two players! Nani on 80k a week, batshuayi 100k! The season lasts 40 weeks! 180K x 40 is 1.5 million! Transfers confirmed! 
Presumably this is the guy who did the accounts for the old club.
Somehow, the media have convinced them that Dave King has opened the warchest he so cunningly held back from Mark Warburton and given the cash to Pedro Caixinha to sepnd how he wants-and the Portuguese hasnt spent it on a flight back to Lisbon!
He's spent wisely, according some hacks, despite them not knowing any of the players coming in-Ryan Jack excepted or seeming to know what he's spent.
away from the claims of ten million with twenty more to go, here's how the transfer activity is viewed outwith the west of Scotland..
There was a word of warning for the Mexican chaps as well, from their homeland…
From Sports witness….
Mexican outlet insists on religion problem at Rangers, and problems for incoming players
Since Rangers started being linked to Mexican players, thanks to Pedro Caixinha, the local press have made a few articles introducing the club. The Scottish Premiership isn't really popular overseas, and even though Rangers and Celtic are known worldwide, most people don't know much more than club names and kits.
Mexican outlet El Mercurio has a story today covering Rangers' roots with religion, and what they describe as the club's insistence on not signing Catholic players for a long time.
That's why their headline says that this could be an obstacle for Gullit Peña and Eduardo Herrera, who are set to be signed by the Ibrox side. The outlet claims the players and their families are 'very devoted to the Guadalupe virgin', the most popular catholic saint in Mexico.
The story makes it clear that religion is no longer a barrier at Ibrox, but it's said the way the players will be treated by fans is 'still to be seen'. It doesn't make much sense at that point. El Mercurio are trying to find a story where there isn't one, and they could have done a better job by only telling the past events and saying the players will be fine now.
Regarding the transfers of the two Mexicans to Rangers, the outlet claims they are still waiting for their work permits to be sorted.
Rangers are going to be covered increasingly in Mexico and Portugal, and it may be an opportunity for the club to put right what they'd likely insist are wrong perceptions. The extra attention is obviously a good thing, but it will also bring extra eyes and ears when Rangers play Celtic, and with the likes of Mexico's El Mercurio already talking about some of the things sung, it may not all be positive.
Thats the Sky and BT sound technicians getting their bonuses sorted.
George Galloway, the maverick former MP is in bother again, or at least, he will be if the blue mails start pinging towards Police Scotland…
I would advise everybody to complain to @policescotland for the blatant sectarianism of George Galloway. Disgusting bigotry
His crime ? Well, when I say crime, it isn't really. but you know what that lot are like….
See what he did there ?
Daft old bat Theresa May hasn't got into the DUP mindset yet, but they're working on her. They keep telling her it's "No surrender " but she's struggling with it…
Hang on, maybe Dave King is splashing the cash, we hear he's on his way to Ibrox now, from the airport.
Though I think the cops in the escort are all Tims…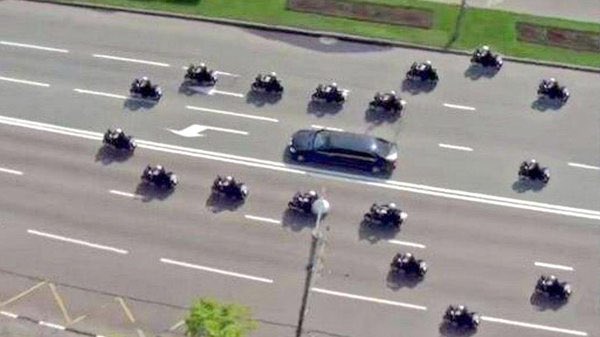 Yesterdays picture…
On the same lines, from Yoor wullie on twitter, this was taken by Bert Hardy in 1948 Glasgow…