Frdiay night football is taking a bit of getting used to, but theres no doubt tonights game promises to be a cracker, and those fortunate enough to be heading up to Pittodrie should have a great time.
After all, as summer breaks across the land where could be better than Aberdeen, where it doesn't go dark until the pubs shut ?
Alright, you might be able to think of somewhere, but that doesn;t detract from the occasion, a cup final rehearsal and the chance to either lull the dons into a false sense of security or to damage them so badlt psychologically that they won't even bother coming down to Hampden later in the month.
Perhaps the two sets of fans could get together and organise some kind of anti SFA protest while they're up there as well…..
Tom Rogic is fit, and may well start the game, especially as Scott Brown is still suspended..
"I feel great right now. I don't feel that there are any problems because I feel good and I feel fit. I'm looking forward to an exciting period with the club," 
 "I've scored a few against Aberdeen this season, but it doesn't count for much ahead of these last few games. It's in the past and now it's time to look forward. It's nice to know I can do it but tomorrow is a new game and we'll see what happens." 
Moussa Dembele misses out, which gives him time to finish his dissertation on why Dominic Solanke-Mitchell is shite and won't fit in at Celtic.
Its probably too late for that, as wheels appear to be turning.
Mikael Lustig could return to the side, and is likely to be captain. Whilst as far as the league is concerned, the game is a dead rubber, but the dons won;t see it like that, and neither will Brendan Rodgers.  There are two games betwen the two top sdes in Scotland, and its a great opportunity to show the world all thats good about our game.
Aberdeens Kenny MacLean pointed out the obvious, whilst at the same time not actually noticing it, as he was all excited and flustered..
"We want to show that we can beat Celtic, because we know we've got the players that can," 
"I think that we are the best team to stop the unbeaten run – and stop the treble." 
They are, of course, the only team who can stop the treble, if you don't count this one..
MacLean then went on to sort of talk himself out of winning…
"We've not taken anything from Celtic this season and we're disappointed from that.
"We have done well, but ultimately we've not picked any points up, which is disappointing, no matter how well you do. 
He gets his cheerful and enthusiatic attitude from his manager, who said
"We can do all the talking before the game about what we want to do, we can talk after it, but during the game is where we have to go and do our work and do our talking." 
Hmm..at least Pedro Caixinha can say his waffling gets lost in translation.
"I think in terms of putting down a marker for the final, the performance is more important than the result. I think we will go into the cup final feeling we can win that regardless of what happens tomorrow night. Our performance is important. We have to let Celtic know that we are there. 
They're going to adopt a robust style..
And we will be there again in a fortnight's time at Hampden. It will be two separate games, played on two different pitches, different competition, but I think the importance of trying to bring a level of performance against Celtic before we play them in the final is important. 
And they're going to do the same in the final.
Back at the ranch, and Brendan Rodgers put everyones mind at rest as he confirmed he's in his element at Celtic Park..
"For me, I'm living the dream, I'm a Celtic supporter and I don't want it to end. It will one day but while there is work to do and there is progress and whilst there is development I hope to be here to see that through.
"It won't always be like this. There will be some bumps along the way. But, at the moment it is a young squad that has energy and happiness. They want to learn, are coachable and want to become better and better.
"I have confidence in what I do. I am realistic and the reality in this modern world is that quickly people can fall out of love with you. One day you are the devil, the next you can walk on water. I never get too carried away and make rash statements that I will be here for ten years.
"It would be a huge pleasure if I was but the reality is that may not be the case. I signed for four years because that is what I want to be here for to help the club develop on and off the field. And then after that you see where it takes us," 
If he's happy, then we're all happy. There's no denying he is responsible for the feelgood factor at Celtic these days, and the lift he has given the club runs right through from the support to the players and beyond.
He also went out of his way to praise Derek McInnes…and took a shot at the pre season predictions of quite a few people, predictions that were made more in hope than expectancy…
"I remember back in pre-season the drums were being banged about Rangers going on to win this league, be the closest rivals to Celtic," 
"But Aberdeen are nine points ahead of Rangers and will finish in second place that is because the great work Derek – his team of coaches and support staff and players – has done.
"They have done very well and so we anticipate a tough game as have been the other games." 
The Scottish Press Awards were held last night, and we must hold our hands up and appreciate the great work done by our fearless reporters who have delved deeply onto some of the issues affecting Scottish football.
 For instance, the intrepid Keith " Bob Woodward " Jackson has racked up his sixth consecutive top sportswriter award.
 We at Etims pay tribute to the man who has done so much to expose the problems in Scottish football, and we recognise that without his contribution Scottish football may well have been a lot worse off.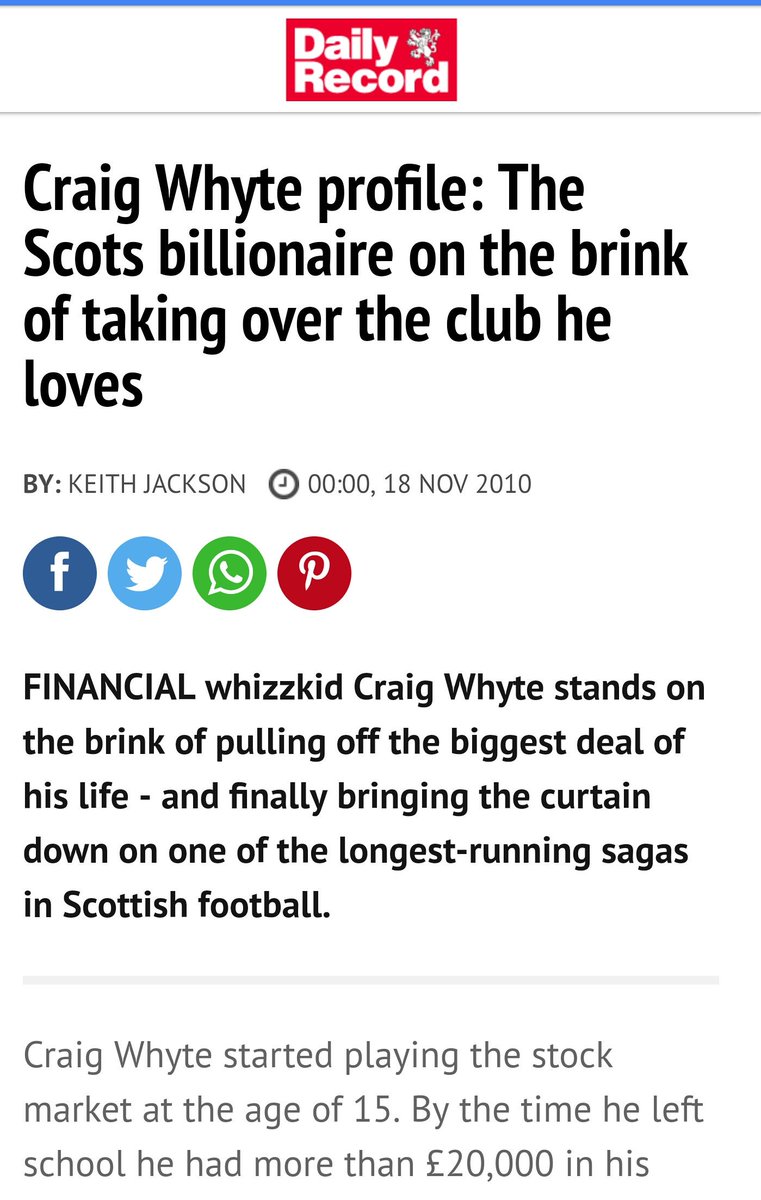 That was a long time ago, but Jackson refused to rest on his laurels, and continued to prove he was top dog in the junkyard of the Scottish mainstream media…
This year, he gave us…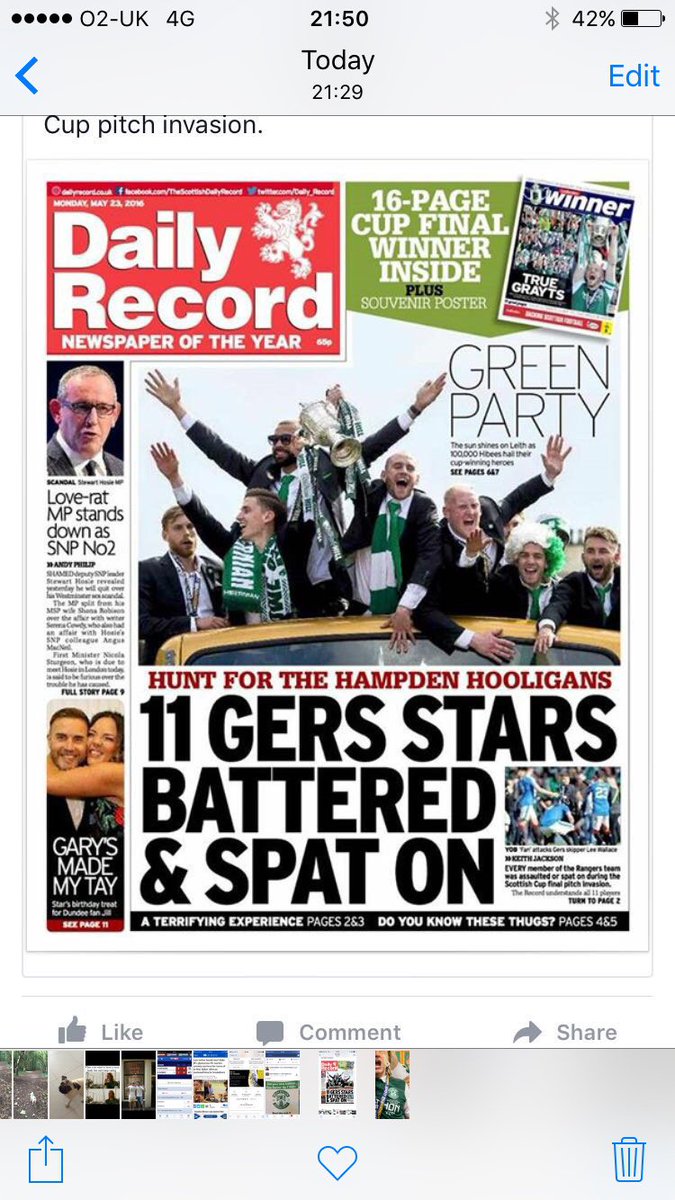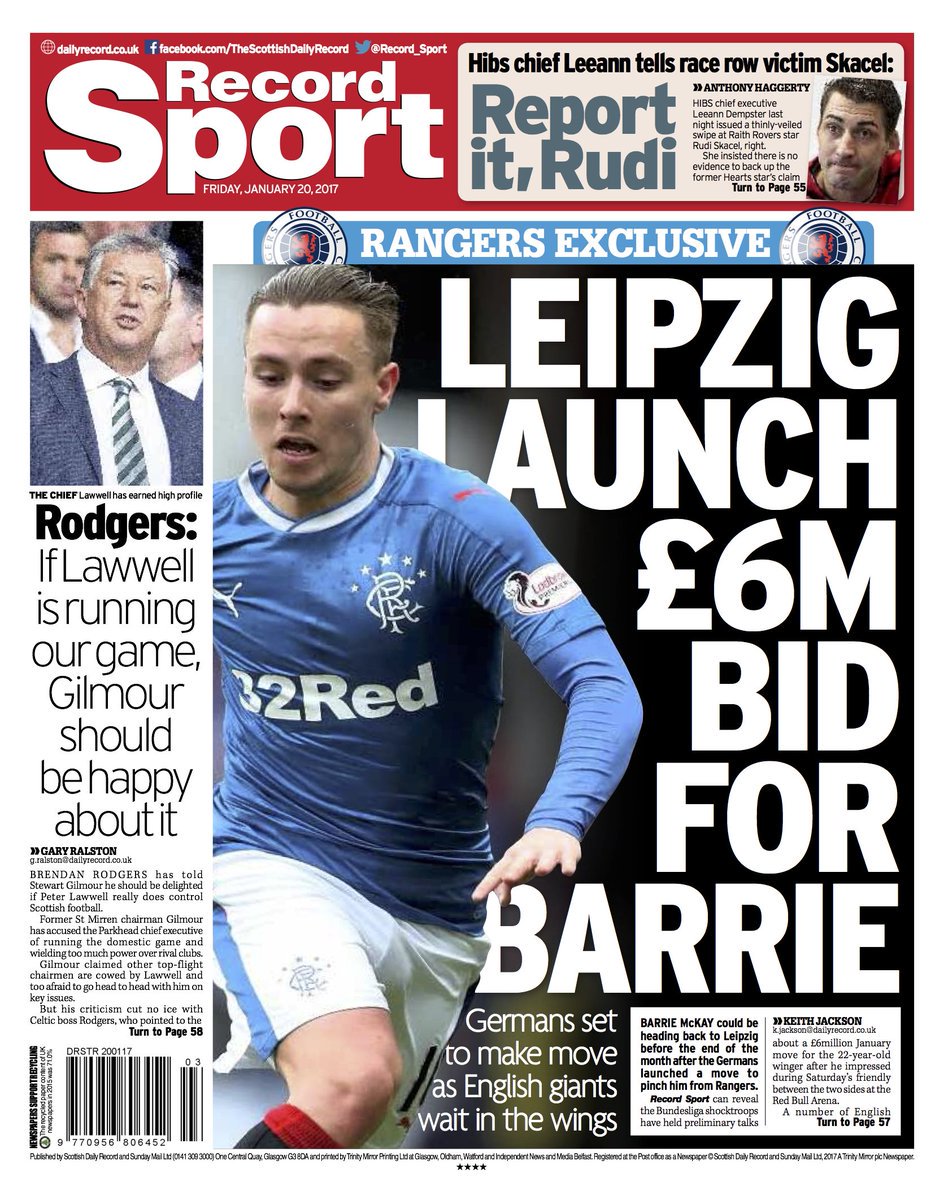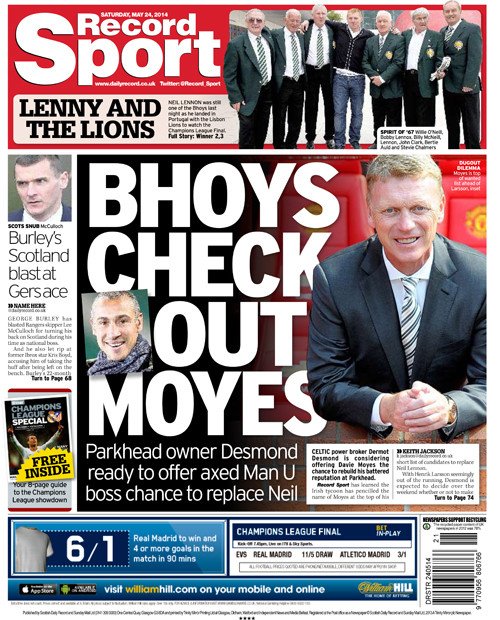 The rest of the pack just couldn't compete with such consistency, and as such, will forever be in his shadow.
Another ward, that of Columnist of the Year, went to Bill Leckie of the sun, a man who doesn't let his limited vocabulary get in the way of his writing.
 when he can't find the right word to express exactly what he wants to say, he simply makes one up.. ( April 16.2017 )
FIFTY years ago today, a nation stumbled through the fog of a ginormous collective hangover with the vague recollection of having done something amazing.
Had we got married? No, that wasn't it, no one was moaning at us. Had we won the Pools? Unlikely, though it felt like something in that delirious ballpark. 
His imagery too, is , er, imaginative. Stumbling nations, delirious ballparks…
but he'll never scale the dizzying heights of balanced reporting the way he used to, which is why Jackson will continue to lead the way… ( Record, 1997 )
And then there was Thursday and the news that the finest player I have ever seen in Scottish football wasn't doing a runner after all.
All I can say is, massive respect is due to Rangers – and Muz in particular – for keeping Brian Laudrup in the game.
The Ibrox men are, I reckon, one more signing away from finally leaving their greatest rivals – and, therefore, the rest of us – so far behind them they will be no more than a dancing dot on the horizon.
Who is that signing? I'd go for Batistuta – though Muz says no – but whoever they end up with he will be big time and he will be here soon.
It's enough to make any Celtic fan hide behind the couch. Sorry? Oh, you already are .. 
We weren't there for much longer.
Gossip ?
Could we see a Celtic B in the Premier League next season ?
All this talk of Leckie and Jackson reminds me that its Friday, and its time for
Knob of the Week. 
Despite early headway being made by Colin Johnson, who boasted about having £500 on Madame Le Pen winning the French presidential election, before claiming his 13 year old son had done it and demanding his money back, he's not the winner.
Any other week he would have been.
speaking of politics, go easy on Theresy.
Looks like she's one of us.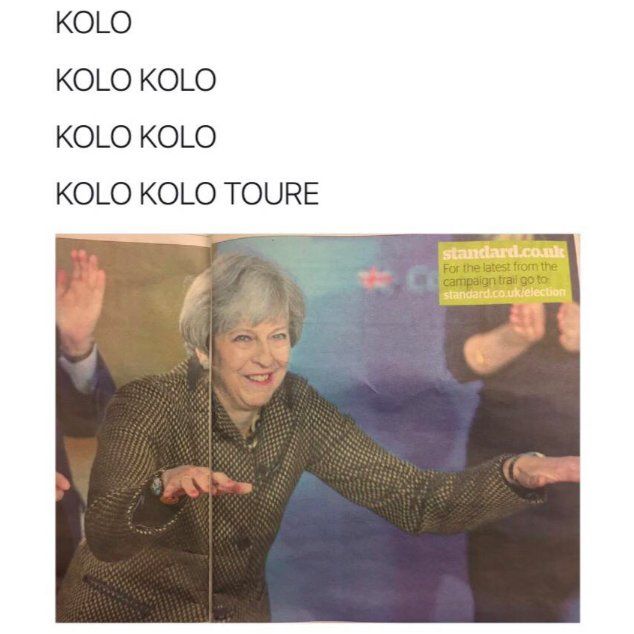 This week it goes to a former Celt, who missed a sitter, as they say, that would have sent his side , Celta Vigo through to the Europa cup final and a shot at a place in the champions League…
John Guidetti, who thought he was too good for Celtic, made an arse of this chance with just six seconds to go…
John Guidetti-this weeks
Knob of the Week. 
Caption time now, yesterday we had this…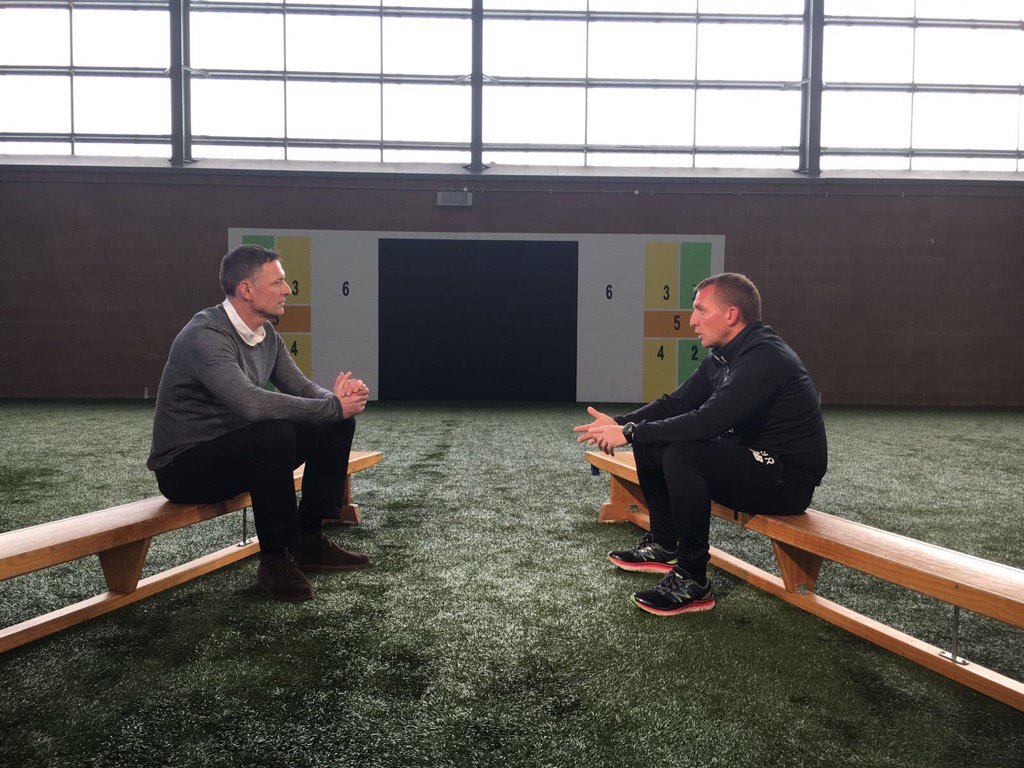 What were they talking about when the cameras weren't rolling ?