Well, he's had a busy week, and Brendan Rodgers might be thinking that he should save his inspirational captain for the games where the unbeaten season might be under threat.
Browns eventful few days culminated in the downgrading of his red card earned for a foul on Ross County's Liam Boyce, which was deemed a yellow, and now he'll have to wait for his suspension. However, he'll be available for tomorrows match at Ibrox, but to further emphasise the chasm between the two glasgow sides, he'll be rested, and Rodgers will call on another international midfielder to fill in.
Or not.
But it would be funny if he did…
And it sounds like Rodgers could do with a chuckle, its alright offering constructive criticism, but in a week where Celtic have secured two trophies and advanced to a cup final, maybe he should have cut the under 17s some slack..
The under-17s final was a poor game. In terms of Scottish football the standard was awful. "There were some good players in both teams and the kids won, which was great, and there was two or three moments of quality. But the overall level of quality wasn't good. I have seen some good kids up here and it's a good level. But they would have to play better football than that.
Miserable sod. Give them the trophy back then.
He was a little more complimentary about the under 20s..
"The under-20s the other night was a good game. They showed good tactical awareness and played at a good level, in terms of speed, organisation with their pressing, they got the ball back quickly and were fast getting forward. It was good. The progress will come with the 17s but we need to influence it even further down to eventually produce it at the top level. There's a big difference if you want to produce players for Scotland that allows the national team to do well. "I'm new here but it's my job to help. We have brilliant coaches here at youth level with Chris [McCart] overseeing it, Tam McIntyre and Michael [O'Halloran] with the 17s, their assistants, they have great enthusiasm and energy. But we're trying to take a different path."
Ah, he's just burbling again. He does that from time to time, but as football is a results business, and he's getting the results, he could tell us that "rangers " are the same club, the SFA are doing a fine job and that he's going to bring back Dorus De Vries as first choice keeper and we'd just nod and agree.
Well, maybe not the latter.
Looking ahead to tomorrows game, Rodgers tried to summon up some enthusiasm to sell the fixture, but was clearly struggling..
"When I have watched the games that have been [under Caixinha], they haven't really been a high-pressing team. If you think of the Aberdeen game [Rangers won 3-0 at Pittodrie three weeks ago], they sat in [inviting pressure], and only in certain situations they would come and press it. If they feel the need to press and disrupt our organisation, it can also be dangerous because behind that then leaves a big space and we have speed to break into it. "I am sure their supporters will demand that they be better, they will want to be better, but we want to be better. We want to improve, to be better than what we were in our performance level but they are always great games."
Their supporters aren't that bothered about their team doing any better. They're currently expressing their displeasure at the result of the SFA meeting that allowed Scott Brown to get a yellow instead of a red..
Apparently, part of that is that Peter Lawwell, Opus Dei and Jesus Christ himself now control Scottish football, and they have proof!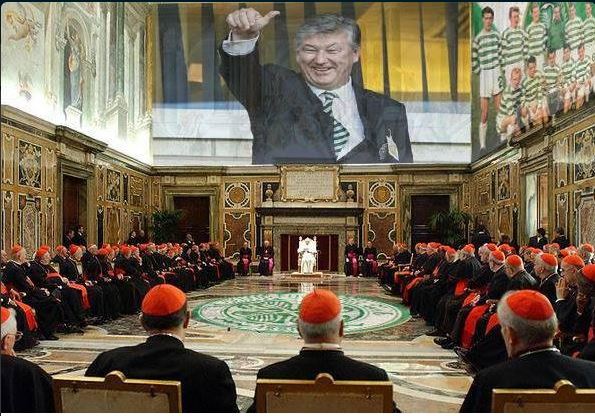 Not only that, FIFA have confirmed that Celtic don;t have to release Patrick Roberts !
Oh wait, they mean for the U20 world Cup, but its another sign we have friends in high places..
This all combines to instill a little venom amongst supporters of Scotlands newest club, and over on one of their more legible forums, the rage is not difficult to find..
For the first time, we don't actually have a name for you.
Thats because he or she must remain anonymous.
The juror who fell ill yesterday and caused the postponement of the Craig Whyte trial. Seriously, how much fun has be put the knackers on by declaring himself too unwell to attend.
If it were I, indeed i would have rolled in my my knackers rather than miss the latest instalment.
Or cause anyone else to miss it.
Sir, or madam, you are this weeks Etims