We'll get to that in a moment, but with another game against "rangers " looming on Saturday, there's been all sorts of kerfuffle in the build up.
Apparently, the Ibrox side are under pressure not to bestow a guard of honour on the champions as the Celts walk out onto the pitch pre kick off. It seems the supporters are going to walk out if they do, a whole hour before they usually do.
Strange that, as they are usually big on custom and tradition. And sportsmanship is their second name..
James Tavernier Retweeted Rangers FC
Great respect to @AlloaAthleticFC for the guard of honour today!!


True sportsmanship unlike some!!
James Tavernier added,
For those of you unsure who James Tavernier is, he's the man tipped early in his career to play for England, but he threw all that away to play football.
However, there was some good news for Ibrox fans, with firstly a message from a national radio station..
and secondly, not only do they have the best squad in Scotland…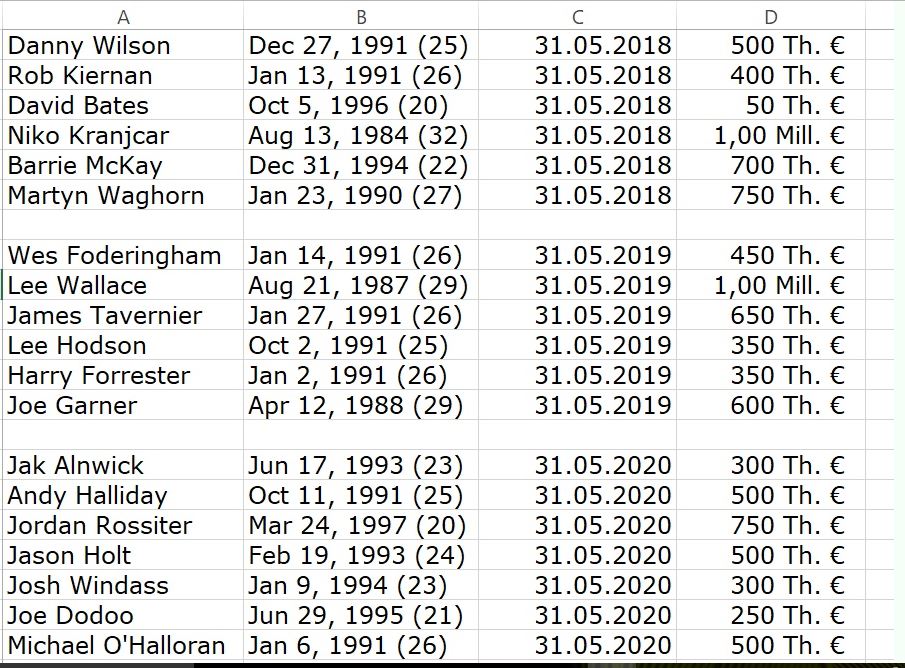 its going to be strengthened even further with a morale boosting new contract for Kenny Miller, which could take the veteran striker onto the third version of the club when it comes out later in the year.
We asked Miller for his thoughts on securing his future, but it was time for his nap.
They've not got a lot going for them at the moment, but there are perhaps the green shoots of recovery if you analyse the stats from sundays humiliation at the hands of Celtic. something we missed, and frankly, something that any half decent coach can work with and begin to improve the team.
We shouldn't take them lightly on Saturday.
On a serious note, that simple fact above shows that Celtic came out of the blocks the way we wanted them to, and didn't give their opponents time to settle. The early fouls are an indication of how quickly "rangers" realised just how far they were out of their depth.
Patrick Roberts, in particular, proved too much for them to handle, and as a result, found himself on the end of a couple of meaty tackles.
Roberts said;
I have looked back at the Andy Halliday tackle.
Broony did that against Ross County and he got sent off. Does it give me hope that he will win his appeal?
Yeah. If that's only a yellow, why was Scott's a red card?
Was it down to the reaction of the Ross County players on that day? I don't want to say too much, but it was a bad tackle, a terrible tackle, and thankfully I didn't get hurt.
It was a shocker, as were a couple of others, yet the red card stayed tucked away in the referees shirt pocket. For al the praise Collum received, which was largely down to not making a complete arse of things, it should be noted that yet again, Celtic players were not protected by a referee.
The referee for Saturday is John Beaton, so it might be an idea to have the air ambulance on standby.
Moussa Dembele has been ruled out for the rest of the season, which gives him time for a wee rest before he either moves on or begins his second champions league campaign.
Scott Sinclair, who missed the League Cup final, sympathised;
"We were hoping that it wouldn't be too bad and that Moussa would make it to get back for Hampden next month.
"I know exactly what he is going through. I had to miss the League Cup Final and I was really hoping for him that he would be back in a couple of weeks.
"It is tough. On a personal level, it is difficult to sit out big games like that and I knew if it came back, and it was a bad one, he would be gutted." 
"It is not just about the 11 guys who are in the starting line-up. It is about the whole squad and I think you can see the togetherness that we have.
"Whoever steps on that field gives 100 per cent for each other and I think that is reflected in the way we have been able to come back in games at times."Leigh Griffiths is a proven goalscorer and he will be ready to hit the ground running at Ibrox this weekend."
With only a few games left, Leigh Griffiths may struggle to regain his top scorer crown, but he'll give it a go.
Probably have to take penalties as well though.
The trial of Craig Whyte continues at the high Court in Glasgow, though you wouldn;t know it if you were relying on the media to keep you informed of developments.
James Doleman-and you really have to appreciate the work he's putting in to make sure the facts aren't distorted- has put together a wee slide show of the main issues to arise yesterday for those who don;t use twitter, whereas those who do should be following him anyway..
I'm no expert on these matters, but there do seem to be a few items that Stewart Regan , Andrew Dickson and a few others who were involved at the SFA in 2011 need to clarify, just so we know that they are not the incompetent cheating bastards we are beginning to feel that they may be.
We've been here before, and this is still live. Time to recirculate..
Personally, I reckon that Whyte should get his pound back and Murray should get his club-and all the bills back.
Though I'm not sure if i could take another five years of endless laughter, though I doubt even the Scottish media couldn't spin their web of lies a second time.
In all seriousness, the statements of former Ibrox financial director Donald McIntyre seem to suggest that the "wee tax bill " had indeed crystallised, and it was a bill.
Not a disputed payment, but an overdue payable, which if correct, means that Rangers should not have been granted a licence in 2011.
We now need to either get an explanation from the SFA, or demand en masse resignation.
Or both.
Either that or more direct action will be forthcoming.
Disconcertingly, the silence from the lamb eaters is also evidence that they may have known a little more than they let on at the time, which frankly means the game is a bogey.
If thats the case, all clubs should resign from the league and set up their own competition outwith the SFA/SPFL. 
Like they did in England when the top clubs broke away and formed the Premier League. 
But lets give Regan a chance to explain himself first. 
Again. 
Only this time we'd like the truth. 
Yesterdays picture, this rather quaint outfit from the winter collection.. actually a bear hunting costume from Siberia,
So many questions….