Celtic Diary Friday April 14: Res 12, Regan, King and A Transfer Rumour
The remaining league fixtures were announced yesterday, and there were a few surprises. Well, no .Not really.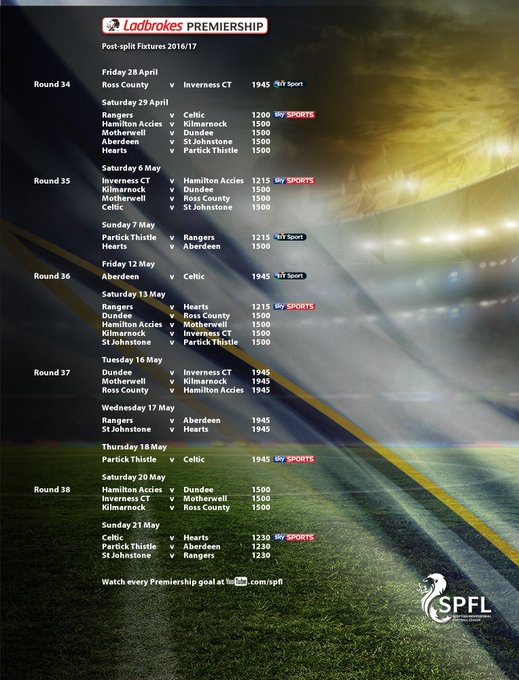 Hearts fans should be pleased. They got to see Celtic win the league and will now get the chance to see the trophy presented.
Bloody favouritism.
"rangers " fans will be delighted, as all of their games against the big teams will be at Ibrox, bringing in some much needed revenue for the club we should all thank for having such a wonderful effect on scottish footballs attendances in their debut season at the top..
In the season that Celtic cruised to the title under Brendan Rodgers , attendances in the Premiership have risen by 49%, to almost 14,000 on average which has been helped by Championship winners Rangers in the top flight.
…trumpets the Daily Record, desperate to give some feelings to Ibrox fans that justify their existence.
Of course attendances would go up. The new club has gathered in more or less all the supporters from the now defunct Rangers who operated out of the same address. All they did was pretend it was the same club, and a gullible support unwelcome anywhere else happily threw its money into the pit and carried on as though nothing had happened.
But something is happening. albeit a little delayed, and the longest running pantomime in the history of theatre began  a new chapter yesterday.
Dave King, the owner operator at Ibrox, as expected, ignored a demand from the City's Takeover Panel to offer to buy any shares he didn't already own.
Swifter than probably expected, the Panel have applied to the court of Session…
 "On March 13, 2017, the Takeover Appeal Board published its decision upholding rulings of the Takeover Panel Executive and of the Hearings Committee of the Takeover Panel that Mr David Cunningham King acted in concert with Messrs George Letham, George Taylor and Douglas Park to acquire more than 30% of the voting rights in Rangers and in consequence had incurred an obligation under the Takeover Code to make a mandatory offer at a price of 20 pence per Rangers share for all of the Rangers shares not already held by Mr King and members of his concert party.
 "The Takeover Appeal Board directed that Mr King should announce an offer pursuant to Rule 9 of the Takeover Code by April 12, 2017.
"No such offer having been announced, the Takeover Panel has today initiated proceedings in the Court of Session, Edinburgh under section 955 of the Companies Act 2006 seeking an order requiring Mr King to comply with these rulings."
For King, of course, court summons are a sort of occupational hazard, and he won't lose any sleep over it. For someone who usually sleeps upside down in a cave anyway insomnia is unlikely to be a problem.
All he ever wanted was to make a few quid in a country where he can actually keep it, and having done that he'll bail before he goes to court and go and think of something else to occupy himself.
If he remains  on board, the other directors will suffer by association, and when one of them eventually grows a pair, they'll push him out.
Unless Dave, who is noted for his honesty and transparency can somehow offload the club, he might well take them all down with him.
One story doing the rounds is that 32Red are not going to renew their sponsorship with the club, and there isn't anyone else ready to have their name associated with the toxic brand, which means another revenue stream closed off.
Mind you, I can put them in touch with one if they're interested…
Speaking of distasteful criminal organisations, the SFA have remained silent on the latest King shennanigans, and they too have to realise that they have a responsibility here.
Its not only "rangers " who are tainted by association with King, its the whole of Scottish football, and if Stewart Regan had anything about him…oh wait.
Sponsors such as Ladbrokes and the two tv companies who pay for broadcast rights must be watching in horror.

Surely a bookmaker, an industry that relies entirely on trust, must be asking questions about the wisdom of  associating with a product where the customers don't trust the people running it ?
And thats without all the current issues surrounding King, who is persona non grata as far as financial institutions are concerned.
Issues that the SFA and SPFL have failed to address with a stunning regularity.
Except when the SFA, according to the BBC in May 2015, checked to see if he was a fit and proper person.
An SFA statement said the board had "considered the fit and proper status of Mr Dave King as a director of the club" and, after receiving specialist legal advice in Scotland and South Africa, could confirm it was satisfied he passed the test.
King said he was "delighted" at the announcement and that he would now "turn [his] attention fully to the task of re-building Rangers".
He also thanked the SFA "for their diligence in this matter".
He said in a statement: "It was essential that I dealt fully with all of the Scottish FA's questions and provided them with everything they required, no matter how personal, in order to prove that there were no barriers to me joining the Board of Rangers International Football Club plc. 
"I always maintained I would meet the fit and proper requirements of the Scottish FA once they had examined all the evidence and that is what happened.
"I said before that I must be the most scrutinised candidate in Scottish football history, but I was happy to accept this given the importance to the club of having a board fully comprised of individuals who are all approved by the Scottish FA.
"We finally have that, and my colleagues on the board and I look forward to serving the club in the years to come."
How many more examples of SFA incompetence or corruption do we have to endure before Regan and his allies are thrown out of an office they are clearly not fit to serve ? 
What are we actually waiting for ? 
The Resolution 12 issue highlighted the fact that we are dealing with a criminal organisation run by criminals for criminals. 
The subsequent events have proved this beyond all doubt. 
A succession of criminals has been allowed to operate unchecked at one of the countries biggest clubs, and as a result, thousands of supporters have been fleeced of their cash.
Thousands more have seen their money paid into a game with all the sporting merit of the wrestling that used to be on telly before the football results.
That other idiot, Neil Doncaster, is currently negotiating a new deal for the tv rights to the game.
Why should anyone cover a game run by crooks and philanderers ?
Is the real reason why the money on offer is so low because  the tv companies are  struggling to find sponsors, regardless of audience size ?
Its time for action.
You know what would make FIFA and UEFA take note ? And we need them to start an investigation, because our own press aren't exactly holding anyone to account.
A boycott -or a campaign to boycott-the Scotland England game in June.
That should get their attention.
Back at the ranch, and whilst its not being spoken of too loudly up there, down here in Stoke, I bumped into a drunk fellow at a bar, who couldn't wait to tell me that one of the players over at the Bet 365 stadium was all for joining Celtic last January, and when he couldn't, he sulked enough to be sent out on loan, where he has continued to sulk until he gets his own way.
We've mentioned Bojan Krkic before, and we're now mentioning it again, now that we have verification from our usual quality source.
Could he be the one that Brendan was referring to when he said he didn't get everyone he wanted ? Has the recent news that Rodgers has a warchest shown us that he has won his battle to get who he wants ?
I asked our man if that was the case, but as you can see, he had fallen asleep.
To succeed, or at least to have a realistic chance of success, in europe next season, we need players of that calibre. Bojan is reputedly a little fragile, but his heart isn;t in it at Stoke. He wants to play at a club with ambition, and he wants to be loved by the support.
His time at Barcelona would have shown him where that was.
Meanwhile, there's another mystery to be solved, and it provides yet another last minute winner for the Etims
Knob of the Week
Have a look at this front page..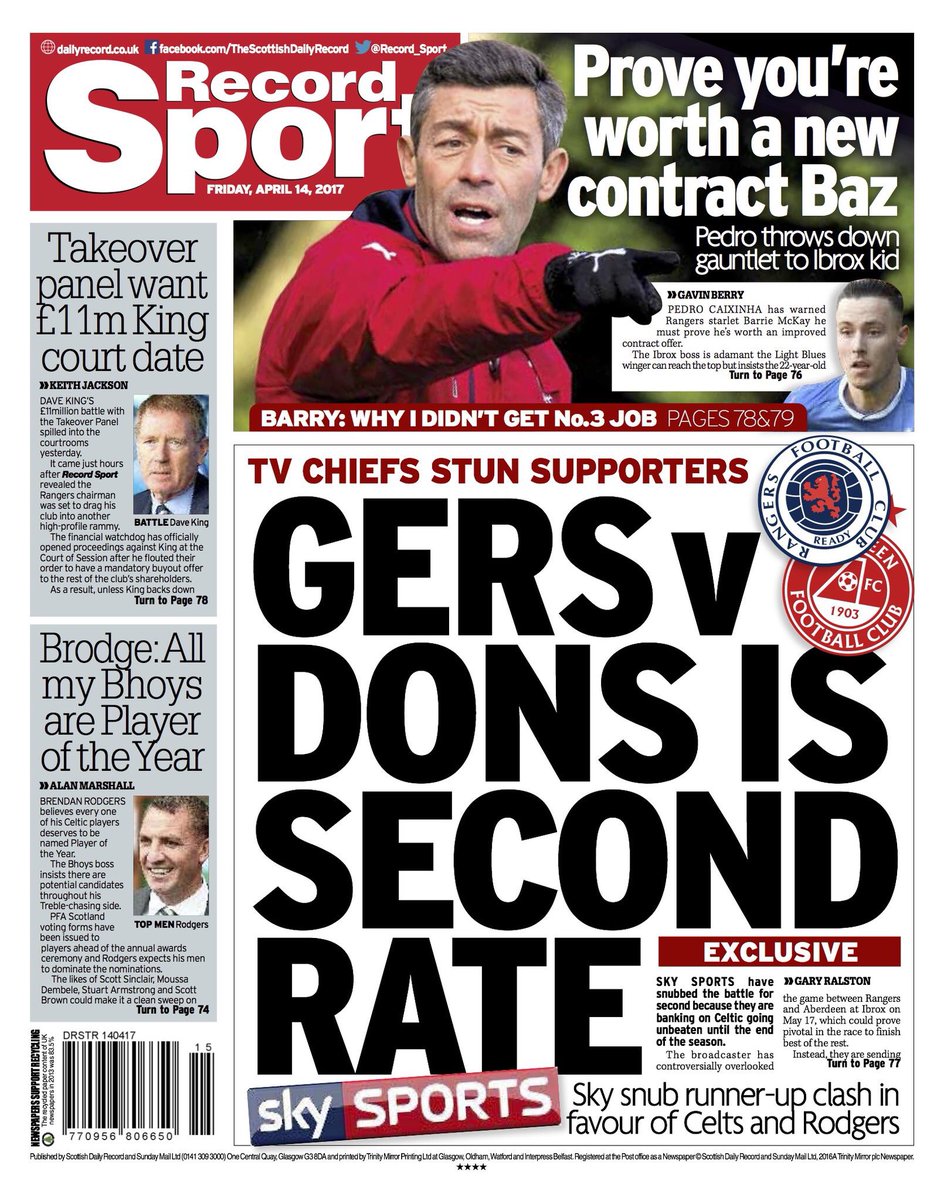 Who the fuck is "Brodge " ?
1. (v.) The act of any semi-solid compound being squeezed through the cracks of its container.
2. (n.) The semi-solid compound being squeezed through the cracks of its container.