Celtic Diary Thursday April 13: Fun, Fixtures and Failings
Finally, the SPFL fixtures computer has been fixed-or someones found ten bob for the slot- and today we will learn when we face the other four teams who have finished in the top six.
Bizarrely, we already know when the next "rangers " game will be, but it appears the SPFL couldn't be arsed with the other games until someone from one of the sponsors pointed out to Neil Doncaster that there are "ten other teams in the fucking league you know ".
Our game couldn't be in safer hands.
Doncaster, of course, may have been a little busy in negotiations with BT over the screening rights for Scottish football. Our man on the inside has told us that Doncaster has won the first major battle around the table by forcing the communications giant to actually pay for the games, which is a marked shift in policy from the last few years.
Now, its just a question of how much , and for how long.
And if someone else can do the rest of the talking.
Back at the ranch, and the gates are being opened for the fans tomorrow with another of those open days where the players will pretend to train, the coaches will pretend to coach, and the manager will pretend to manage.
CELTIC fans have the unique opportunity to watch the Champions train on the Celtic Park pitch this Friday, April 14 at our Champions' Training Day.
The stadium opens from 9am before the hour-long training session kicks-off at 10:30am, with supporters of all ages encouraged to attend and watch their heroes as they are put through their paces in Paradise.
Speaking ahead of the open Training Day at Paradise, Brendan Rodgers said: "The Training Day will give our supporters a chance to see how some of our training sessions work and an opportunity to see the how the players work close-up.
"It will also give us a really important opportunity once again to thank everyone for their magnificent support throughout the season. Our supporters have been phenomenal all year and have played such an important role in our success.   
"I hope as many fans as possible will be able to come to the stadium and I'm sure we will have a fun morning together."
This is a ticketed event and you must have a ticket to access the stadium on the day.
Tickets for the Champions' Training Day are free on a first-come, first-served basis, and here's how to get your hands on them:
In-Store
Tickets are available to collect now from all official Celtic stores across Scotland (max 10 tickets per person).
Click HERE to find your nearest Celtic store.
Online
Print-at-home tickets are available online from eticketing.co.uk/celtic. A one-off £2.30 administration fee per transaction applies (max. 10 tickets per transaction).
Please note, standard tickets for this event will NOT be available from the Celtic Park Ticket Office.
Supporters looking for accessible seating should visit the Ticket Office or call 0141 230 1967. These will be available on a first come, first served basis.
It should be fun, and of course shouldn;t be taken seriously, but one does wonder where the laughs will come from now that Efe Ambrose is at Hibernian, Carlton Cole somewhere in America, and Dorus de Vries being told he is not taking part in the penalty kick competition.
Mind you, anything that gets the kids closer to their heroes can only be a good thing. They're the next generation of supporters, and more importantly, our excuse for going to the football.
The mood around Celtic Park remains carefree and windswept  with the double boost that there's £15 million to spend this summer, and we've got someone with a better than average knowledge of knowing how to spend it.
Of course, publicising a budget isn't always a good thing, and it can backfire when clubs suddenly add a few quid on to asking prices, but with the club now engaging a policy of lockdown on information, it wouldn't be surprising if not only had the transfer targets been identified, but already signed up, and the money isn't in fact a budget, its a receipt.
Speaking of receipts and the like, some of you may have seen this recently..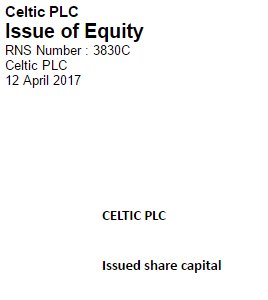 Which if course, is proof that things are going well, despite what you may hear anywhere else.
Conversely, you may hear all sorts of good things from the other side of the city, which are, of course, complete bollocks.
March 31 saw the deadline for the submission of the necessary paperwork for those who wish their club to participate in European competition, and it looks like all is not well at Ibrox..
To sum up, here's a post that appeared on CQN recently, from Brogan Rogane Trevino, who knows about these things..
Re the position of the SFA and the current Ibrox club's application for playing licences for European and even domestic competition can I point out that their situation in terms of statutory compliance has never been worse.
 When the previous club submitted their applications under Murray, the SFA, SPL and UEFA were able to rely on audited accounts and a company structure which clearly had the benefit of bank support. Further, there was no suggestion of the then directors being either banned from holding a company position by companies house or any regulatory body.
  Even with the EBT's and the side letters it is at least arguable that the then Rangers complied on a prima facie level, with breaches of the then rules only being discovered upon serious further enquiry with there being no great desire on the part of the footballing authorities to look into their affairs.
 There were very few who even contemplated asking questions.
  Today, that is wholly different for a variety of reasons.
 First, as has been repeatedly pointed out the current Rangers have no line of credit and no support frrom a bank.
 Second, they have been delisted from the stock exchange and have no audited accounts.
 Third, their management structure and at least some of their directors have been the subject of specific undertakings and assurances which have been given to the SFA (and therefore their members) in order to reach initial directorate compliance. You will recall that Kind was not allowed to become a director of the company which directly controls the football club.
 Fourth, not only is King a convicted criminal he is now on the verge of being cold shouldered in worldwide financial terms. No one should underestimate the effect that can have on any company with which he is involved including subsidiaries. The SFA have previous experience of football directors who were cold shouldered and it led to the enforced exit of Mr Di Stefano from Dundee Football Club.
 The SFA will struggle to justify accepting any financials or projections from any Rangers Club linked to King if the formal cold shoulder is dropped upon him.
 Fifth – the climate amongst football owners is very different to that of 5 years ago and the attitude of several clubs will have changed completely since then. Back in the day after Nimmo Smith some clubs wanted the whole thing to move on and to get the whole Rangers debacle behind them. Dundee Utd and Kilmarnock can be listed amongst those who expressed that view in writing.
 Others, however, did not and they unsuccessfully sought to appeal Nimmo Smith's Decision stating that the eventual fine and sanction was far too small given the nature of the charges the then Rangers were convicted of by LNS (notwithstanding the stated reasoning of the commission). The Highland Clubs, Hibs and others were all vociferous in their condemnation of the LNS events and stated clearly they were not happy with the outcome.
 This was as a result of a committee meeting which no one attended personally (it was done by phone) and which the Celtic representative could not attend at all due it being convened when he was on holiday.
 The position today is that many of the clubs are far better run, their directors are far more resolute, more commercially astute, and some may even have current or past axes to grind. Fiscal non compliance is now watched for like a hawk and clubs want to see that there is a level playing field when it comes to stautory compliance. There are some clubs in Scotland who, in my opinion, will not want to see the current Rangers set up being given the slightest leniency in terms of compliance.
 Lastly, sinc the last debacle in 2011, The Court of Arbitration for Sport has handed down a very clear judgement when it comes to football compliance which, in my opinion, makes it imposible for any football association to come up with a "Bryson" type explanation on registration and/or compliance.
 That judgement says that in the event of a meterial set of facts or documents not being disclosed (such as EBT side letters or payments), or incomplete (such as wages records being missing or accounts not being audited in the proper fashion) then the entire licensing application and any licence granted is functus — in other words rejected and to be tretaed as never having been received. There can be no technically correct registration or compliance in such circumstances and strict compliance rules the day. The onus is on the football club to have everything perfect at the appropriate time and if not it is curtains.
 There are very serious questions as to whether or not the current Rangers can comply with UEFA standards and that only gets worse if the cold shoulder is applied. In terms of European Status, The Scottish Football Association cannot afford to mess this up.
 Otherwise they and UEFA know that questions will be asked of them which they would rather not face at all.  
And here's a summary from me..
Again, the media have tried to play things down for the hordes, but with the deadline passing for Dave King to make his offer all the shares in the club that he doesn't already own, its apparent we have now entered the end game.
Despite assurances to the support, and the sports media, who have suddenly become financial experts, the "cold shoulder " is quite serious.
The picture above describes neatly how serious, and all that remains now is for King to exit stage left, with a few more quid than he arrived with, and David Murray to come riding out of the sunrise -well, it would be unfair to ask him to walk-to set up the third version of the club in time for next year.
If not Murray, it will be one of the old lot. The five year bans are all but up, and this time we'll see real Real Rainjjurrs men at the helm.
And the support ?
They'll continue with their usual outlook on matter at Ibrox..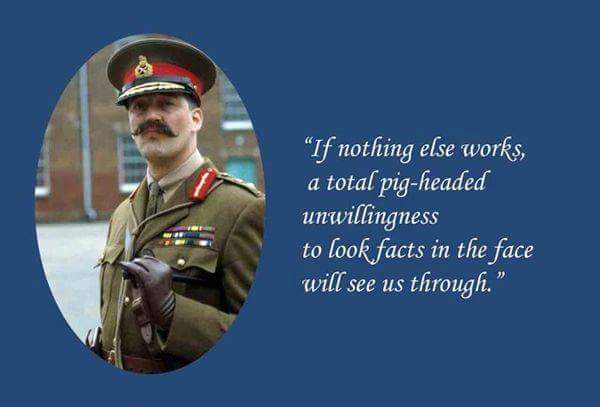 Another entity which tends not to look facts in the face is Talkshite Radio, the struggling radio station that regularly appeals to Celtic supporters to make their listening figures appeal to advertisers by coming up with something that will get us to respond.
 Usually along the lines of Celtic being a small club who would struggle in the English Second Division, or whatever its called these days, and yet there's something they may not be aware of..
Well, another thing they may not be aware of.
Barcabhoy on twitter, a diligent fellow who looks at facts, has completed an in depth look at Celtic in Europe, and the top clubs in Englands performances …which he then compared, using the top six in England as one entity based on the average figures of those clubs…
We haven't done that badly, have we ?
 There was no diary yesterday, I had to take the car in to finally get the boot fixed, and so  I was running late.
The day before that we published a critique of the Mark Daly documentary the other night.
Well, someone had to.
It hasn't been covered anywhere else, which makes me wonder.
For such a serious subject, its been ignored somewhat, and in tonights podcast, you'll hear us discussing it.
See what I did there ? Saved myself some typing and also promoted a podcast.
Daly isn't the first to corner Torbett recently, and he had a lot less success than the previous questioner…
But there has been no comment from the police on the fresh allegations, and none from Daly about handing over his dossier to the police.
Which is strange.
We go back to Monday for the last picture pondering puzzle, which was this one..
I can't decide between these two… so they both win