Celtic Diary Wednesday March 29: We'll Be Watching You
Six in a row may have come round quickly, it may even have appeared to have come around quite easily, but its a rare thing, and should be savoured.
The first chance to seal the title will be on Friday night when an Aberdeen defeat will leave them arithmetically out of the running.
Should they win, then it carries over to Sunday, and a visit to Tynecastle.
Always a good day out, and always a tricky venue, the Edinburgh Mestalla is as good a place as any to be crowned champions, and although tickets will be scarce-Hearts have a decent hime support, and are unlikely to give up another stand- there are plenty of places to get together with your pals and watch the game.
….supporters are invited to cheer the Hoops on to victory from Celtic Park with a LIVE beam-back for fans in the Kerrydale Bar.
It's a crucial match as the Bhoys look to secure yet more silverware this season with a sixth consecutive SPFL title up for grabs and, we'll ensure you won't miss a moment in the Kerrydale Bar with places available to book now for only £5 per person.
The Kerrydale Bar will open to supporters from 11am on Sunday, April 2 ahead of kick-off at 12:30pm. A cash bar will be available with half-time snacks for all supporters too before the lounge closes at 6pm.
Don't miss the chance to cheer the Bhoys on from Paradise! Places must be booked in advance and you can secure yours now by calling 0141 551 4288 or email events@celticfc.co.uk 
The Celtic Trust suggested this to the club, and it seems the club have done the smart thing and made a day of it.
Sky TV will be showing the game on their Sky Sports mix channel, 407, and as far as I can tell it will be free for those who ditched the piss poor sports package.
Which could be seen as a last ditch attempt to get back some of the customers who have chucked it.
Whatever the reason, it means that most of us should be able to see the game one way or another, as long as no one mentions Ikea again.
For one man, winning the league at Tynecastle would be a dream come true.
Sort of.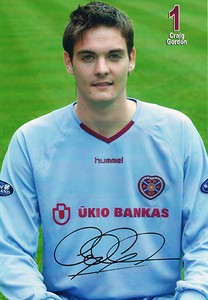 The now Celtic keeper started out with Hearts Boys Club, spent seven years there as a senior, and now has a chance to realise his boyhood dreams, in a roundabout fashion
 "Growing up I always wanted to win the league at Tynecastle! 
"I'm sure I'll take some stick from my pals but that's football. I have to get on with it and go out and play the game and try to win the match." 
It would be nice if he came up for a late corner kick to score the winner. That way, certain sections of the support might finally forgive him for trying to score for Hearts against Celtic the same way. This led to accusations against his loyalty to Celtic , not surprising as he wasn't playing for the hoops then.
In reality , though, the keeper isn't bothered when the title is  won, as long as its won…
 "I don't care. We've put in the hard work for so long it doesn't matter. It'll be nice to get it wrapped up as soon as possible by whatever means. 
"Over the whole season we have gone and done everything that has been asked of us domestically and it doesn't matter whether it is before the game or not."
With one or two exceptions over the years, its the winning that mattered, not how or where it was done.
Although its hard to imagine the players fighting to sit next to Cranky Craig on the bus home after the game.
However, Gordon did cheer up when he got the chance to talk about Stuart Armstrong…
"He is playing fantastically well at the moment, He wasn't in the team at the start of the season but went away and worked really hard, got himself in the team and is now playing probably the best football he has ever played.
"To go into a Scotland team and play like he did on Sunday, I thought he was outstanding. The energy he brought into the midfield, he just ran his opposite number into the ground. Slovenia couldn't deal with him.
"To have that amount of energy in your engine room, with the quality he possesses as well, is great. He scores goals and makes goals. He is a real asset for any team to have.
"He could play at Premier League level. He is turning into a big player and he is doing it in big games now.
"He's got everything, really, and is playing with so much confidence at the moment. I wouldn't be surprised if there were some really big teams looking at him."
It might be an idea to get his contract sorted before Scotland play England, as one or two English sides might have their heads turned..
Talks are underway, and Armstrong himself seems happy enough.
 "The club and my representatives are in negotiations and things seem to be going well.
"It has been a very good season and Brendan Rodgers has been great for me. He has come in and allowed me to play central midfield which has really developed my game so I'm in a good place at the moment and I just want to enjoy it. 
The Sun has sold Moussa Dembele to Tottenham, or something like that.. this from Football Insider, a strange place to keep it.
Tottenham are confident they have beaten a number of Premier League rivals to the signing of Moussa Dembele from Celtic, according to a report.
The Sun claim Spurs are the frontrunners to win the signature of the prolific young French striker, who has taken the Scottish league by storm during a sensational debut campaign.
It is said that a deal is on the cards for Dembele to join Tottenham and that the transfer is expected to go through when the summer window opens.
The Sun report that White Hart Lane manager Mauricio Pochettino is a huge admirer of the 20-year-old and has been keeping a close eye on him since his Fulham days.
Dembele has made a huge impact at Celtic since joining on a free transfer last summer after his Fulham contract had expired.
He has scored 32 goals and supplied seven assists in 46 matches in all competitions for the runaway Scottish Premiership leaders and is one of the main contenders to win the player of the year in his adopted country.
Significantly, the France Under-21 international, who can count Real Madrid manager Zinedine Zidane as one of his admirers, has turned it on in marquee matches, scoring a hat-trick on his Old Firm debut and a memorable double against Manchester City in the Champions League.
Chelsea were strongly linked with the France Under-21 international during the January transfer window but a deal could not be sealed and the Sun report that Tottenham have now moved ahead of their bitter rivals to land the player.
That comes just 14 months after Dembele underwent a medical at Tottenham and was on the verge of signing from Fulham before the plug was pulled at the eleventh hour.  
This story has been picked up by other papers, in an attempt to get Celtic fans to pick up their papers.
Effectively, some players will leave Celtic, some will come and some will stay the same, on extended and improved contracts.
You really shouldn't believe what you read in the papers.
Especially the stories that fall into one of two categories.
There's the bad stories about Celtic, such as the Dembele one above, and there's the good stories about "rangers ", known as "Jacksons Klaxons "
Yesterday, for instance, the whole story behind a few Ibrox directors not wanting to be directors of one of the companies over there was explained in simple terms for us..
 the Daily Record can reveal the truth of the matter is a lot less dramatic and can be explained as follows.
When chairman Dave King and his allies first secured control of Rangers in March 2015 the club's hierarchy was split across two different companies, the main RIFC board – formerly referred to as the PLC board – and the TRFC board which was commonly known as the football board, in charge of day-to-day operations.
The RIFC board is headed by King as chairman and also includes another five non-executive directors, Murray, Gilligan, Park and his father Douglas as well as John Bennett. Ultimately, these are the men who control the last line of the club's decision-making process and are in charge of hiring and firing. 
But Murray, Gilligan and Graeme Park also held seats on the board of the TRFC, alongside two paid executives, managing director Stewart Robertson and administrative director Andrew Dickson.
And it's been recognised for some time that these dual roles did, in fact, represent a conflict of interests.
With a director of football set to be added to the TRFC board it was felt that now would be an ideal moment to draw a distinct line between the two bodies. 
Which is why the positions of Murray, Park and Gilligan on that secondary board have now been terminated.
A source explained: "Basically, this is no more than a tidying up of the club's internal structure in the interest of sound corporate governance.
"It means there is a distinct line between the board of TRFC which will be made up entirely of executives and whose job it will be to run the club on a day-to-day basis.
"But the performance of these paid employees will in turn be monitored and judged by the directors on the RIFC board. It made little sense to have non-executive directors with a foot in both camps having to judge their own performances.
"The changes, while not essential, are in the best interests of the club's corporate governance. To suggest this is part of some kind of dramatic restructuring of the boardroom would be quite frankly absurd." 
You stopped at the but that said.." the Daily Record can reveal the truth of the matter " didn't you ?
Okay, here's the same story in pictures.. courtesy of Dances With Taxis on twitter..
You see, over there, its all about holding companies and operating companies and baskets of assets, designed largely to confuse the onlooker, whilst hinting that a failure to understand the process is a fault on the part of the observer, and not if the club.
I never understood all that malarkey about holdng companies. The old Rangers was supposed to be the holding company of the club, but I'm fairly sure that was Murray International holdings, who hung on for a while longer than the football club.
Or company.
Maybe they had two holding companies…all the directors seem to have at least two faces, so it would make sense.
Whatever way its spun, and when this level of spin is underway, we know something is going on, everyone needs to keep an eye on those dodgy chaps at the SFA, at Ibrox and in the papers. 
Whilst we are concentrating on six in a row, we need to keep an eye on what is going on behind closed doors at Ibrox and at Hampden. In editorial offices and in quiet rooms in expensive hotels
Not just us, but supporters and officials from every club in Scotland. 
One single whiff of a repeat of cheating , collusion or plain skulldiggery and that should be it. 
Game over. 
Everyone out of the pool. 
All TV subscriptions cancelled. 
All league sponsors under immediate boycott. 
Then we'll consider our next move. 
Yesterday, we had this picture..
She's back…