Celtic Diary Tuesday March 14: Time to Stand Up for our Club
The dust has begun to settle after the 1-1 draw with plucky newcomers "rangers ", who achieved possibly their best result of the season on Sunday.  Their players and supporters seemed to think so, and with Bobby Madden turning in a vintage performance for the blues , they  could be forgiven for thinking that all is well at Ibrox.
By becoming only the second side to take points off Celtic in the league this season, they perhaps deserved their moment in the sun, and credit has to go to Madden especially who kept plugging away right until the end to ensure his side got the point they needed to,er, increase their tally by one as they relentlessly go for 55.
Sifting through the various match reports and analysis is interesting and alraming at the same time, but when it comes down to it, "rangers " did what most smaller clubs do when they come to Celtic Park, and just kicked, tripped and pulled their way through the game.
Had Madden and linesman Potter been even remotely impartial, or capable, then the result would have been different, but thats Scotland, and thats the referees up there.
So why should we accept it ?
Many supporters adopt the attitude that if the team is good enough, the referee doesn't matter. Which is a little too close to lying down and having ones tummy tickled for my liking.
What are the club afraid of when it comes to calling these cheats out ?
Thats what they are, nothing more and nothing less.
Why has nothing been said, even about the general standard of refereeing in this country, to at least attempt to address the problem ?
Mind you, the club bent over and allowed the old Rangers to get away with cheating for years, so perhaps its just the fans who have got over the "poor little immigrant " mentality , and the club is unable to realise that it doesn't have toi doff its cap anymore.
Astonishingly, whilst there can be no argument that there is an institutional bias within the game for the benefit of one club-two if you count its predecessor- no one wants to stand up and deal with it.
With the cup semi final ahead of us, there is a real fear that another from the SFA school of helping handshakes can influence a game enough to prevent the rarity of a treble, and its quite worrying that the idea we should be good enough no matter what the officials do.
Sundays performance by Bobby Madden isn't the first time that a referee has allowed his allegiances to interfere with his job, and it won't be the last.
Gordon Strachan has picked six Celtic players to join his latest list of players from unfashionable English clubs to represent Scotland, and as well as sticking two fingers up to players from Aberdeen and Hearts, he has finally included Stuart Armstrong.
Strachan said;
'My wife and I went to a dinner where he made an acceptance speech and we all went: "What a lovely guy he is". But I told my wife: "I'm afraid we have to turn into devils on the pitch". She said: "I know that".
'You don't have to be a devil, but there has to be a devil inside you. You have to have this personality devil and I think that personality has grown in Stuart.
'He's become a personality on the pitch. I might be wrong, but, before, I thought he wanted to be a good team player. However, he had more than that in him.
'Now he's trying to be the best player on the pitch first of all — and be a good team player second.
'It hasn't always gone smoothly for him at Celtic. It hasn't always been a great time for him and he has had to take a few knocks and come back. But his character has been built up and he has grown into a big personality on the pitch.'
Armstrong has come on in leaps and bounds this season, and playing for Scotland can only help his confidence. As long as he does play. If he doesn;t play because someone from West Brom or Fulham gets a shot, then Strachan truly has lost the plot.
The ibrox support, delirious over winning a point at Celtic Park, didn;t really have much time to savour the appointment, as it appears Dave King has got himself into a little bit of bother over his own unique interpretation of company law.
As no one can own 30% of a comapny without making an offer to buy up all the shares he doesn;t own, King has been a little less than honest when acquiring his stake in the club, and asked a few others to buy shares on his behalf, thus allowing him a bigger share than he's legally allowed to..
What does it all mean ?
Lets see what the gullibillies think…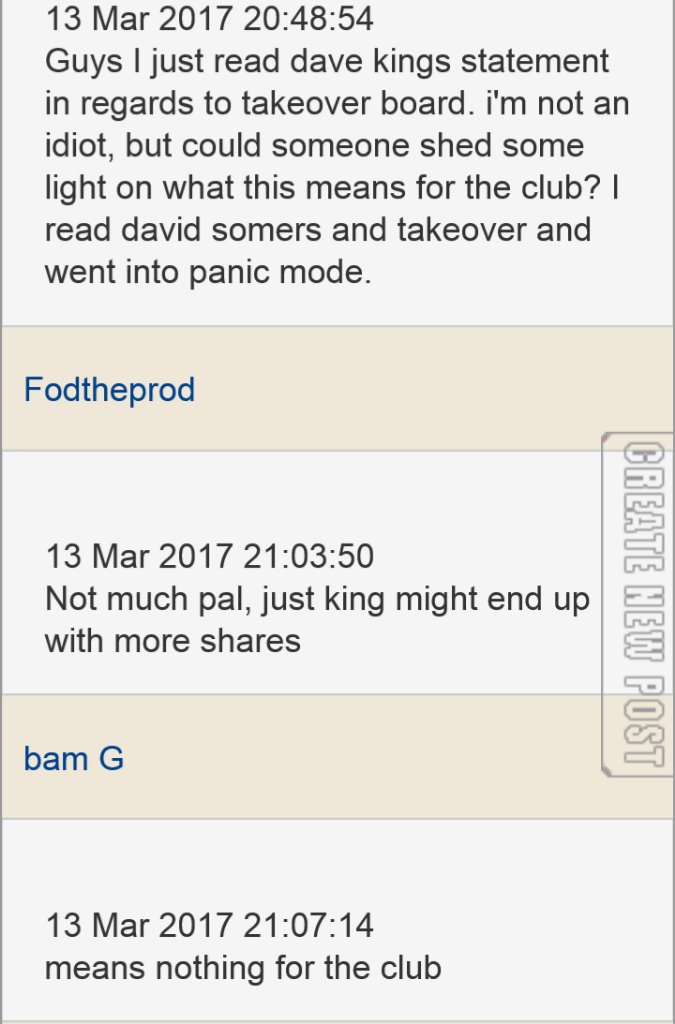 Phew!
I thought they might be in trouble there. Other experts have a different viewpoint..
Effectively, King has to now make an ffer for all the shares he doesn't already own. It's going to cost him millons.
If he doesn't, and his previous suggests he may well ignore the ruling, then he could face a hefty fine or the jail.
but the papers don't want to dwell on that-there's a new kid in town…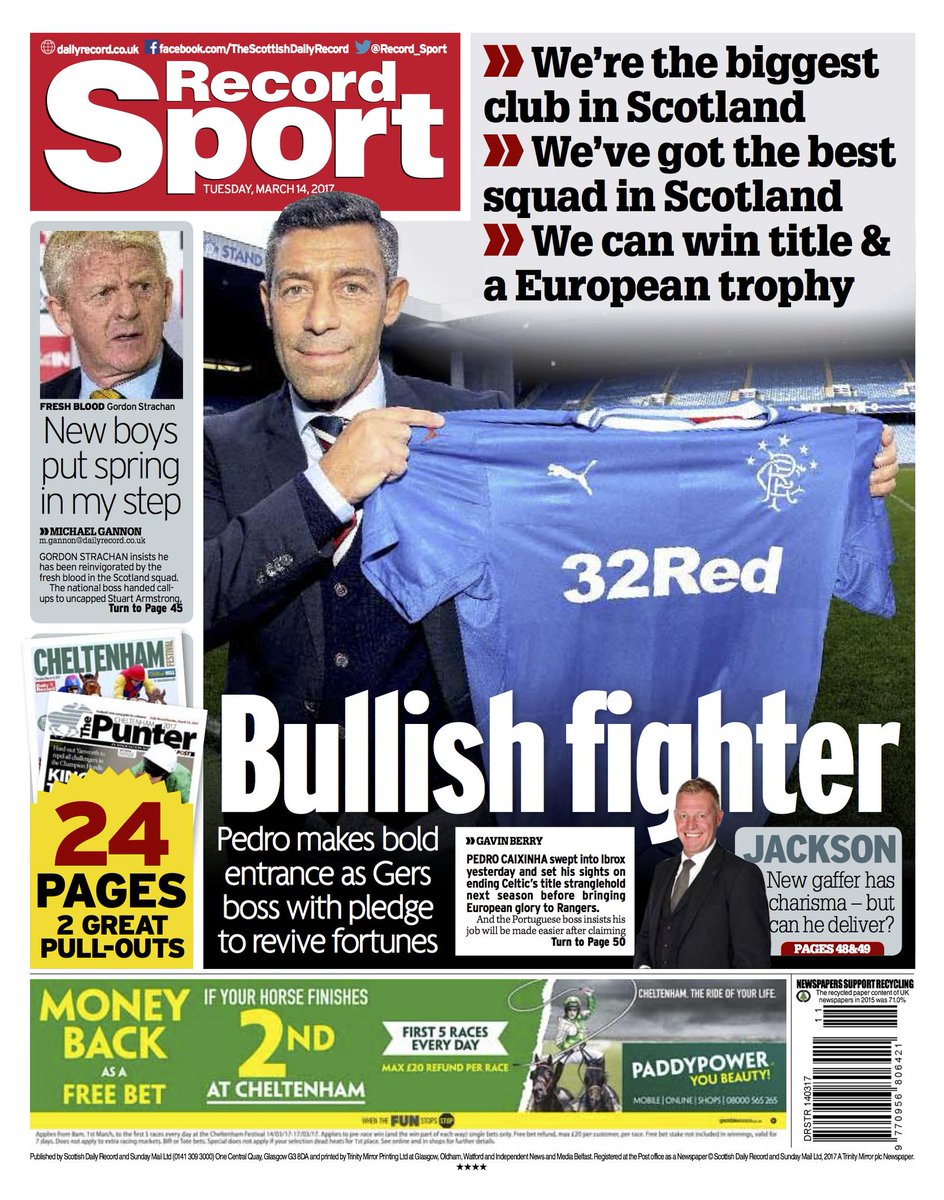 "I hope we are going to be champions next season but only time will tell. Scottish football needs a strong Rangers and a strong Rangers is only one that is fighting for titles.
"So that's what we will try to do. We know we are going to get to the top. That's what we are here for. The challenge is to rebuild the past glory. 
"It's the biggest club in Scotland and is fighting to get to the top again. Why is it the biggest? I give you two numbers – 144 years old and 54 league titles – that's more than enough.
"I want to make the club even bigger than it is and try and achieve something that maybe we haven't achieved. We are talking about European trophies.
"It will take time but at this level you need to set goals up high. If you set them low it's not enough. They need to be realistic at the same time.
"It's going to take time to arrive there but it's important to know you are following those goals.
"I always believe in the players who work with me on a daily basis and according to my point of view they are the best in the country.
"If I don't believe in my players, do you think they are going to believe in me?
"I also want to give a stability to the club in all levels, in all structures, and to get it on the way in order to be unstoppable.
"I do believe Celtic wants Rangers to be strong. I believe Scottish football wants Rangers to be strong. You don't want the champions always having four qualifiers to reach the Champions League group stage." 
Written by James Traynor
Directed by James Traynor
Produced by James Traynor.
This has been a James Traynor Production for the Scottish Mainstream Media.
Ibrox chief Stewart Robinson, who should know better by now, added..
"There will be investment there. We are going to strengthen the squad but I'm not putting numbers on it." 
Caixinha also cleared up the mystery of the "Celtic brother " video that has emerged on the web from his time at Santos Laguna..
 "I'd no relationship with Celtic. I was with Santos Laguna … They asked me to make the video, I made the video. That is all." 
Whereas at Ibrox, no one tells him what to say or do…
Meanwhile, Barry Ferguson, currently between jobs, has thrown his hat into the ring to be the Ibrox number two. Which is exactly how a lot of people already describe him.
Ferguson, no doubt wearing his Ibrox trackie, burbled..
That's my club. That's where I was from an eight-year-old kid. I spent 20 years of my life at Rangers." 
Who's going to tell him ? In monosyllables, preferably.
The ugly head of sectarianism popped up at the weekend, and Hannah Rodger of the Evening Times was straight onto the case..
Sectarian graffiti being investigated by police 
SECTARIAN and offensive graffiti scrawled in the city centre is being investigated by police.
Members of the public spotted the foul scribbling on a number of buildings in Nelson Mandela Place and Glassford Street over the weekend.
The remarks, which read 'Hun c***s*', 'Hun scum' and 'RIP RFC' appeared in large black letters on several derelict buildings.
Commuters and shoppers stopped to stare at the vile scrawl as they walked past earlier today, with many commenting that it should be removed.
One shocked passerby who spotted the graffiti this morning, said: "It's just awful.
"I was really surprised to come across it.
"Unfortunately, there is still an undercurrent of sectarianism in the city, and it's completely uncalled for. 
"It's such a stupid and ignorant thing to do."
A Police Scotland spokeswoman said is the force were aware of the graffiti and are now investigating.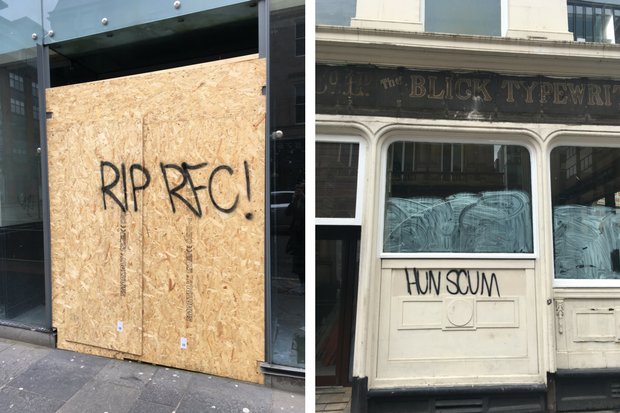 Sometimes, as a reporter, I guess you get all excited and don't actually bother reading what you've written. Fair play to her though. Sectarianism is a big word, and not everyone can understand big words, but she had a go, which is encouraging.
Other big words she might want to include in later articles include "administration", "liquidation " and "sycophant"
There was no caption competition yesterday, as i didn;t feel like laughing and didn;t see why anyone else should, so we go back to Sunday for this one..