Celtic Diary Monday March 13: We're Going to Need A Big boat
Quite possibly the most inept performance by a team wearing the hoops.
Thats all I can say about another example of Celtic playing the occasion, and not the players in front of them.
Craig Gordon was forced into action more times in this game than he had been in the previous twenty seven , largely due to a central defence that was bullied by an old man and a guy who picks fight with schoolboys.
The two full backs sort of tried, but seemed to be reactive rather than proactive, while Armstrong apart, the midfield were simply handing over their dinner money to the big guy so he wouldn't pick on them.
The three forwards looked like they couldn't care less, with Dembele especially ineffective, and Sinclair probably wondering how he can get out of the hoops and into a  greater Manchester club without making it look like that was his plan all along.
I said all week that if this lot can't deal with the low level side in front of them pretending to be a big club then they should chuck it and go and live on a boat.
And they should.
I also said that the linesman, Dougie Potter was one to watch.
Where was his flag when Leigh Griffiths was attacked by Clint Hill ? Bobby Madden will get the flak for the honest mistakes, and there were a few, but the assistant refs should also be taken to task.
Of course, they won't be.
What we saw yesterday was a trial run for the cup semi final.
If you thought that the "rangers " players got away with bad tackles yesterday, wait until next month. They'll probably be wearing steel toe caps and carrying knuckledusters.
Not one Celtic player gave it back to them.
You can argue that we'd have had a guy sent off, you can argue we'd get bad press, but if we don't start to stand up for ourselves, then someone is going to get hurt.
At this point in the game, after just a few minutes, "rangers 2 knew what they would get away with.
Would Bertie Auld, Tommy Gemmell or Roy Aitken have put up with that ?
When Jason Holt scythed Patrick Roberts he knew that the worst that would happen was he'd get booked. He didn't even concede a foul in the yes of Bobby Madden.
Or the linesman.
Unless we do something about it, both on and off the pitch, we will sleepwalk straight back into the nineties.
The Record shamefully drew attention to a young girl who had mouthed a bad word at Clint hill. As supporters do.
By buying that paper you are condoning this. How many times do we have to tell you ?
By accepting continual assaults on the players, and ridiculous decisions such as the late lunge on Griffiths, we are allowing the old boys network to haul the carcass of "rangers " back into the mainstream of Scottish football.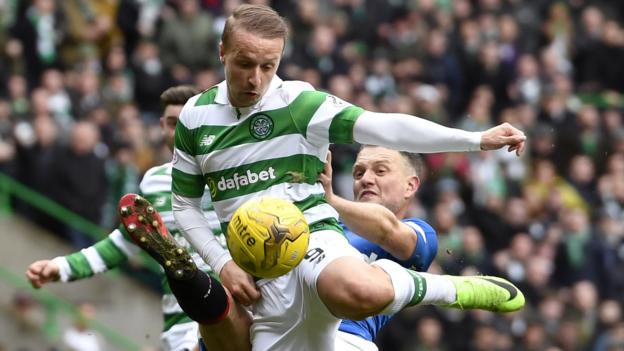 Look at what hill is looking at. It isn't the ball.
Notice also that no one is mentioning the "foul " by Brown that earned the free kick that led to the goal.
And then there's the health issue..
With action on Resolution 12 delayed until after the court hearing on March 15, and its only a hearing, there won't be a decision until autumn, it looks very much like we are going to remain seated at the back of the bus.
Not me.
I had enough of that shite in the nineties.
I'm looking at the ads for a nautical residence.