It will be an emotional afternoon at Celtic Park, as the club holds a minutes silence to mark the passing of the legend that was Tommy Gemmell. Or should that be "is Tommy Gemmell" ?
I think so.
The legend that is Tommy Gemmell, for they never truly die until the last person speaks their name.
The club deserves credit for thinking it through, as the two minutes silence has become associated with those who want to be seen to be paying respects, and the minutes applause is more like the bit after a funeral when the deceased is rembered by mourners, and so a minutes dignified silence, spent either in prayer or remembrance, is the correct way to honour the man.
And the big man was partial to the occasional cup triumph..
Then its back to business as Celtic pursue the third leg of the treble.
It's not going to be easy, St.Mirren have nothing to lose, as this tweet from keeper Jamie Langfield shows..
I see Messi wants Dembele at Barca

any chance he can get him before Sunday at 12:30


 It might seem a little humourous, or tingue in cheek, but it shows that the buddies are not under any pressure, and so they might even try to win.
Celtic have form in slipping up in cup matches against lower league opposition, as recently as last year when "rangers " shocked the football world by knocking the hoops out of last years competition on penalties.
Hopefully, manager Brendan Rodgers can keep complacency at bay, and the side can continue the unbeaten domestic campaign. He's certainly aware of how it might go..
 ….if you look at early parts of the game, no team is going to open up against us.
"So when the game starts, you are virtually straight into the opposition having 11 players behind the ball, giving you very little space.
"That is very difficult to break down, so you have got to wear them down.
"You have got to get them running, and then if your bits of improvisation and individual quality can come through early, then great. You get your goal.
"That goal then means the opposition have to attack. If they don't, okay. Then the new win for them is to lose one or two-nil.
"How they play is down to the individual coaches. I can't tell them how to work or how to have their sides play.
"I can see people in the media look at it and think it would be nice to see two teams trying to win. But I respect where teams are at.
"There is no discredit on any opposition coach who comes into matches against us with a game plan.
"For us we have to work away around the field to break the opponent down. But we have a belief that it will come."
He also praised the support, cleverly explaining to them why the players don;t go charging towards the opposition goal all the time, which will be invaluable in Europe, but perhaps not so desirable in games like todays…
"The second thing is the supporters. They are huge for us,
"This is why, when I first came in, I stated how important it was they become educated in the way we were playing.
"You cannot attack all the time. You are in attack when you play back, in order to go to the side to go forward.
"Early on when I came in, if the ball wasn't going forward, there was a little bit of nervousness amongst the supporters.
"Now I think they understand how we are working.
"They know they need that bit of patience when we are trying to break down teams in order to win the game." 
That put me in mind of Martin O'Neill, who famously criticised fans for knowing nothing about football after the home draw with Boavista in 2003. Only, of course, to claim we "knew our football " when we booed Porto for their theatricals in Seville a few weeks later.
Rodgers is saying the same thing, but in a different way, leaving us all feeling rather knowledgeable as opposed to bewildered.
The key to the success of Celtic this year has been consistency, of performance and selection. you play well, and play the way the manager wants, you stay in the team. You take your chance when it comes along, and you stay in the team.
Though it has certainly helped having considerable strength in depth. With players of the quality of Rogic, Armstrong, Griffiths Roberts and Forrest missing chunks of the season, their replacements have slipped effortlessly into the side, with no  noticeable drop in quality.
Today will be no different.
Whilst there may be a temptation to rest a few players, the simple fact is that this is now the primary tournament, as the league is more or less won, with reallsitically just two more victories required to be certain. And with two games against "rangers " among the remaining fixtures, then its pretty much time to relax and turn on the tv.
So to speak.
The Cup promises to be a little more, er, exciting.
Brendan Rodgers again…
'It is another great game for us at home. We love to play at home.
'St Mirren have earned the right, they have had a difficult period in the league this season.
'They have obviously changed the manager, but have made some signings in January which has helped and boosted them.
'They have had a couple of good results of late and beat Hibs in the week which will be a real confidence-booster for them and on Sunday they will look to give their all to get a result.
'But for us, like I say, the focus is very much on ourselves.
We will prepare exactly the same and, like I say, no more or less focus. We want to progress into the semi-final.' 
'We have already won the League Cup and we earned that. We got through the competition without conceding a goal and we played the final very well (beating Aberdeen 3-0).
'Up until this point we have played well in this competition and we aim to do the same on Sunday and if we get to the final then we have to earn that.'
How Celtic line up is, as always , intriguing, yet we never seem to get any major surprises.
Craig Gordon, who is about to/has sogned a new three and a half year deal should start in goal.
Any four from eight at the back, any two from four in front of them, and then you can pretty much mix and match the front four from whoevers left.
Though if Leigh Griffiths doesn't get on the pitch, one might surmise thats to keep him fresh for the semi final against "rangers ".or whoever else draws Hibernian….
There is talk of an emergency loan to the Edinburgh club, something not denied by the striker when somone asked hi this on twitter, but to be honest, it seemed more like another of his jolly japes.
I wonder, perhaps astraight four four two for a laugh, with Griffiths and Dembele given a chance to work together ?
Probably not, but we can hope.
Two other semi finals took place yesterday, Hibernian cruising past Ayr United 3-1, and a John "Billy Boy " Beaton inspired "rangers " crushing Hamilton 6-0.
Not that the Lanarkshire sides spirit required much crushing after Beaton, starring yet again for the "gers " in the cup (remember his match winning performance against Albion Rovers three years ago ? ) , failed to spot Wes Foderingham handling the ball outside th box at 0-0,
Ah wait, that was against Hearts, I meant this one…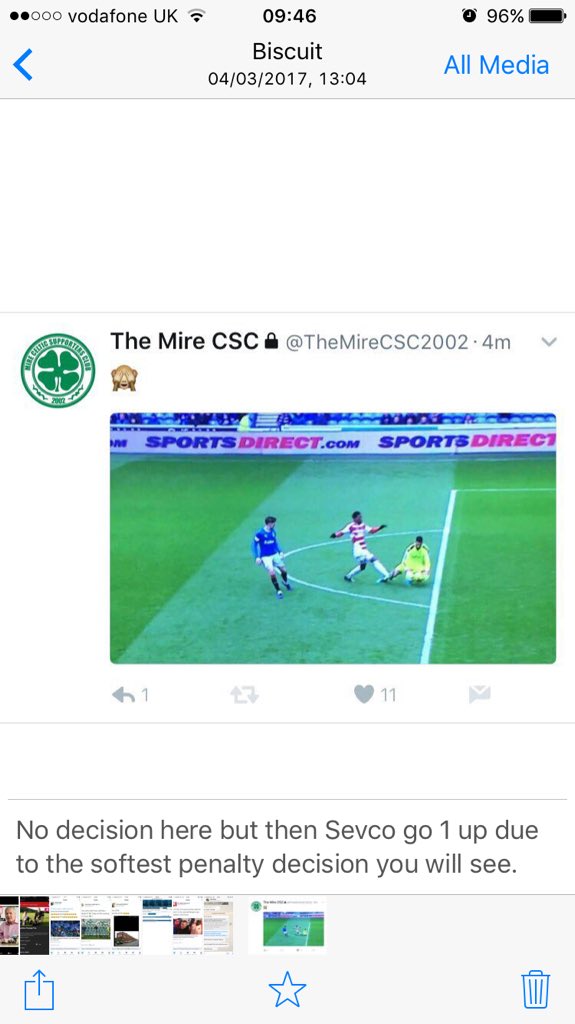 Add to that Foderingham handling a back pass fro James Tavernier at Ross county back in November, and we can see that the goalkeeper either isn't too familiar with the rules, or feels he doesn't have to be.
Same with Joe Garner really. He ran over and booted Dougie Imrie…
and then had a wee chuckle to himself as he barged the Hamilton player to the ground..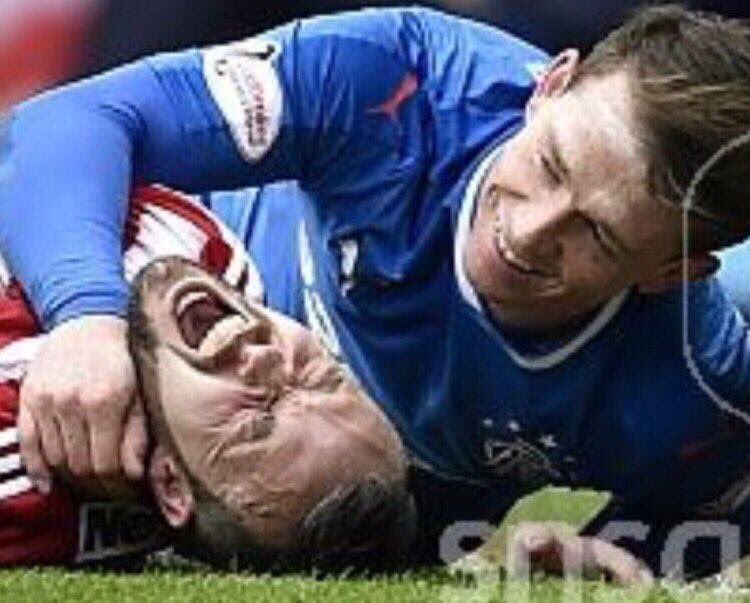 Mind you , he did get booked. For an after dinner speech at the lodge, presumably, where he will no doubt be the guest of Billy Beaton, who has staked his claim for the semi final or final, which could see his contract with "rangers 2 extended should he put in another outstanding performance against a hooped team.
Without dwelling too much on the cheating bastards within the establishment, and their favourite team, I'll be glad when Mike Ashley finishes them off and turns them into a works team for Sports Direct.
Or his new lingerie firm, which specialises in covering up , oh , you do the punchline.
As far as that club is concerned, this guy has the right idea, no matter what shite you read in the press…
Billy Beaton ensured a lot of criticism for Scottish referees again, which will be largely ignored in the media and by the SFA.
We need a strong, fair and honest performance fro todays man in the middle, Steven MacLean, to balance out yesterdays abysmal effort fron Beaton.
Oh , bollocks, its Steven MacLean, pictured here arriving at the ground this morning, with his team of assistants.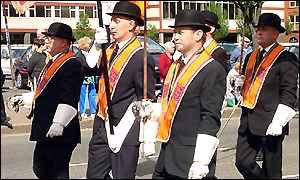 Maybe we should stop criticising them, maybe if we were nice to them, they'd be nice to us.
After all, if someone had just high fived Adolf Hitler back, even just once, he might not have been so grumpy for all those years.
Firdays caption pic attracted a few quality responses as we have come to expect..
Hee hee. just had a laugh at the Co op while I was getting my drink in for the game. I put some beer, some snacks and some nappies and baby food into the trolley, then at the till pretended I hadn;t got enough money for everything.
I told the lass to put the nappies and baby food back as they could go another couple of days without. Always worth it to see the look on their faces.
Hang on, there's someone at the door…