Celtic Diary Tuesday February 14: Media In Full Backpedal Mode
There was a little bit of a clue yesterday as to what may have taken place when Dermot asked Brendan to hang his hat at Celtic Park. Remember Virgil van Dijk ? Big fellow, went to Southampton ?
Rodgers wanted him at Liverpool, a he explained to the Evening Times
"Virgil van Dijk could have jumped from Celtic to Liverpool,"
 "Some clubs will want to see the players tested at certain arenas first.
"But if there is enough belief in the player then that counts. The key for scouting is trying to predict when the player is peaking. You could see with Van Dijk that he was quick, strong, good on the ball and decent in the air.
"So what more do you need to see? You could see him playing international football and, okay, clubs may want to see him in Champions League.
 "There is maybe an issue with scouts, When I was at Liverpool I asked about Van Dijk and he was at Groningen and then at Celtic. But I was told he wouldn't be for us at the time." 
So the Liverpool manager, who stands or falls by his decisions, isn;t actually allowed to make all the decisions. Unless, of course, he asked the scouts opinion, and went with it.
Although his comment on van Dijks ability suggests he'd already made his mind up, and that he was frustrated by the way things were done at the popular Mersey club.
When Dermot offered him the Celtic post, this incident, and presumably others, would have been on his mind, and we can perhaps venture that complete control would have been on the agenda.
It's this level of control, perhaps not available down south where making money is prioritised over winning trophies-check the English cup line ups if you don't believe me-that may yet see Rodgers hang around longer than the SMSM anticipate.
While he does, he will continue to develop players, and consequently the team. The biggest success to date, Moussa Dembele may be about to increase his price with his international debut for France, especially as their next two games are away to Luxembourg in the World cup, but at home to Spain in a friendly.
Deschamps has already noticed the Celtic youngster, mentioning him last year…
There are many young players that I consider that there is great potential for bringing to the international stage,"
"Football in France is very rich particularly with young players coming through.
"We have quality youngsters who have yet to be selected but they will be.
"For instance we have Moussa Dembele at Celtic, who can provide an option in attack. He is a big talent. Sometimes you can promote the kids too soon, but some just have that ability that would make them hard to ignore. I will be spoiled for choice in 2017."  
You see, its only in the English media that playing for Celtic is seen as a drawback.
Ah, the English media.
Talkshite Radio, which features adverts interspersed with occasional comment from radio presenters who think listeners can tell which one is which, also has a website, where the more literate-and its purely relative-of them can spout in textual form as well.
Such as willy impressionist Adrian Durham…
Durham, you may remember, first showed his soothsayer quality when he spoke about Mark Warburton at "rangers ", shortly before surgery to remove his tongue from the magic hats bottom.
The end , of course, wasn't too far away…and as a result, Durham found his crayon and began to scrawl…
Mark Warburton transformed Rangers AND Celtic, now his
Ibrox exit proves Scottish football has lost the plot – opinion
talkSPORT's Drivetime presenter Adrian Durham discusses developments at Ibrox, and what it means for the team at Celtic Park… 
Drivetime ? That explains this..
It's official – Scottish football has lost its mind. 
Its probably in the same place as Durhams.
It seems there really were people north of the border, even self-proclaimed experts, who genuinely thought Rangers would challenge Celtic for the title this season. 
Nobody with serious football knowledge thought that. And yet Mark Warburton leaves Glasgow with some buffoons thinking he has failed.
At this point, its worth noting that Durham considers himself to have "serious football knowledge "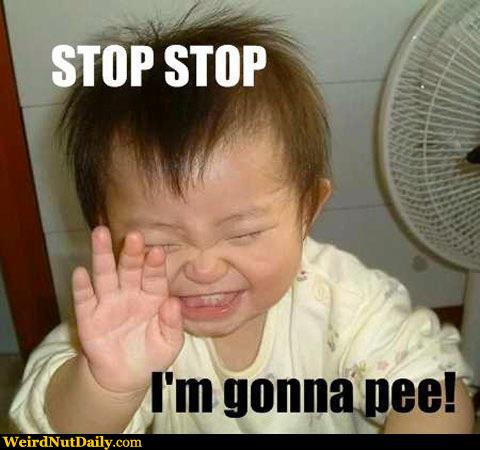 "What about his budget?" is the cry from people I can only assume would have been happy to see Rangers demoted to oblivion rather than the third division a few years ago. 
There goes his "serious football knowledge ". Along with his composition skills. They were consigned to oblivion.
These are the guys on social media who claim this is a new Rangers, the old one died and no longer exists according to them. 
Well if that's true maybe a brand new club that has fought its way up to the top half of the top flight in the space of just a few years should be applauded rather than abused. 
Make your mind up. We going with the same club ? A new club ? Choose one, it'll help the narrative.
Of course it isn't true: this Rangers is the old Rangers, the soul, support and history of that club never died, despite a large number of people bizarrely wanting to kill it off.  
This isn't the old Rangers, otherwise the taxman would have whipped away everything they've got. The support hasn't died, it just stood by and watched the club die, and as for the history-well they bought that off another club/ A fellow from yorkshire explained that on talkshite some years ago.
I have to ask if they are genuine football lovers, or are they fuelled by a hate not grounded in the positive aspects of sporting rivalry. 
Genuine football lovers ? Or fuelled by hate ? Just to clarify, its not the "rangers " support he's asking, its everyone else…
When Rangers faced Celtic in last season's semi final of the Scottish Cup, Mark Warburton suggested to me that the game had come too soon for his side. Rangers proceeded to outplay Celtic and beat them, but Warburton was right. In fact that day sealed Warburton's fate, ironically. 
He doesn't know what outplay means. Yes, Celtic lost, but on penalties, which is not really winning by outplaying your opponents.
His mission was for Rangers to go up, beat Celtic, and get into the Champions League. He was clear of the plan, but unsure of the timescale, although it was clear anything but promotion in the first year would be unacceptable. 
Rangers and Hibs made the Championship more interesting than the Premiership in Scotland last season, and it was fitting that while Rangers won the league, Hibs went on to break their Cup duck. 
Celtic were stumbling along, going through the motions, and winning a league with no challengers whatsoever. 
If only "rangers " could have been in the top league. Like they are this year.
Then that semi final hit Celtic like a ten ton truck. 
They don't do ten trucks anymore. you can get a seven and a half tonner, but thats not really a truck. you can drive it on a car licence.
The media response was phenomenal. Rangers winger Barrie McKay made Celtic look like Scone Thistle that day. 
Who ?
Durham, of course, couldn;t point to Barrie Mackay if he was stood standing next to the Stylistics.
Celtic were made to look awful, Ronny Deila had to go, and all of a sudden Celtic was a club filled with fear – they had to do something about this Rangers side that was about to join them at the top table. 
As you are aware, Deila wanted to leave after the Ajax game, and was not forced out as a result of his tactically inept performance against "rangers ".
Deila went, money was spent on a top manager from the Premier League, and something – I can only assume wages – persuaded Moussa Dembele to make the backwards step from English Championship to Scottish Premiership. That semi final defeat transformed Celtic, no question. It focused minds in the boardroom. 
Backwards step from the championship to Scotland.
And there we have it. The old imperialistic attitude that makes the english so beloved around the world. Its not in everyone, far from it, but those in the media seem to think its what people want to hear, and they have yet to realise the truth.
Dembele's  is a sign that the riches of English football are not for everyone. Games against Hull, Watford ; West Brom and Crystal Palace are only attractive when billed as a Super sunday. The reality is drudgery. Those teams will never achieve anything, largely because all they want to do is stay where they are. You can;t blame them, but you sure as hell don;t wake up in the morning looking forward to the game.
Even so, only the most deluded would have thought Rangers would be serious challengers the first year of promotion. 
Yes, second best budget. But as the Joey Barton debacle proved, budgets won't change mentality, if some people are unwilling to change. 
I've worked with Joey, and the level of professionalism he inspires in this latter part of his career is impressive. When giving his views on Rangers' big defeat to Celtic early in the season in a players' meeting, it seems others at the club couldn't handle the standards Joey was demanding. At some point, those individuals will have to buck their ideas up, or they'll end up transferred to a lesser club that will match their ambition. 
Poor Joey, he had so much to give, and yet he was shunned by those he tried to help. Yet he led by example…
The truth is Rangers were totally broken only a few years ago.
It's spelt L-I-Q-U-I-D-A-T-E-D.
Off the pitch they're struggling to cope with the demands of top flight status. On the pitch there are players still stuck in the backwaters, unable to accept they need to change and improve and become more professional in everything they do, or they're still dining out on that semi final win against Celtic. Some of them even looked like they've dined out on it to excess against Hearts recently.
That'll be the world class breakfasts…
Brendan Rodgers is doing a CV repair job with a few trophies (it's the equivalent of buying followers on Twitter, looks good, but in reality means very little), Moussa Dembele will get a big move this summer if he's got a decent agent. Celtic will make money and add honours. Clever from the Celtic board. 
They've appeased their fans, and done some shrewd business. 
But it's worth remembering they were only fired into action by that Hampden Park embarrassment at the hands of Mark Warburton's Rangers last year. 
And not, surprisingly, the fall in attendances, the criticism of the manager and the lackadaisical efforts on the pitch.
And so glory that day backfired on Warburton. As he said to me, it came too soon. It raised expectation to a level which was unsustainable for a club with the recent history of Rangers, on and off the pitch. 
Recent history ? Thats all they have. a recent history.
In his final programme notes, Warburton asked for patience. No chance. He was vilified by the media for saying last week that Rangers were aiming for second place. It defies belief that serious football thinkers in Scotland believed they could challenge Celtic at the very top straight after promotion. 
Ah, thats Scotland for you. but you do know thats not why he's being villified, don't you ?
Warburton will be fine, he will carry on building his excellent reputation in England, no problem. 
Ah, his excellent reputation. The reputation that has had clubs queuing up for his signature.
He knew it wasn't going to happen quickly at Ibrox. Unfortunately there were some deluded fools who failed to realise the size of a budget won't precipitate a change of culture throughout a club. 
There are some deluded fools who believe a lot more than that.
And maybe with a new manager, the truth will finally click for some of those Rangers players, and they will increase their level of professionalism and quality to the required level. I suspect it may take a while. 
Hope not-they haven't got long..
Mark Warburton has become a unique figure in Scottish football history. He's the only manager whose success transformed both Rangers and Celtic. Good luck to him. 
And Adrian Durham has become a unique figure in broadcasting and media history. He's managed an entire career without saying anything remotely sensible or thought provoking.
Durham is just one of many in the media who somehow elevated Warburton to a level he'd never previously attained, nor is likely to attain any time on the future. But despite reality kicking in elsewhere, he's still clinging to his guns. Admirable in one sense, but typical of the English media and their inability to accept that just occasionally, they talk absolute bollocks.
In Scotland, the about turns on Warburton continue unabated. The first winner of our award for the most spectacular about turn goes to bill Leckie.
Tautological typer Bill Leckie, who burbles for the Sun, was actually doing quite well when he laid into "rangers "fans yesterday..
In truth, I tired long ago of writing about all this, because it got a bit like shouting up to a guy on the tenth floor of a blazing building that he needs to get the hell out and him shouting back:

"DON'T TELL ME THIS BUILDING'S BURNING! YOU DON'T KNOW ABOUT THIS BUILDING, THIS IS OUR BUILDING, IT'S A HISTORIC BUILDING AND YOU'LL NEVER BE FIT TO BURN IN IT!"

What can you do about an attitude like that? Knowing even if they escape and the building isn't too badly damaged, they'll be too proud to get the smoke detectors checked so the place doesn't catch fire again?

They got burned under David Murray, they got burned under Craig Whyte, they got burned under Charles Green and now they're getting burned under King.

They refused to see the smoke signals until it was too late when Ally McCoist was in charge and they refused to see them when Warburton was plainly toiling.

Who knows, maybe they go back to their boozers and tear his signing policies to bits, maybe they go home and kick Albertz the dog up and down the garden, but — and here's the crux — what those in charge can always rely on is that they'll always come back and they'll always stump up their cash and they'll always, always sing No Surrender so the world knows there's nothing to see here, please disperse.

Except the world DOES know something's wrong, very wrong. The world can see that without the amazing numbers who kept turning up in League Two, League One and The Ramsdens Cup and who now still turn up despite seeing their greatest rivals disappear over the horizon on a golden team bus, Rangers would be nothing. Dead. Gone.

The money handed over by those ever-loyal hordes allowed Whyte, Green and McCoist to make an almighty rick of getting back up through the divisions and it has allowed King and Warburton to put together a gang of overpaid, overvalued, underachieving mercenaries in the top flight.

See the link there, Bluenoses? Without your money, your £800,000 at the gate every other Saturday plus pies and programmes and whatever else — even with the THREAT of those fortunes drying up — none of these imposters could have operated.

If only you knew the power you had. It's greater than just about any other major club, because if Man U or Liverpool or Arsenal fans stayed away they'd still have their £100million a skull from Sky and they could market themselves up new pretendy fans.

But you don't get it. You think strength comes from roaring defiance at everyone outside Govan, from constantly reminding everyone Whit Ye Ur and what you stand for.

Well all I can say is, how you stand for the mess that club has become is way beyond most of us.

Dave King NEWS GROUP NEWSPAPERS LTD
3
Rangers chairman Dave King
I mean, Barton? Senderos? Hill? Kiernan? Kranjcar? Who's kidding who? Between them, they'll have soaked up the first 4,000 admission fees every week.

That money was meant to get Rangers off their knees, give them a future, not to build a time machine back to the era of idiotic spending that brought them down in the first place.

Truth is, with a squad full of guys who have no re-sale value and whose best years are long behind them, Rangers have turned back into everything they were under David Murray, except a Poundland version.

And if anyone is daft enough to argue the toss about that, think on this.

Moussa Dembele cost Celtic £500,000, has scored 26 goals in 40 and is now valued at £40million, a fortune they can afford to turn down.

Joe Garner cost £1.8million, has three in 15 and might make the next gaffer £500,000 back if he cuts his losses.

That's it. That's the story, right there. Forget all your boardroom politics and management double-talk, that's the bottom line.
He presumably gets paid by the word, but the point he makes is sound.
But why wait five years to make it ? Are the media finally falling into line with the thinking out in the real world ?
Or are they simply trying to salvage their reputation ?
The old Rangers nearly destroyed Scottish football, and the court cases to come next month will further darken its image.
All of which isn't pleasant to ponder, but as we have seen, a "strong Rangers 2 is apparently essential to the game, and therefore when all of this is over, keep an eye out for a major reform in the game. Not quite making EBTs legal, but some other rule-possibly a draft of promising young players-designed to even out the spread of talent emerging, and all with the aim of stopping Celtic reaching that magical ten in a row.
It's already started. Celtic players are bleaching their hair. We're all doomed..
Today is, of course, the fifth anniversary of Administration Day… and we've found this , on twitter, to help bring back some fond memories, to the tune of Billy Joels "We Didn't Start The Fire "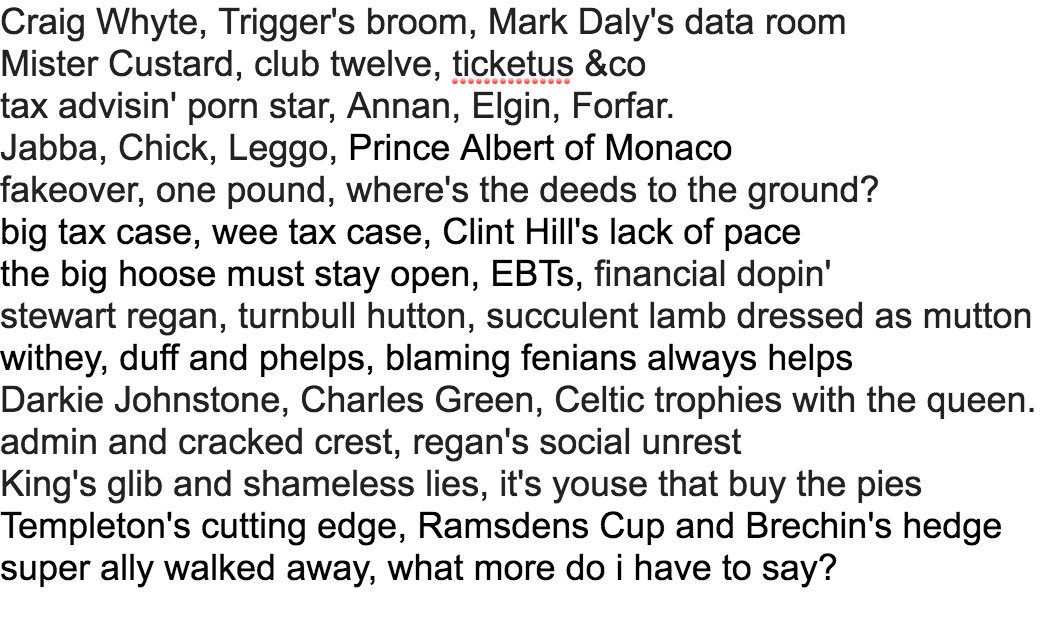 Yesterday, we asked for an explanation of this picture…
aptly..