Just to make things a little easier, we'll sort of divide todays piece down the middle. Unless I start rambling and we go off on all sorts of tangents, which lets be honest, wouldn't be all that unusual.
We'll start with Friday's sleep out at the Bet 365 stadium, home of Stoke City, and then we'll move on to todays game and matters concerning that.
Actually, today Celtic play St. Johnstone. Its on the telly.
Lets move now to part two.
The sleep out. I'm making no apologies for making this the main theme.
Leaving work on Friday the enthusiasm for a night out with what the radio was calling Storm Doris, which sounds more like a character from a Dickens novel, was beginning to wane, not least when a works colleague and fellow Lennon CSc man-lets call him Billy, because he hates that-pointed out that in the rules of the sleep out alcohol was "not allowed inside the stadium" which presented difficulties for him in is bid to "get into character ". A shocking stereotype, but then, as you'll see thats kind of the point.
We were trying to deal with the subject with our usual childish humour.
To cheer us up, on the way back from Widnes, a northern town near  1920 if you fancy looking for it, we rang the Radio 2 drivetime show, hosted by a chap with the unlikely name of Simon Mayo, to get a song on and get a shout out for the event.
We were fortunate to be able to tune in as my clock only goes up to twelve, and even more fortunate to get through to the show, where we explained to a lass who sounded very young, very blonde and very squeaky who told us we would probably get a call back.
After much discussion we agreed You'll Never Walk alone " would be the appropriate choice, ignoring Bill's suggestion of YMCA by the village People-he was already "getting into character " -admittedly more through fear than anything else.
We never got a call back, and it was only later we worked out why. You see, someone obviously upset him in the past, and he now wants no further part of anything connected with Celtic.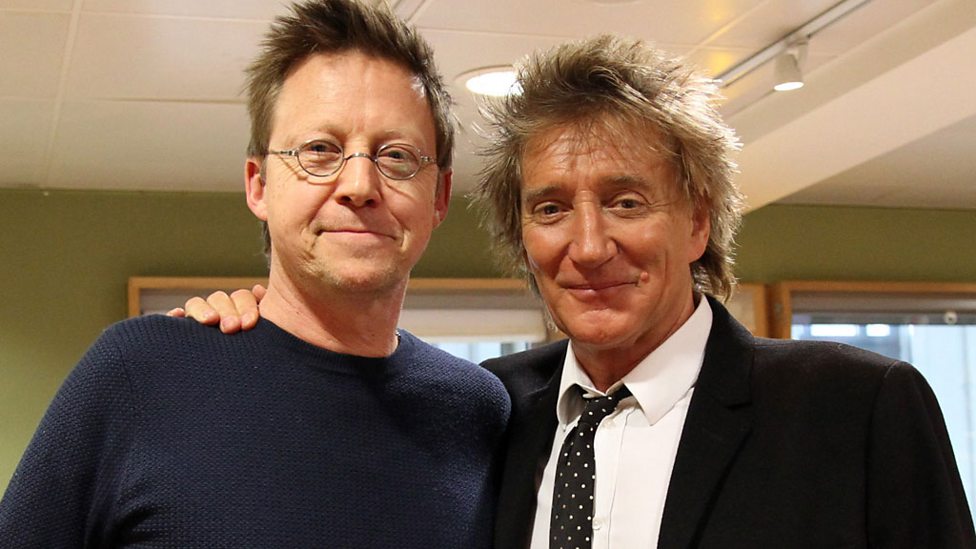 We can only wonder what was said to the man who makes blandness an art form. ( and at Radio Two thats an incredible achievement )
Anyway , he didn't ring back and so therefore is a knob and will take some catching for this weeks award.
Undeterred, I went home to "get into character ", which involved several layers of clothes and a collie dog before we headed over to the stadium.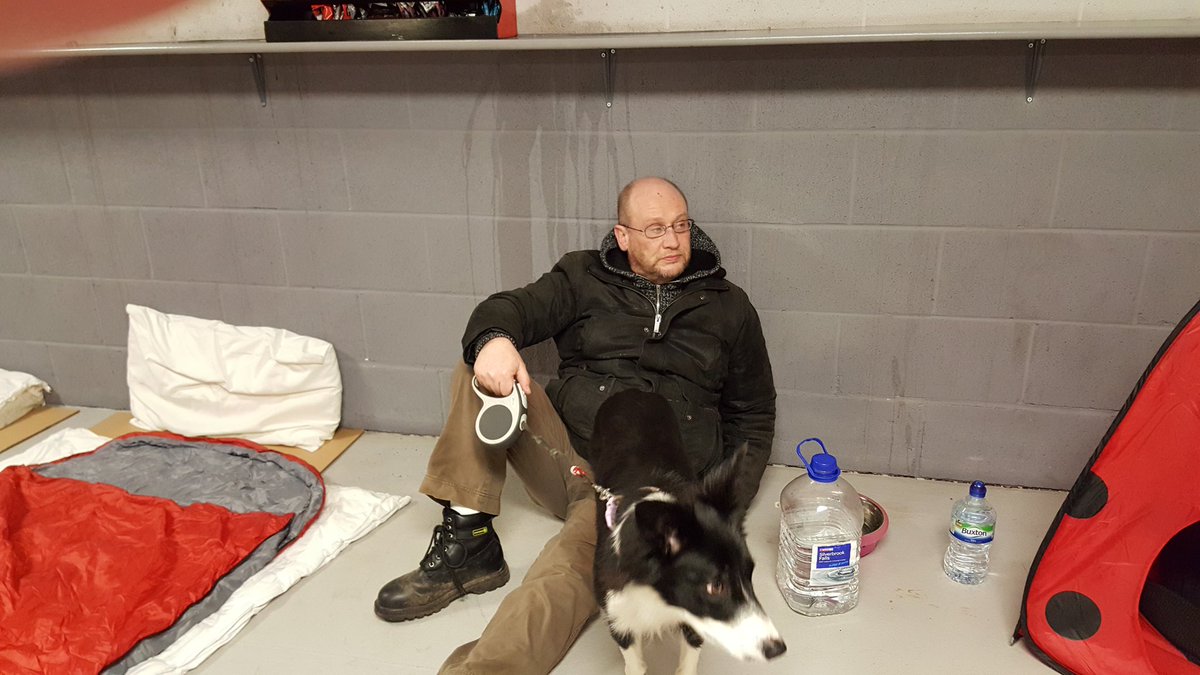 One of my sons had given me two sleeping bags to go with two thermal type mattress thingies to sleep in, half of which were plundered by fellow members which added to the sense of being in character as one of the real worries of sleeping on the streets must be what happens when you finally get some sleep and someone else helping themselves to whatever little you may have.
Thats where the collie dog comes in useful. And the steelie boots.
The layers of clothes weren't overly practical either. At one point I got my feet tangled in my sleeping bag and fell forward, unable to move my arms quickly enough to break my fall, but luckily enough my forehead got there in time.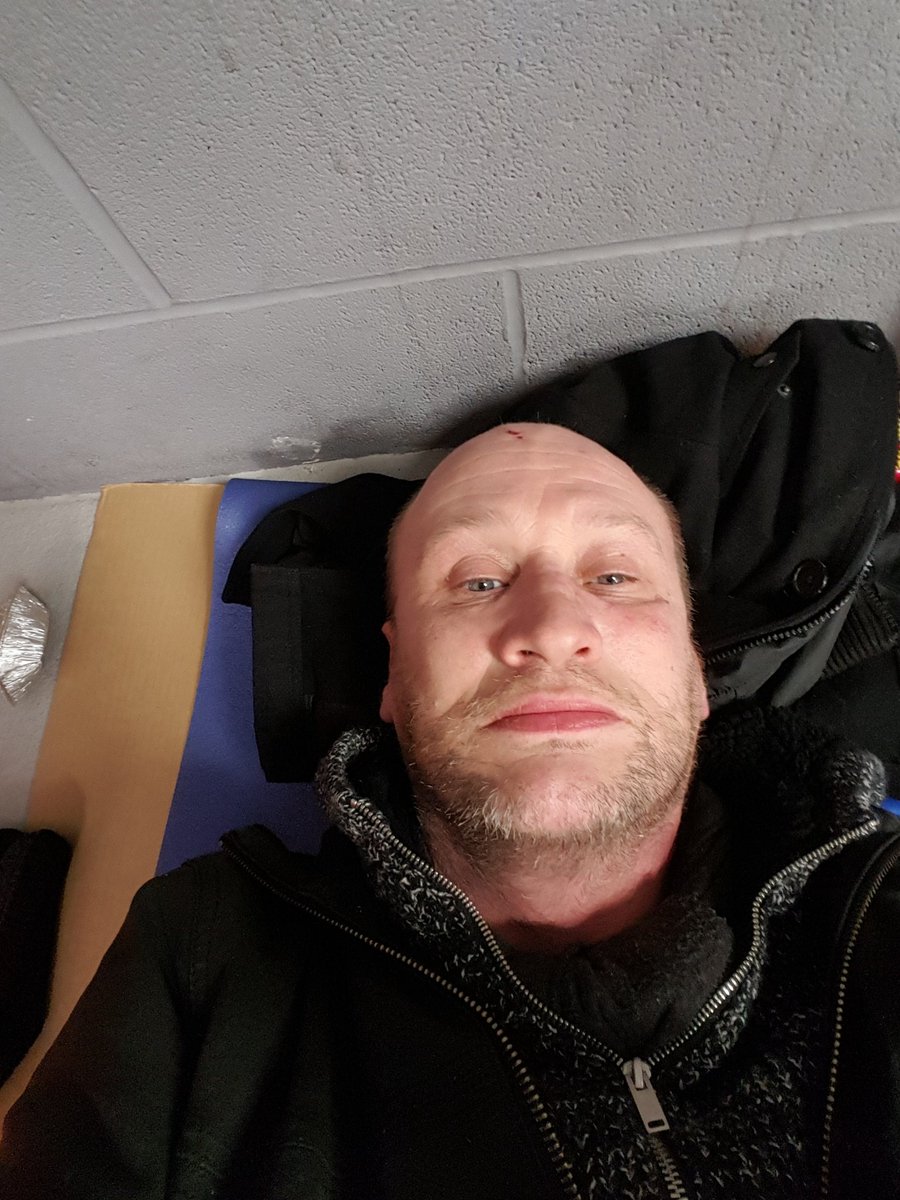 Anyhoo, we managed to get ourselves together and settled in for the night… and we needed to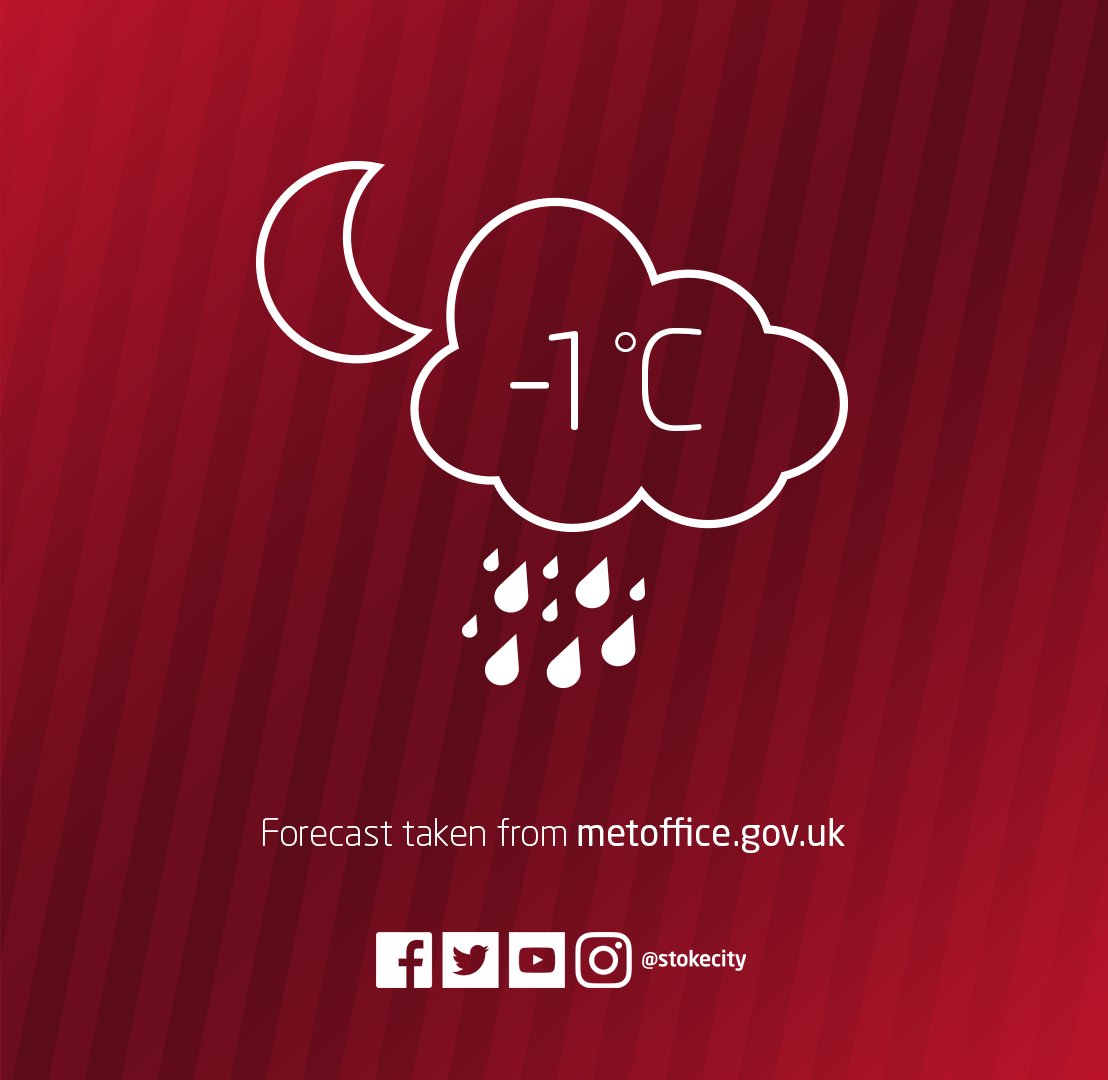 We were settled in the concourse, cleverly using the still warm wall under a food bar to lean against, at least until it cooled down. Strictly speaking of course, its not outdoors, which ruined all of our earlier attempts to get into character, but believe me it was still bloody cold. Had we actually been out on the pitch or the car park, then the paramedic chap on duty would not have been moaning about having had nothing to do when he came over to us at around  six in the morning.
We did have a suggestion for him, because one of our lads, lets call him Bill,  had fallen asleep the other evening after a curry, which he described in a text to his girlfriend  "I think my ears are bleeding " before falling asleep .
We've all described a curry as "making our ears bleed " at one time or other, so imagine his surprise when his girlfriend , after having found and contacted me via social media, was speeding towards his house-and they live in different towns- with Cheshire Emergency services on standby and the Air Ambulance pilot grumpily getting his jacket on.
Anyway, as yer man slept on, I asked the paramedic if he minded waking him up, and in a soft and concerned voice, telling him not to worry too much, but his ears were bleeding.
He refused, probably correctly, citing that "you should never wake a man when he's asleep, leaving me to ask-and I'm still a bit bemused –
"Well, when do you wake him then ? "
"That's the real NHS, bone bloody idle ", I explained to another colleague, himself a medical man at the NHS.
"Fuck off " , he gently advised, from below a pile of material that made him look like a jumble sale with a hat on.
See, told you I'd ramble. I want to show a contrast which you'll hopefully see later.
At the start of the night, the Stoke City FC Community Trust came round to take what I figured was the "before " picture in a series of two, presumably primarily designed to take the place of an early morning body count.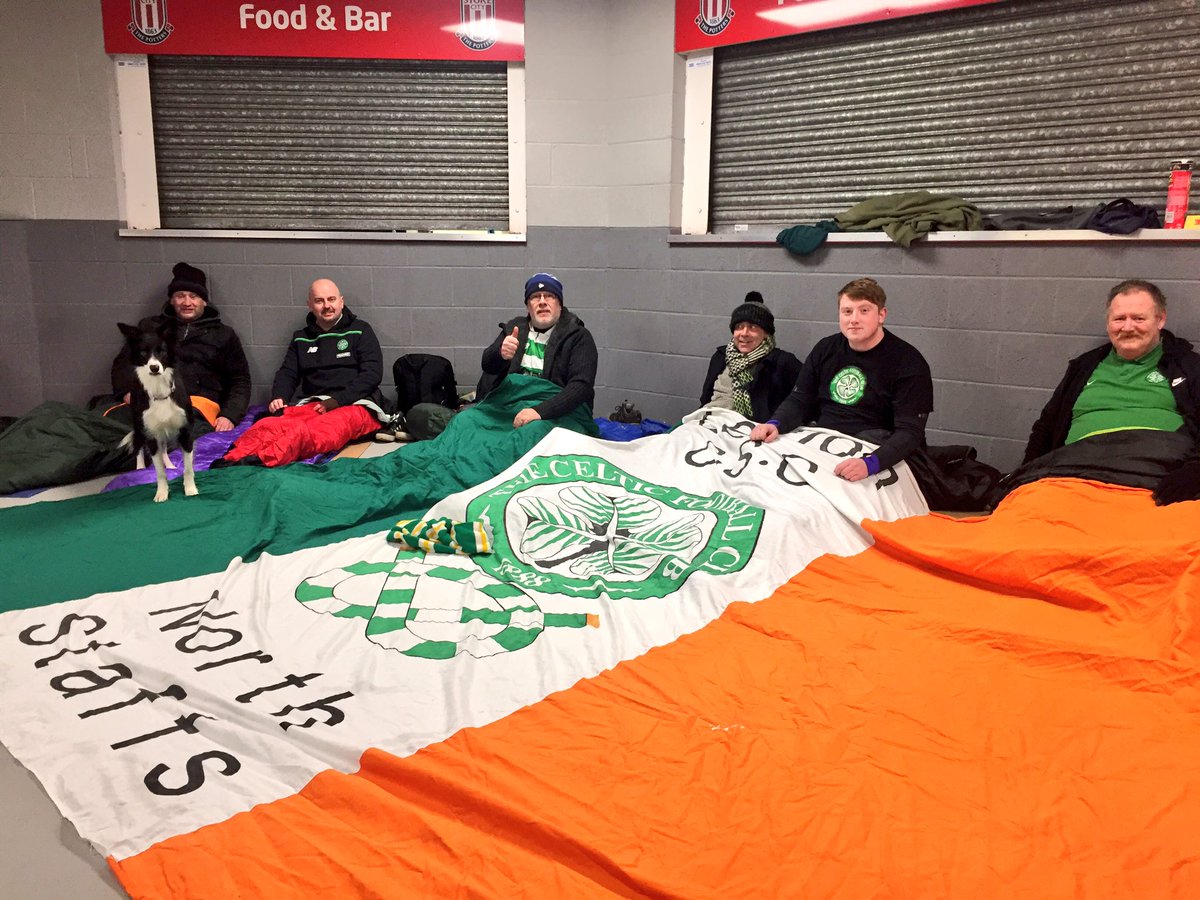 From the left, thats me with Izzy, the border collie who can play left back with a somewhat unpredictable temperament, Jeff, Stuart, Bill, Ryan and Jimmy.
I've already aged quite a bit by the looks of that.
Shortly after wards, and we had been the subject of a fair bit of attention from others, well the dog had, a TV camera loomed into view, and we were asked if anyone wold say a few words to camera about why we were here..I was shoved to the front, as bloody usual, and with no make up people on hand, stumbled an explanation about how we were honouring the roots of a football club which was founded with charitable purposes.
Explaining how we were all local, but with different backgrounds, Celtic had brought us together now, but we must never forget why where we came from and why we should do all we can to help remove conditions that now, over a hundred years later , were still prevalent.
I though I came across quite well, and if I could remember the name of the  tv station, French sports channel PRF or something similar, I'd have a look for it.
The lights soon went down and hot soup was served, putting me in mind of Springsteens Ghost of Tom Joad, itself a song about social inequality…
Especially the bit about sleeping on a pillow of solid rock.
And I doubt the hot soup in the song contained the special additive that ours did, which explained the copious amounts taken by some of our number. An additive which found its way into my coffee, and I have to say it improved it verily.
Concrete is incredibly uncomfortable to sleep on. Wearing so many layers made it incredibly difficult to move, and there was little prospect of falling asleep, not least because Izzy was intent on doing the rounds making sure we were okay.
In fact, she stayed on guard pretty much all night.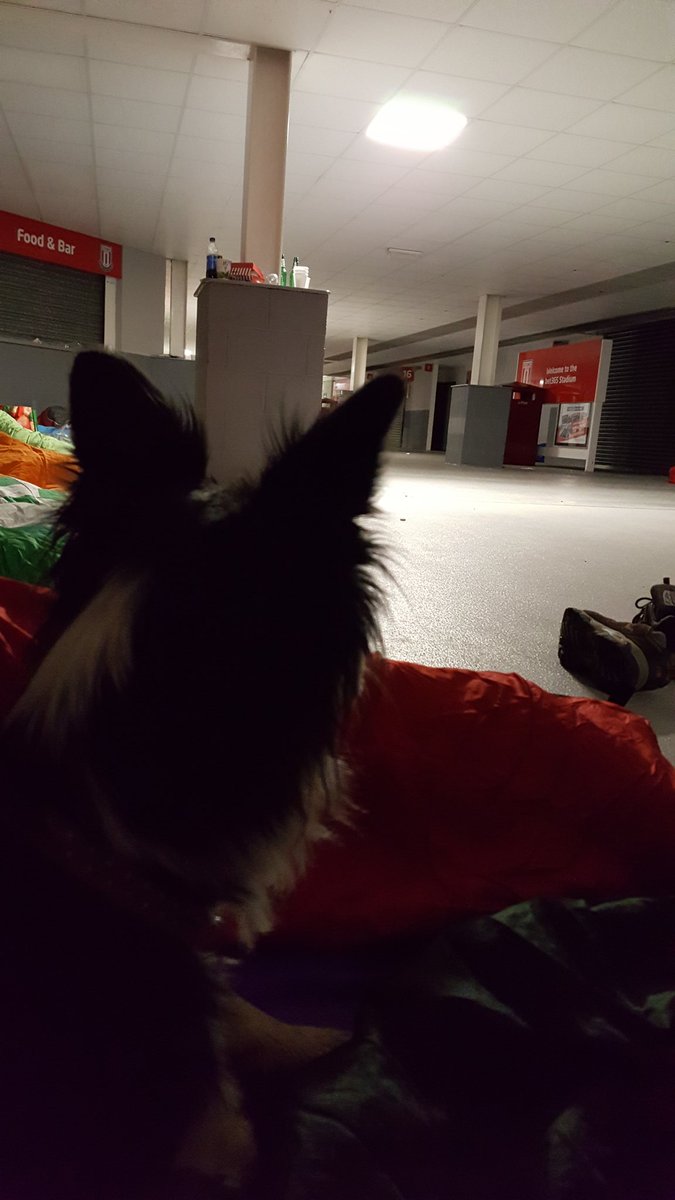 You'll notice from the picture that most of us are roughly the same age, except for Ryan, who had stripped to t-shirt and trackies so that he would feel the benefit later on when he put his layers on.. He's one of those young , fit and strong people that get on your nerves by being young , fit and strong.
To be fair, it must have worked. He slept later than anyone of us. Then again, he's got thirty years or so on the rest of us.
Oh, and there's the first pic i sent.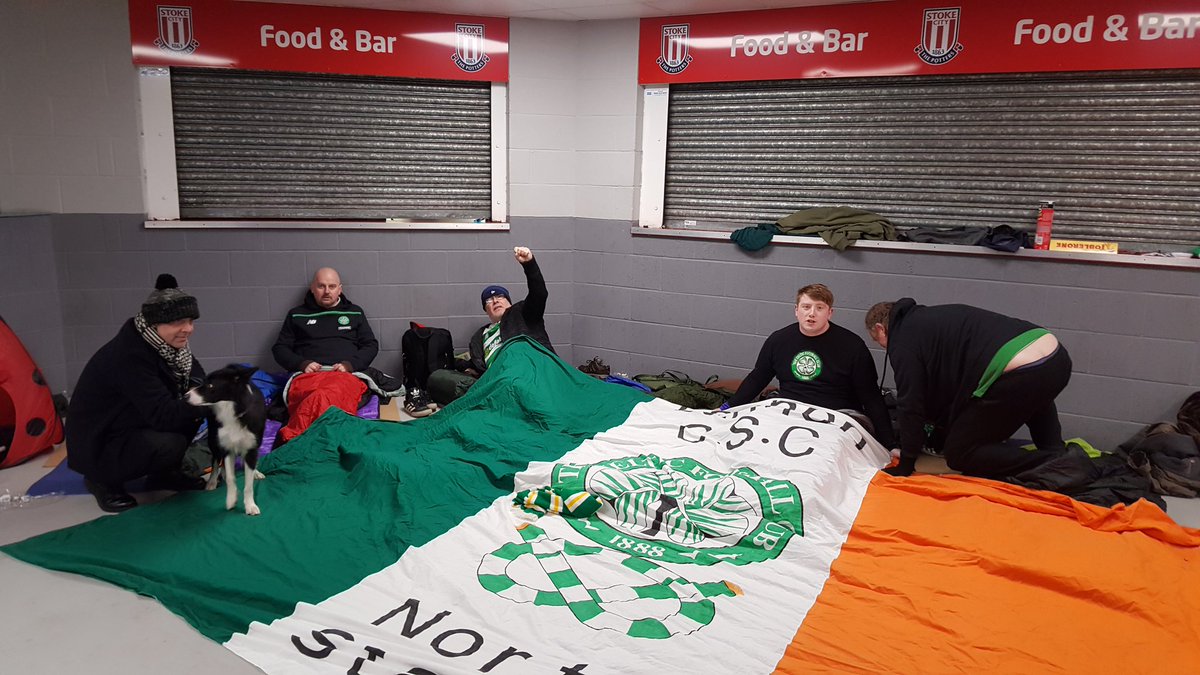 Which gave us the mysterious reply..
@Richiestoke @Celtic_Vines there's a big crack on that wall

To keep ourselves amused , we passed the time in light hearted banter, and the conversation turned to food, thanks largely to local pie makers Wrights, who had supplied 200 pies for those taking part, most of which seemed to end up near us.
"Much better than a MacDonalds" was the general opinion, as indeed would any food of any kind have been.
I explained how the fast food giant had started out, to a largely disbelieving audience. Largely, of course, because i was making it up as i went along.
"Wullie MacDonald was an old shipyard worker who had a spare room and kitchen near one of the big shipyards in goavn, and in those days you only got fifteen minutes a day for your dinner. So you had to be quick. "
"What he did was let guys in his front door, where his wife would give them a roll and meat , and as they went out the back way they'd get a can of lager to wash it down with. "
"Thats where the Happy Meal comes from " added Stuart
"Exactly, " I continued "Two cans was the deluxe one, a Happy As fuck meal, but when he moved to California and patented the idea they wouldn't go for the beer as it was unhealthy, and the meat had to be improved a wee bit as well. "
" And do you know something else, Kentucky Fried chicken wasn@t always called that either. That was a wee woman in Possil  who used to do fried scampi for kids on their dinner breaks, but one day her cat fell into the fryer and she found it tasted even better. "
"But Unlucky Fried Kitten was never going to take off, so when she moved to america she used chicken. "
My audience was impressed.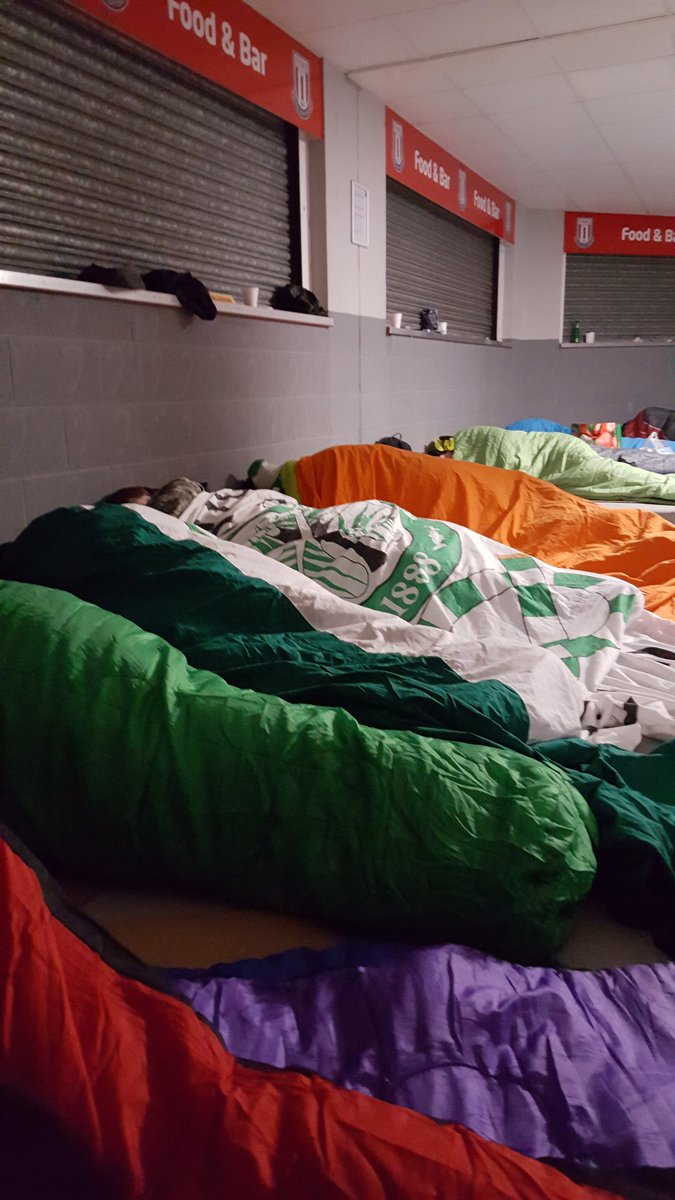 Of course, sleeping rough isn't easy. Our banter had begun to wear thin, and you could tell the guys were starting to muse over "what if.."
Even we didnt want to seem to face the actual reality of those who were sleeping rough in the city, when we were drinking hot soup and tea in a watered down simulation. (Some of them were in the stadium, of course, )
But I guess if we did the real thing, no one would turn up.
I took the dog out for a walk, just to make sure she didn't disturb me later. It took over an hour for her to do the neccesaries and it had dropped to one degree out there.
Ah, well, just a few hours to go I thought.
It's just the one degree now…..
@Richiestoke Please tell me there has not been a double celebrity death. Limmy will come out with that tiresome tweet. 
That made me laugh, which was much needed at that point.
I spent the time tweeting to those other insomniacs which made a long night a little shorter, whilst trying to ignore Jeff, who was doing a mean impression of a motorbike, did his best to make a long night longer.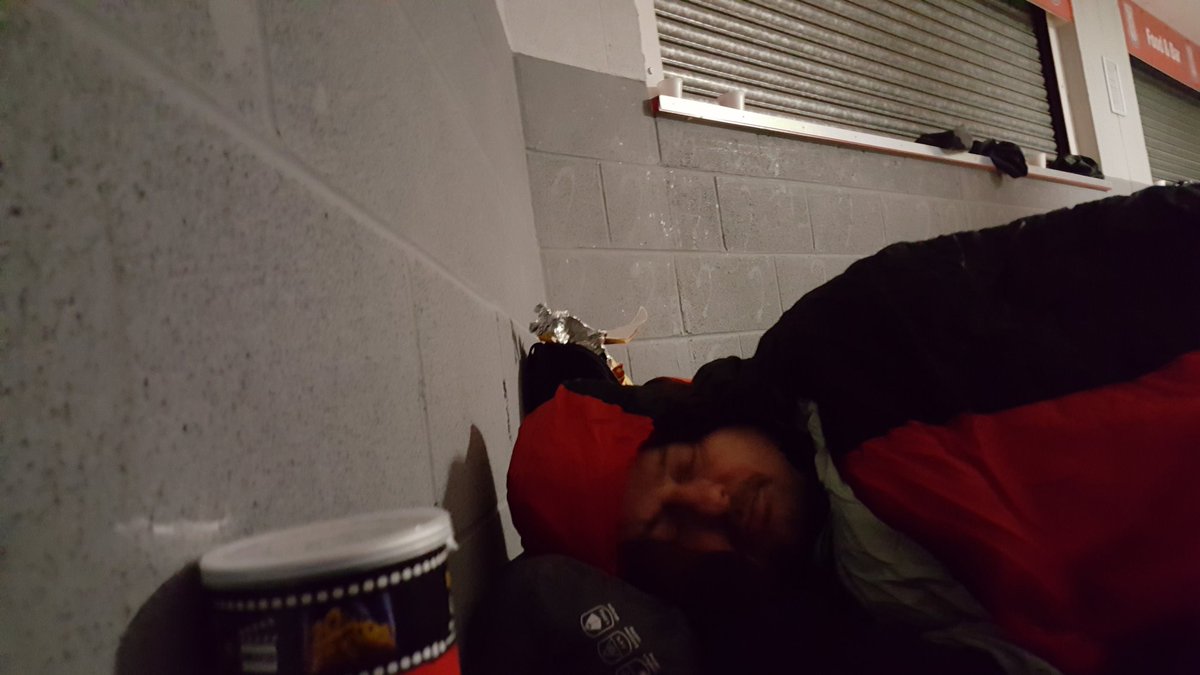 And some of the other things he mumbled were frankly disturbing, and he needs help.
"Yes, it hurts, but I quite like it. " was the phrase that concerned the most.
Thats why I just kept talking to my phone . I really didn't want to know.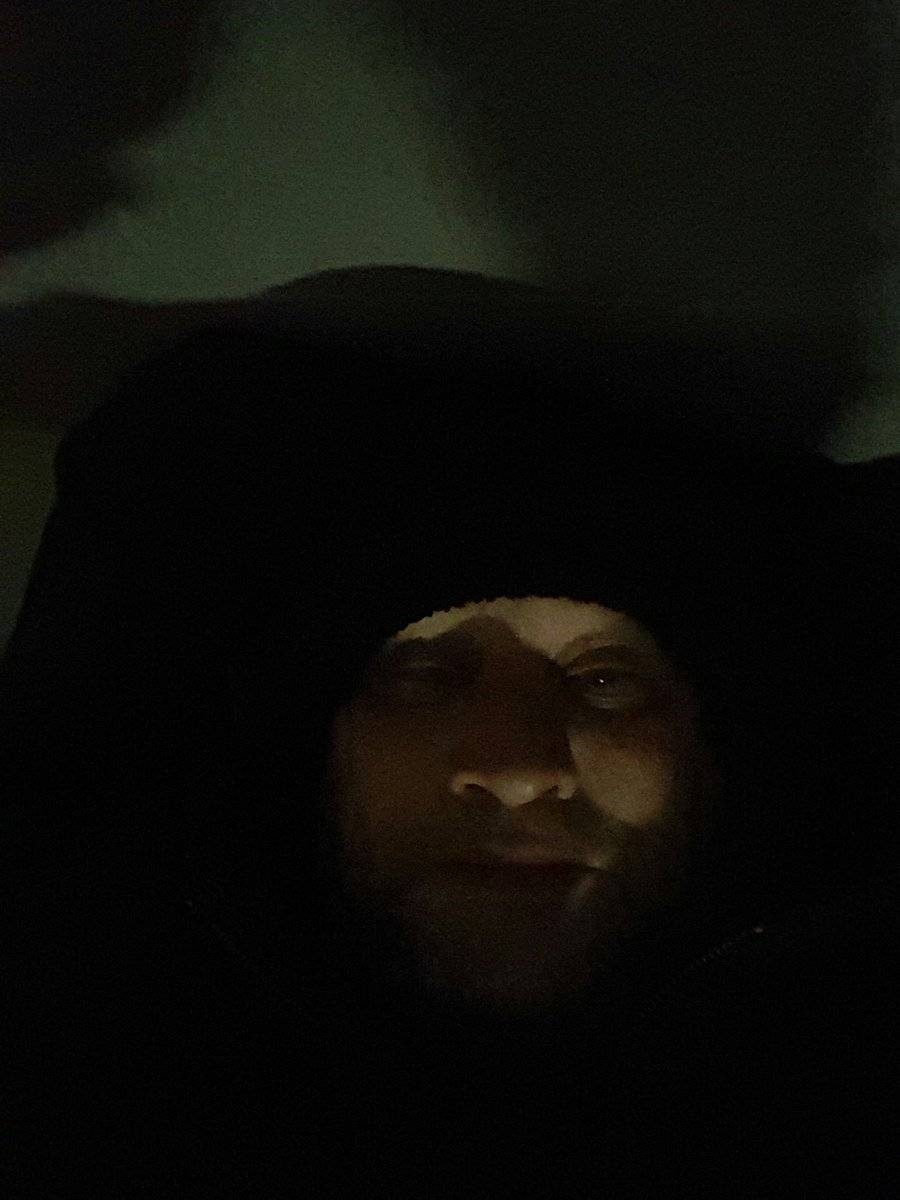 Eventually, of course, the night came to an end. Lou Macari, the man behind the homeless centre which puts people back on their feet came over to us, he'd been doing the rounds and for a man of 67, we checked on google, because Jeff felt that was better than asking him, looked in far better shape than we did.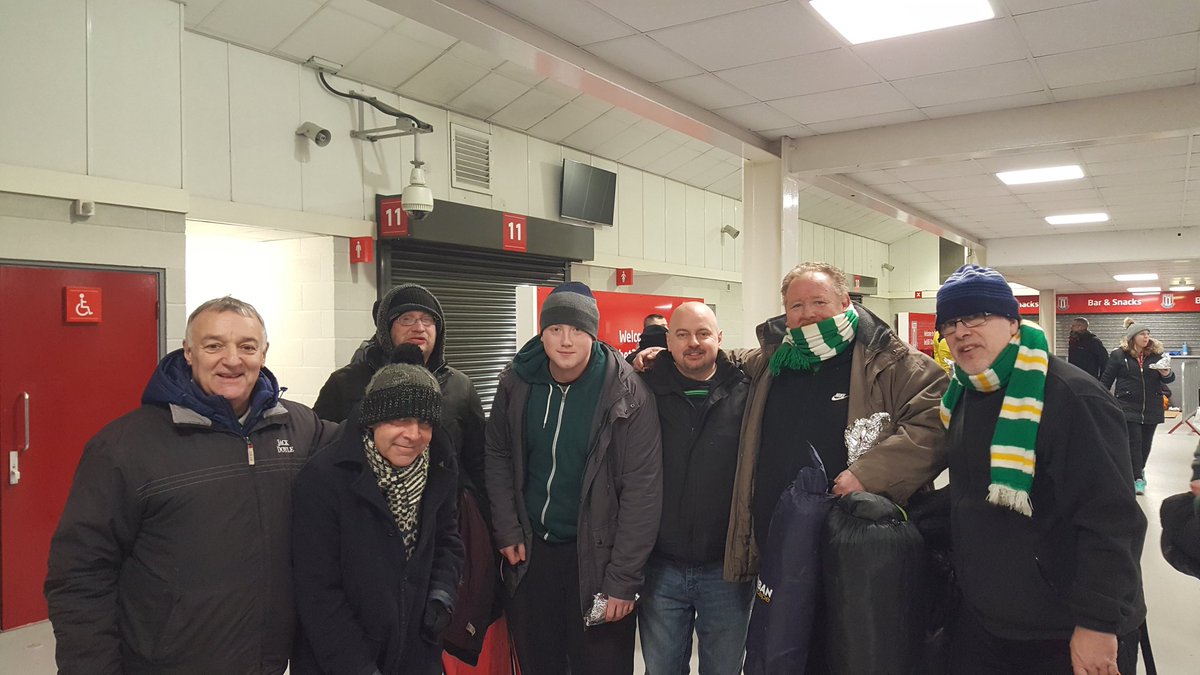 As I said earlier, though, had we actually had to sleep outside, it would have been a damn sight rougher. As my car showed when we went back to it.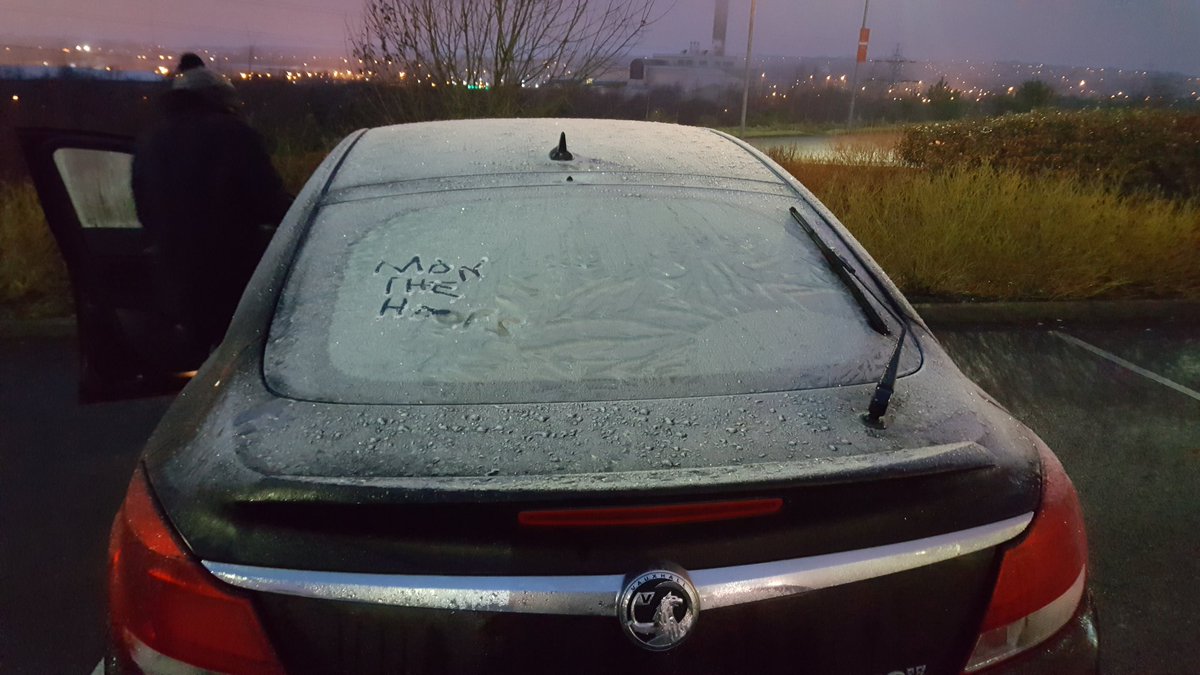 It took two sprays of de icer to clear it, and that disappointed Bill, as there was none left for his breakfast.
And thats kind of the point.
We could get back into a car, put the heaters on, go home, maybe something to eat, and then off to bed.
A soft warm bed where we could stay in safety and comfort until we felt like getting up. 
For us, the ordeal was over. We'd spent the night in adverse condtions, but the company of friends and the supply of hot soup and pies made it more bearable. Immensely more bearable than the reality would be.
We were in a sort of halfway house.
Its not like that on the streets. 
There you are cold. Much colder. 
There you are lonelier. Much lonelier. 
And there's nowhere to go when the sun comes up, if indeed, it does. 
And all you can look forward to is doing the same thing, night after night, day after day. 
I did this to get a look at the situation from the ground. Literally. 
It wasn't pleasant. 
We were praised for doing what we did. Don't get me wrong, that is much appreciated. 
For those who live on the streets, there's no praise.
There's distrust, disgust and disinterest.
Thats the reality out there.
If what we did can change a little bit of that. If people can become aware of the reality and the depth of the homeless crisis, then it would have been worth it. 
More than worth it. 
But its not down to us to change it. Those who can do something are well aware of the situation, but they don't think theres any votes in it. 
This is the twenty first century. 
If by now, a society cannot find a home for all its citizens then it has failed. 
And if those who can change it won't do it because they don't think it will be popular, then we've got the wrong people in charge. 
They are put there for the benefit of those they are appointed to serve, something they have forgotten. If they ever knew it. 
Everyone has the right to a place to live. It is the most basic of human rights, and there is no excuse for a cosiety that does not provide it. 
Its not just in Stoke, its all over the country. 
Things have to change, or we have to change those who refuse to change it. 
Stoke on Trent Central is looking for an MP after vacuous Tristram Hunt resigned to pursue a career in rhyming slang.
The prospective replacements, including one from UKIP who pretended to live here to increase his credibilty, which is known as "electoral fraud " are holding a public questions and answer session next week. I've got a couple of tickets.
I will endeavour to make them feel as uncomfortable as I felt on the concrete.
If you haven't chucked a few quid into the pot for the cause, please do so.
LennonCSC Macari Centre fundraiser
Or get involved with the homeless, do something to help them.
Better still, make those who can change it, change it, before we change them.