Celtic Diary Tuesday January 10: A Million Pounds Up Front ?
Hassim Ali Kidirin, the Turkish defender that has attracted the attention of Brendan Rodgers, has, according to the papers, been offered £1m to sign  and £1.6m a year to join Celtic.
By our standards, thats a lot. We tried to find Peter Lawwell for his reaction, but he wouldn't come out of his room.
Including wages, the whole deal would cost around £7.5m, which these days isn't that much, and when this was explained to Peter, he came out, and whilst not his usual jolly self, he felt well enough to start eating again.
After the signing of  the young Ivory Coast midfielder, Kouassi Eboue, manager Brendan Rodgers said Africa was a huge untapped market for Celtic, and that he may dip back in for more players.
When asked why, he gave us his entry for the Private Eye colemanballs column, which features foot in mouth comments from the sporting world;
"It's always been a market where you find players who are hungry. 
I think we know what he means.
"I look at the Scottish players and say: Can I help them? Can I develop them? But there are also certain markets you can bring players in from to help Celtic and help Scottish football and Africa has always been that. 
"You only need to look a Kolo's academy in the Ivory Coast to see the likes of Gervinho, Kolo and Yaya Toure coming through. Big talents.
"Ghana, Mali, Ivory Coast, Senegal. In western Africa, they have big talent." 
Not only has Toure sorted out the defence this season, he's helping to sort it out, and the rest of the team, for many years to come. He may only be seen scarcely on the pitch, but his work behind the scenes is priceless.
As for new siging Eboue, Rodgers has told us what he sees in him, and how he will adapt to Scotland;
 "I don't think adaptation to the country is going to be a problem.
"He has left Russia when its minus 25 to go to Scotland where it's minus 15!
"Hopefully, all being well, that can be finalised and he will be a real good addition to our team. Of course we're waiting for it to be done. Waiting for it to come through.
"But he's certainly a player that is that level of player, a Champions League mentality. He's very aggressive, he covers the ground, he's got mobility, speed, big intensity, big pressure, reads the game.
"For a young player, he's tactically very strong, he protects the middle of the pitch as I like it to be protected and what he can do is he can pass the ball. 
"He's very swift going through the lines, going through people, and he plays it quickly." 
 "He's also super hungry. I saw him in Europa League games and he was ready.
"Those guys, if you pick them up early enough in that migration trail out of Western Africa, a lot of them go to France, Belgium. This boy has been to Armenia, Russia.
"It tells you a lot about a young player like Eboue that he made those moves to Armenia and Russia and really tells you the hunger of the lad to succeed. 
"You wouldn't necessarily have to trail them and he hasn't played many games, but the reason for that was that he couldn't play first team football until he was 18. They wanted to put him in sooner, but they couldn't. When he was 18 he was off." 
So, is this signing down to Toure ?
 "No, he wasn't so aware of him.
"But once I told him about it he went into the background a little bit. He is obviously aware of him now." 
There have been comparisons with other players, such as Paul Pogba, due to lazy hacks who don't know any other way to describe a players attributes, and Rodgers is keen to move away from that sort of description, usually because its bollocks.
He is what he is. I think you see pretty quickly how he covers the ground, the speed in the tackle, the aggression, the intensity to sit, block and fight.
"He has that talent to pass the ball, which is very important. So from there we see the talent and he is making his own way.
"We only bring them because they have talent and I'll not stockpile players at Celtic. I won't bring in players just to add to the squad unless I think they are a big talent like that.
"I felt Moussa [Dembele] would really come and develop and he has done that, though he still has a lot more development to go.
"I really want players who have that. The hunger and ability to progress.
"We'll see Eboue come in and then see how it goes." 
Thats "how it goes " , and not "where he goes " , as no doubt he'll move on one day, but then again, you never know.
He might like it here.
The rest of the squad are still out in /dubai, and rumours that Scott Brown has been out on the lash and arguing over a late night taxi back to the camp are proving difficult to quash..
Then Craig Gordon got involved.. and it turned out that the trouble was because the man was from the local Lodge..
It took an intervention from the gaffer to sort it all out,
Anyway, the upshot if all that was that Dorus de Vries had to carry Brown home,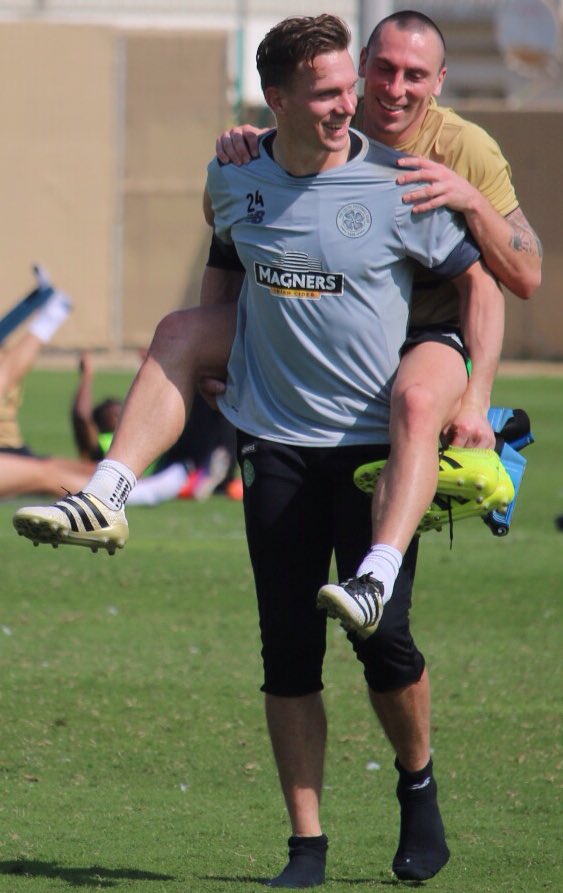 and when the military were called in to bring back another player who had been singing rebel songs in the city centre, it became apparent that Efe's time was up.
The boss then confined everyone to the hotel for the rest of the trip, and promised to sue a certain website for talking shite.
Well, not only do we talk shite, but we can talk shite in French as well, as this article from France football shows…
Mercato : le Celtic Glasgow refuse 29 millions d'euros pour l'ancien joueur du PSG Moussa Dembélé
Le Celtic Glasgow a refusé une offre de West Ham, estimée à 25 millions de livres, soit un peu plus de 29 millions d'euros, pour Moussa Dembélé, également suivi par les deux Manchester.
Devenu l'idole du Celtic Glasgow, quelques mois après son arrivée, Moussa Dembélé anime déjà le marché des transferts. L'attaquant de vingt ans a fait l'objet d'une offre de West Ham, estimée à 25 millions de livres (soit environ 29,2 millions d'euros), et refusée par son club. Pour le lâcher, les Ecossais espèrent au moins 40 M£ (46,7 M€
Auteur de neuf buts en vingt rencontres de Championnat, le Français s'est distingué en Ligue des champions, en plantant un doublé contre Manchester City, le 28 septembre dernier. D'ailleurs, cette performance n'avait pas échappé à Pep Guardiola, ni au voisin de Manchester United. Les deux clubs suivent l'évolution de l'ancien joueur du PSG, sous contrat jusqu'en juin 2020.
My o level French means I don;t need to go to goog;e translate for this one, as its fairly obvious.
Its a Dembele story, and it concerns four women in a maternity ward, one a Hearts fan, one an aberdeen fan, and one each who support Celtic and "rangers "
As far as I understand, the hospital got all the new born babies mixed up, but the mothers seemed to know what to do.
The Hearts fan stepped forward and began to sing "Hearts, Herst , glorious Herat, and one baby smiled immediately, so knowing it was hers , she picked it up, relieved.
Then the lass from Aberdeen began their anthem of Here We go, causing another of the children to be identified when it smiled.
Then the Celtic supporting lass stepped forward, and chanted Moussa Dembeles name, before picking up one of the babies.
This caused consternation for the lass from Ibrox. Having finally found someone who found her attractive enough to sleep with, she certainly didn't want to lose her baby, and so she cried out
"Hey you, how do you know thats your wean ? "
The Celtic supporter replied
"Ach, thats easy. when I said Moussa's name, this yin laughed and that yin shat itself. "
Of course, my French may be a little rusty after all these years, and I may be wrong, but I think thats the gist of it.
Speaking of new players, one we should be looking for is Faiz Subri, who won the Puskas award with possible the best free kick of all time..
Remarkable.
Elsewhere, and the SMSM are falling over themselves to recognise that 2017 is the anniversary of one of the truly great moments in Scottish sport…
Ten years ago today Walter Smith made the biggest decision of his career to quit as Scotland boss and answer an SOS at Rangers.
It was a call of duty that would see him wade into the wreckage left by Paul le Guen and, within 18 months, take the club to a UEFA Cup Final before walking away just as Craig Whyte prepared to embark on a catastrophic course.
Over the next two days, in an exclusive Q&A with our chief football writer, Smith reflects on the most dramatic decade in the club's history. In part one, he goes back to the day that changed his life forever.
Questions and answers such as
Q: This new club/old club argument, where do you stand ? 
A: "We wish the new Rangers Football Club every good fortune." 
showed he still has his finger on the pulse, but then he showed he is getting on a bit when he began to haver..
Q When will you pay back your EBT ? 
A: Many people have compared me to the Victorian adventure writer, Rider Haggard. I accept that as a compliment. As a boy growing up in Central Africa I read all Haggard's African novels. 
Whether or not its all part of an agenda to allow the Ibrox hordes to relive the good times when they had a club to support instead of a basket of assets is unclear, but its certainly desperate stuff.
In the real interview, Smith offers current boss Mark Warburton some advice, proving he really doesn't understand the situation at Ibrox now, and admitting that he didn;t really understand it when he was in charge;
…. for Rangers to get access to Champions League money they may have to take a gamble and risk going into debt.
that would be a gamble, but nowhere near as much of a gamble as it would be for anyone to lend them the money in the first place.
He also thinks they are good enough to finish second,,,
"They have shown they have enough to finish second in the league this season. Whether they do or not is another thing.
What will deny them that second place will be when the clubs re visit Ibrox in the knowledge that they are not very good, and as their home record is far better than it deserves to be , as soon as the other clubs realise that, they will stop playing the occasion-even Celtic did that for twenty minutes, and play the team in front of them.
Then they will start to slide, the support will disappear, and normal service will be resumed.
The upcoming cup tie, at home to Motherwell, will be a good indicator of the rest of the season.
Should Motherwell show the way, the rest will surely follow…
The above came from the Record, but its the Sun who must take full credit for the most ridiculous re writing of history, as they introduced us to an interview with Stuart "gissa job " McCall…
The record set by Walter Smiths side ?
No wonder that lot are deluded, when the media feed them that level of shite.
No diary yesterday, as I had something else to deal with, so we go back to sunday for this picture..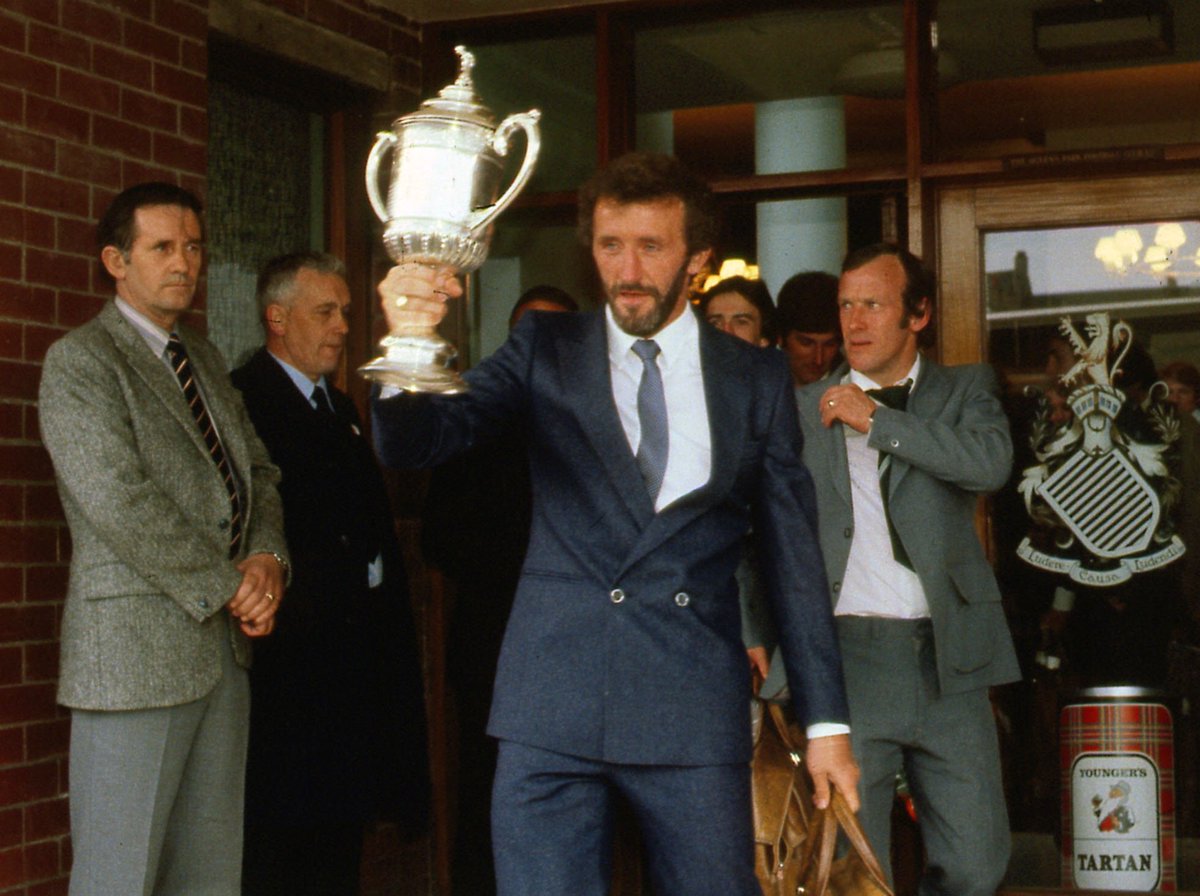 and the reply, sadly, sums up Scottish football..