After the conclusion of the weekends games, manager Brendan Rodgers refused to panic as "rangers " moved onto the leaders shoulders poised to move into a winning position.
We rang him to ask if this meant he will delve deeply into the transfer market next month, but all he would say is "fuck off, and how did you get my number ? "
Celtic may have disposed of Partick fairly comfortably in the end, running out 4-1 winners, but a second win in consecutive weeks over two of the best sides in Scotland has the media salivating again at the prospect of Scotland new club achieveing the almost impossible feat of winning the league just five years since they rose from the ashes of Rangers.
At Firhill on Friday, Partick did put up a bit of a fight until Stuart Armstrong turned in a Leigh Griffiths shot seven minutes before half time. As the teams came out for the second half, the commentators decided that the last thing Partick needed was to concede a goal early in the second half, and the Jags clearly had the sound turned down becuase they conceded two soon after the break, just sixteen seconds apart.
One from a clever free kick where Griffiths played the ball out to Armstrong who hit a bobbler at the keeper, who seemed to jump over it, and a second when Griffiths chased down a defender, took the ball off him and curled one beyond a now distraught Tomas Cerny in the Partick goal.
There was a bit of a scare when Partick had the ball in the net twice soon after, but referee Craig Thomson decided to keep his honest mistakes to a minimum, awarding only one of them when both of them had more than a hint of offside about them.
It was left to substitute Calum Mcgregor, who got on the end of an Emilio Izaguirre chip, to secure points that should never really have been in doubt, but Craig thomson was on the pitch, so anything could have happened.
One thing that didn;t happen was a booking for Scott Brown, and an interesting observation from commentator Derek Rae was that players of other teams think he doesn't get booked enough. to be honest, he should have been booked on at least three occasions in this game, as his exuberant style led to one or two rash challenges.
Still, I wouldn't want Broony any other way, and he must have known that Thomson will save the sending ffs until Celtic have something to play for.
The Thistle mascot, Kingsley, was lucky to escape a booking, although he may actually have been making a submissive gesture inviting some sort of degradation, which his team got on the pitch anyway, so he'll [probably be a happy man today;
Elsewhere, as you probably noticed, Ian Cathro, the new Hearts boss, got off to a disastrous start , losing to newly promoted "rangers ", and that means the Ibrox club are second in the league, just eight points behind Celtic , having played three games more.
As we said, not enough to panic Brendan yet, in fact it should please him that all the sides immediately below Celtic are taking points off each other, as that means the title will be won fairly soon, and the key players can go off on holiday before the Champions League kicks in again.
Speaking of the UCL, you are probably aware of a few changes, but the one that has sneaked under the radar is the addition of some 6pm kick offs, to help tv audiences…
All the changes are explained in this article,from SportsLawScotland,  ucl-changes and you might not be as happy about them as you probably thought..
One change however, is that all domestic champions will now fall into the Europa League no matter what happens. Thats a good safety net for us, and it also means more money for the smaller countries whose European experience is normally limited to two games in the summer.
The changes start in 2018, and won;t affect Celtic at first as we'll get straight in as winners of the Europa League.
We'd have been there or thereabouts had we dropped into it this year, so why not next year ?
Indeed, will we finish the season as Champions ?
The papers hope not…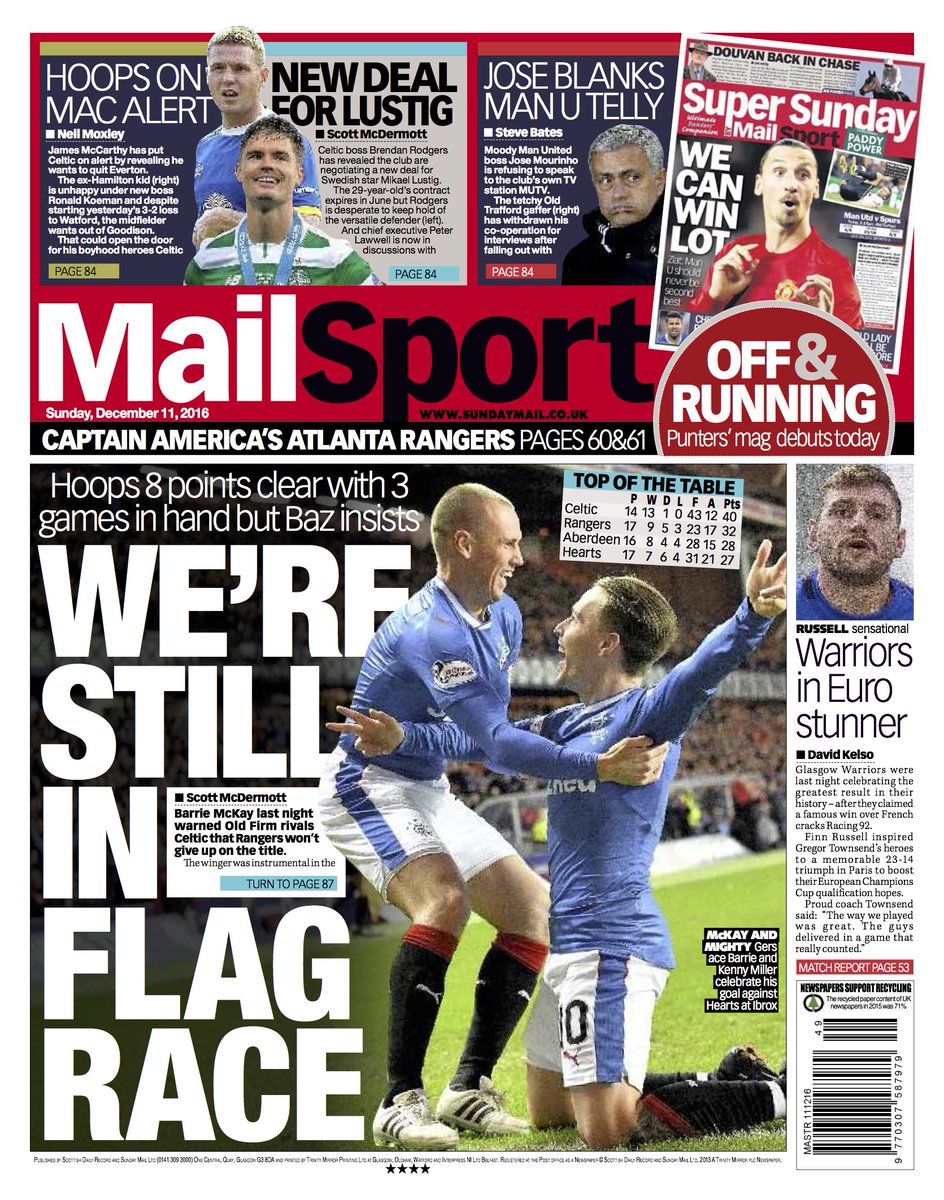 Before we have a good old chuckle at the rantings of Barrie Mackay, note the "exclusive " about James McCarthy at the top…we already told you his agent said an offer is on the table and its up to the player and Everton.
Note also that the Mail, in the report, describes him as an "ex Hamilton kid" and not an interntional, not a Premiership player, and certainly not someone who cost millions of pounds last time he moved.
Anyhoo, back to Mad Baz Mackay…
"No, it's not over until it's over.
"We will push Celtic to the very last day of the season.
"We go into every game looking to win. At this club fans expect you to win games – no matter who you 
are playing."
Last day of the season ?
Its unlikely to go that far, but as the accounting skills at Ibrox have proved, arithmetic is not their strong point.
It won't be long before they need snookers at this rate, and no doubt the SFA will call for another rule change when that happens.
Fair enough, the new club are unbeaten at home this season so far, but thats probably due to the opposition glancing nervously at the stadium roof every time they hear a noise.
On a more serious note, Donegal reporter Phil MacGhiollabhan has claimed that Ibrox is in a bit of trouble structurally, which we all guessed when fans were moved from their seats some time ago to avoid falling debris,
and in his recent article, he claims action is about to be taken.
After Celtic visit , that is…
Apparently, ( I can't find the article this morning, so you'll have to visit his site to read it oh wait, here it is…phils-article) Ibrox will have netting installed under the roofs to catch any debris, which to any right thinking man , if true, means the stadium is knackered after all, and with safety surely the main concern here, the Ibrox support, who use the place more than most, would be behind any moves to find out if the ground is safe.
However, because the article is by MacGhiollabhan, who kept telling them their old club was going to die, and then somehow got the blame for it, the fans have turned on him, and surprisingly (or not , I suppose,) on an MSP who asked questions about it..
James Dornan, who also demanded an enqiury into incidents of historical child abuse in football, also wants to know if there's anything in Phils story.
If this is true then surely the game on Hogmanay must be in jeopardy. Clearly questions to be answered at least. 
Which is fair enough.
However, even Neil Cameron, an SMSM hack, told him to "grow up "
You really would think that those daft bastards whose noses are a shade of blue would have clicked by now that their club is no longer their club and is being run by people who don't give a flying fuck about them . time after time the "bampots " have been proved right, and if one of them alludes to safety issues at the ground, then the very least they should do is ask the questions themselves.
As a famous man once said
"I don't know why we bother. We should let you all die. "
We have to go back to Friday for the last caption competition…
This was the first time an Aboriginal Australian had used a phone…