Celtic Diary Tuesday November 29 100 Not Out
So, there you have it. a comfortable enough 3-0 cup final win, the hundredth trophy in a long and illustrious history. don't know about you, but its taken me until this morning to recover.
Trophies may be a plenty down Parkhead way, but that still doesn't make this one any less special than any of the others. Too appreciate the good, you must have endured the bad, though thankfully those days are well and truly in the past.
Aberdeen will be disappointed they didn't really make a game of it, but their mentality was shown to all when they elected to do a guard of honour before the game, staring in admiration at the Celtic huddle pre kick off.
Whilst they were doing that, a passionate Scott Brown was telling the players that they could be a part of history,,,
Incidentally, note the expression of the dons players third in fromthe left. Either thats what passes as determination up north, or they've dragged him in from the pub about half an hour before.
The game itself was fairly straightforward. Celtic scored some goals, Aberdeen didn't, and never really looked like doing so.
Tenacious work from the revelation that is Jozo Simunovic forced the ball out to Tom Rogic, who curled one past a despairing keeper, sixteen minutes in, and an equally determined run from James forrest ended when he hit the ball in a straight line beyond him, showing the variety Celtic now have up front.
This ended the game as a comptetitive event, and proof came in the second half when Celtic were awarded a penalty which Moussa Dembele slotted away to add a few more quid onto his next wage.
Yes, Celtic were awarded a penalty in a Cup final, which means they won't be allowed one in their next Hampden visit, unless the game is over early on in that one too.
After the game Dembele popped out for something to eat, and surprisingly was allowed in wearing his Celtic tracksuit. He didn;t nip home to get it either, he already had it with him.
I think we'd a love to know where the place is that lets you in wearing sporting clothes…( Bella Napoli. Shawlands, according to the Evening Times )
Whereas Dembele hit the town, Craig gordon , it appears, went home and hit the dog..
"We went through the entire campaign without losing a goal when we won the League Cup two seasons ago and now we've repeated the feat," 
It's very good to win any game and have a clean sheet but to do it in a cup final is very special. I'd have been gutted if we'd lost one late on and I was having a go at the guys in front of me to ensure that they kept their concentration and saw out the game.
"You can get complacent and make a slack pass that costs you a goal but there was only really one long-range shot towards the end to deal with."
Can't fault the attitude, but, hey, lighten up a bit…
Back in the days of black and white football, it doesn;t seem so long ago when Celtic lifted their first trophy…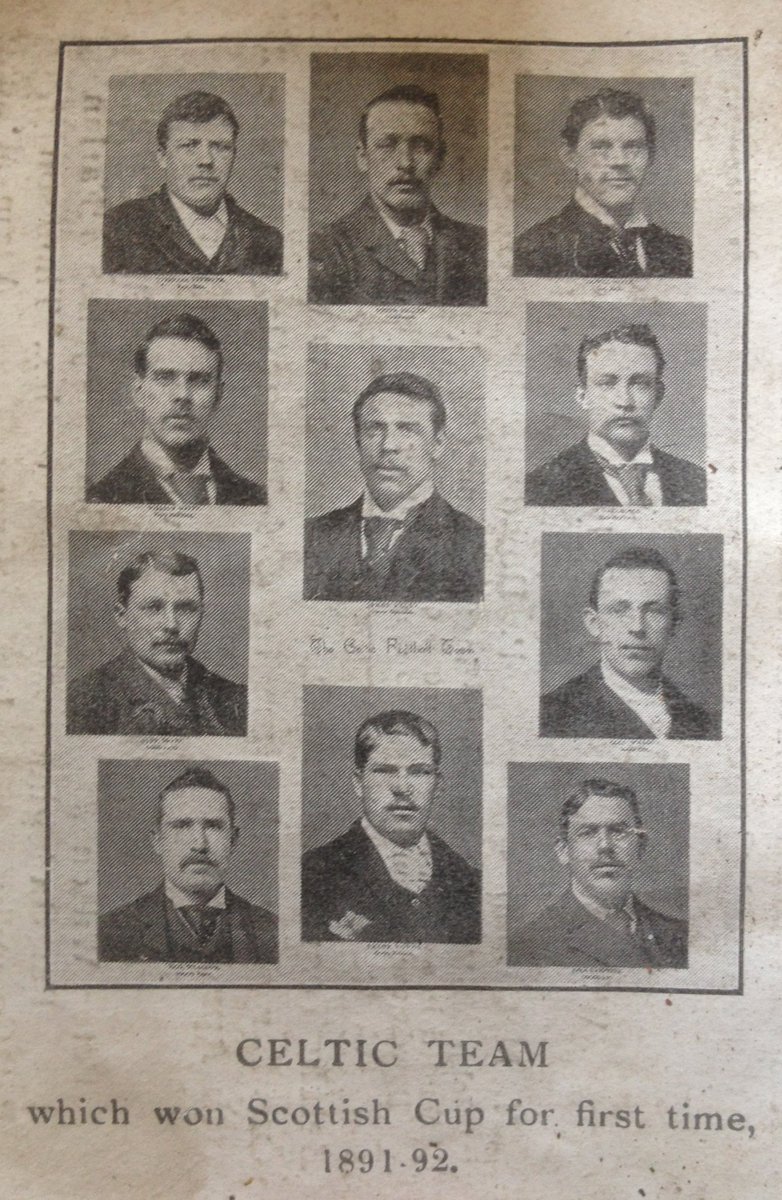 That game was played in the winter as well, and an obliging referee let the players keep their coats on. The win was over Queens Park, who became the first Glasgow side to go into decline when they refused to pay the type of wages other clubs paid back in those days.
This compares with the most recent crash involving a Glasgow club who paid the correct wages, but not quite correctly.
One of their former directors congratulated the hoops, without a trace of bitterness..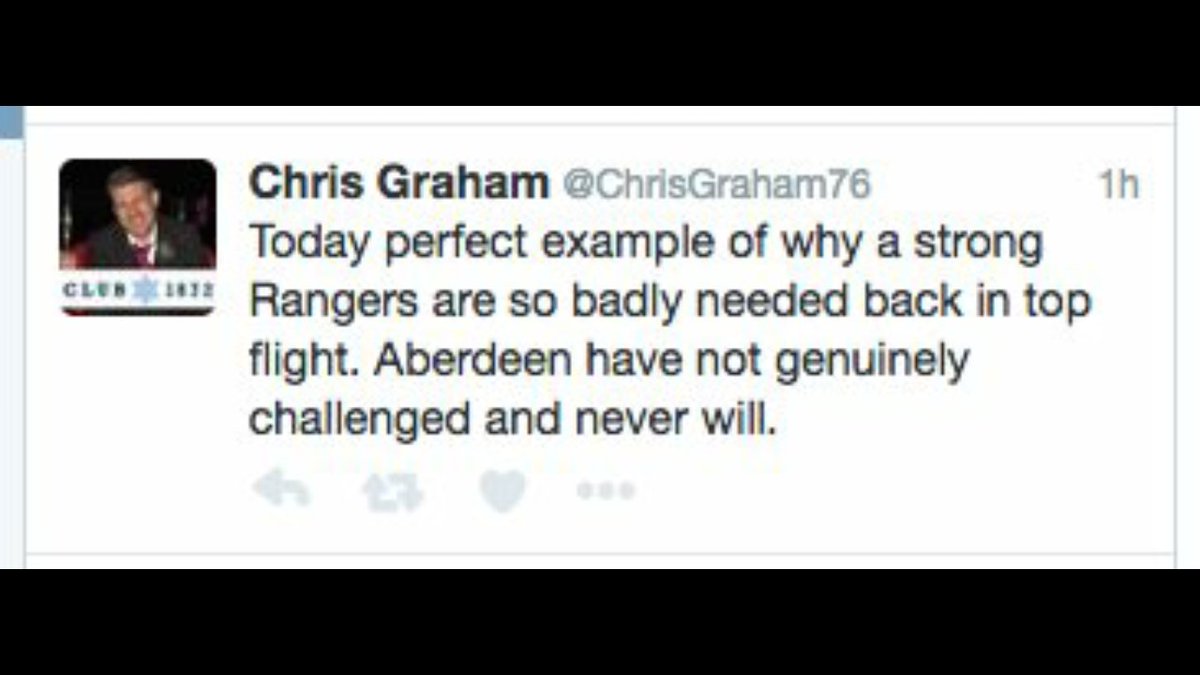 Oddly enough, his lot won't either.
Over the weekend, it was revealed things have gone from bad to worse when a bid to raise new shares via soft loans fell through when it failed to gather enough support, leaving the club, like the rest of us, a bit short for christmas.
The press were quick to blame the man who refused to put his club loyalties before his own finances, despite all that information supposedly being protected by shareholder law.
He's gone to ground,  as they say, but one of our readers thinks they've spotted him.
With the first part of the treble secured, and really, its going to take something special to stop the other two parts, attention turned to the Scottish cup as the draw for the fourth round took place, and with the entry of the Premier sides at this stage, eager fans looked to see who Celtic would get, and who would have to visit Ibrox.
The Champions face either Albion Rovers or Queen of the South away from home , whilst it's Motherwells turn to help keep the lights on at Ibrox as the nights continue to draw in.
Physically and metaphorically.
Celtic's domestic  success and dominance in the first half of the season has delighted the support. So it should. Only two points dropped in the league, no goals conceded in winning the League Cup, and no sign of the juggernaut hitting the rails, he typed, spectacularly mixing his metaphors in a bid to make the transition into reading the next bit easier, as its from an expert pundit in the Daily Record, so the quality of the narrative has to slip to allow it to blend in seamlessly.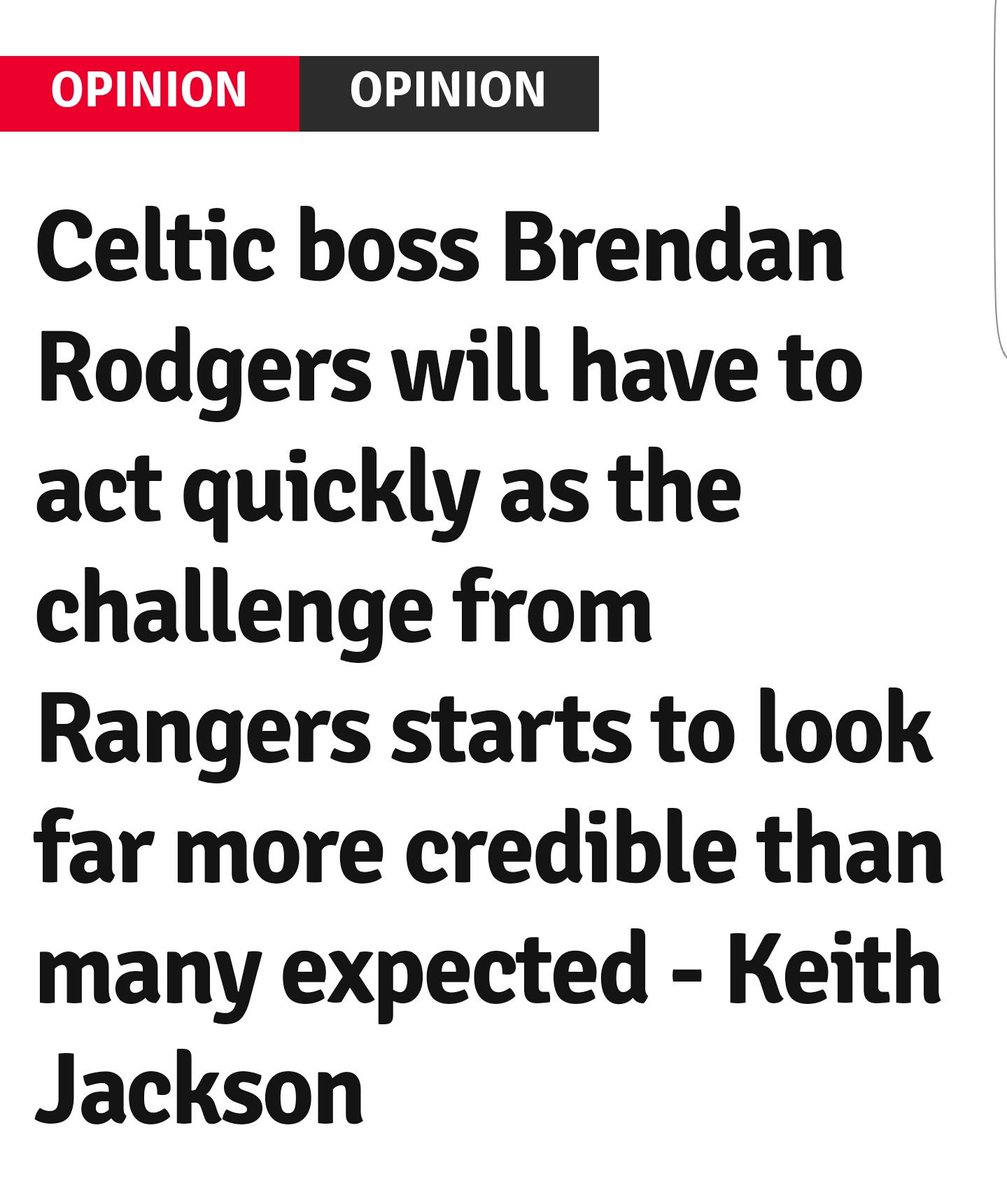 Only a few months later, this was revised…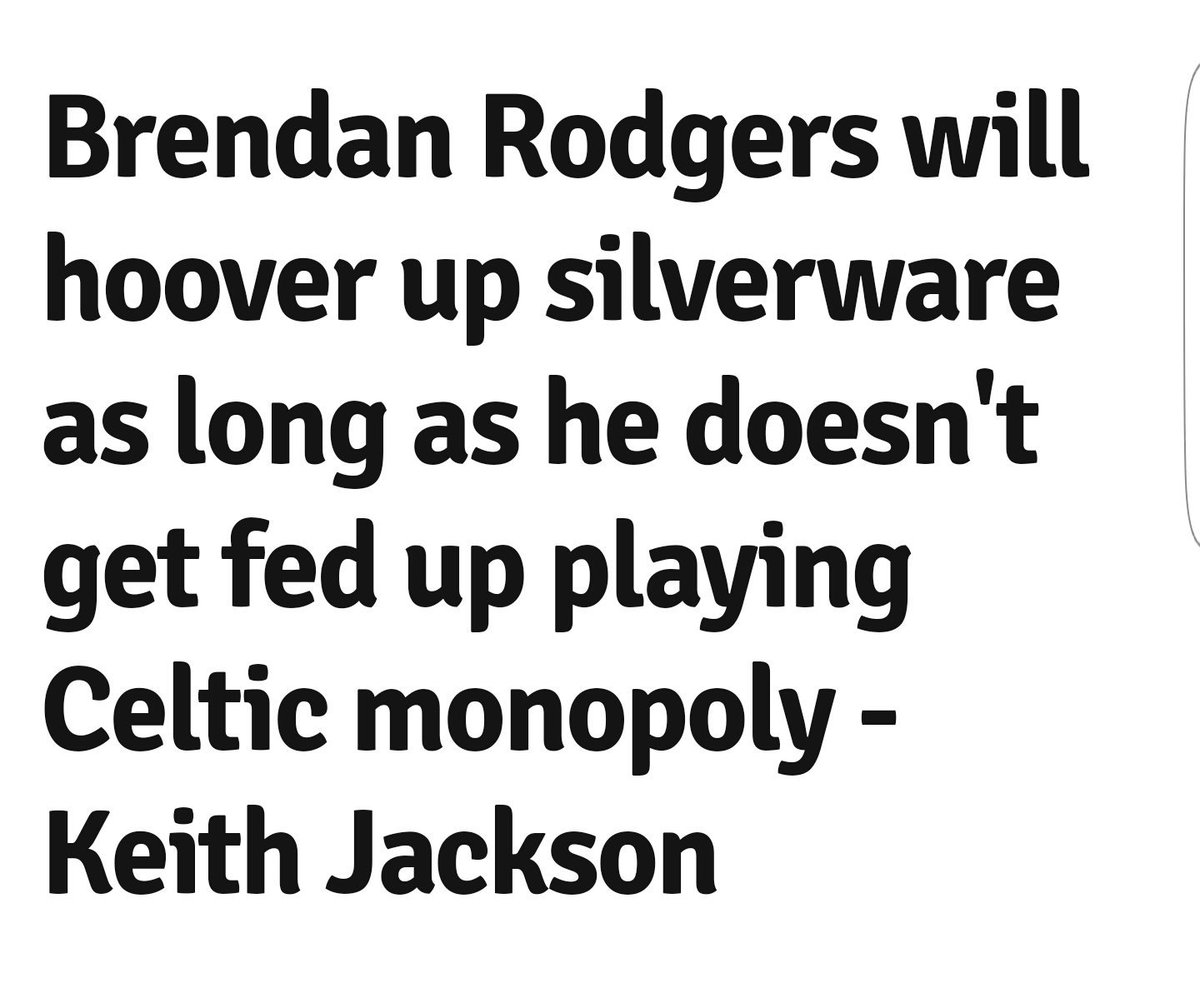 and after Christmas we can expect all sorts of wonderful ideas to change things if the hoops continue to leave their newest rivals on the outside looking in.
One bookmaker has already decided to make some money from this…
evens;  League Reconstruction to make all teams play all their games at Ibrox, unless they aren't playing "rangers "
5/2 Handicap system introduced where a team playing "rangers " has to remove one player per goal scored.
3/1  Handicap system where teams who finish above a certain position on the league-i.e. the one occupied by "rangers " to start the season with a deduction which matches the points difference they had over "rangers ", thus evening out the advantage
5/1 "rangers" to be allowed to choose any eleven players they want from any of the other clubs gratis, but should they be sold afterwards, the fee goes to the Ibrox club
10oooo0/1 someone will finally see sense and kick the Ibrox club, the controlling bodies and the reporters who slavishly do their bidding out of the game for good so the rest of us can get on with restoring its tarnished image. There's little need to get on this quick, because the odds will lengthen and its never going to happen anyway.
Just think if it did though, scenes like this would disappear, the stop and search before the cup final..
The game would be run for the fans, and as a result, more and more of them would come back to the game, as it becomes a competitve form of live entertainment better than anything else available on a Saturday.
Yes, I said Saturday.
Thats a long term dream, what about the short term ?
Well, its nearly January, and the nonsense has started… but it might not be nonsense. We sent our man to find out the word on the street…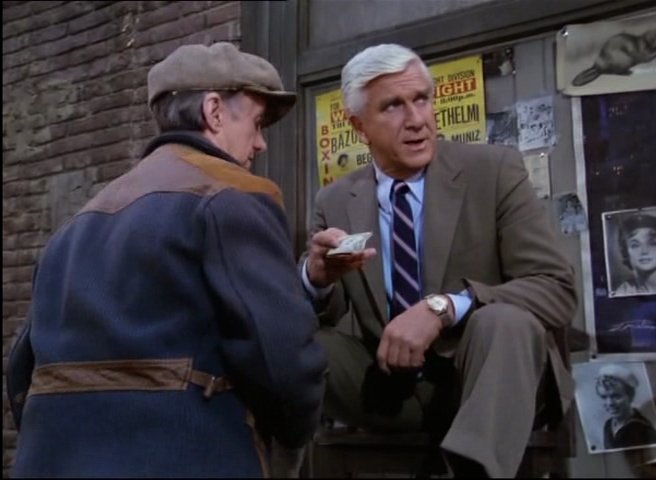 James McCarthy…offer made, Everton stalling, player wants to come…
An extra few quid from the sale of Virgil van Dijk to Everton/Manchester City/Liverpool ? Looks like being enough to cover the fee for McCarthy with ridiculous sums being mentioned as English clubs flash their plumage at the big Dutch defender, who has been a rock at St. Marys since he moved south whenever it was.
Out of sight , out of mind as far as I'm concerned, but the extra money will be welcome.
Now , a wee bit more serious..
Gordon Smith has called upon the SFA to investigate historisrse,  sex abuse within Scottish football. Knowing that the bold Gordon isn't the brightest light in the darkness, this idea, which is in itself brave and noble, must have come from someone else. If, of course, it is his idea, then I must apologise and offer praise for what is a necessary step forward for the Scottish game.
If not Smith, though, who ? Someone within the SFA, or someone at a PR agency. perhaps ?
Thats my thinking, as there is no doubt that there are some within the game that would like to see the abuse at Celtic Boys club, which resulted in prosecution and conviction of the perpetrator, all over the papers again.
Instead of just in the stands at most games.
However, though  its far from me to doubt their intentions here, one wonders what the real motive is.
With allegations growing daily in England, with seven clubs now involved, an investigation by the SFA would be right and proper, but as it would be the first time they've done anything right and proper, i have my doubts about the motive.
However, whatever the motive, its time to do exactly that, and cleanse the game of this abhorrent abuse, if it needs cleaning of course, in order to first of all , protect youngsters, and secondly, to protect youngsters. Thats the main issue here.
It should have been done when the Torbett atrocities came to light, as their was a chance then to appeal for other victims to come forward.
It wasn't, for whatever reason, but there is no excuse not to do it now.
There was no diary yesterday, the second omission in three days, as I couldn;t get out of bed on Saturday either, and for any of you seeking compensation, here's who to tackle..
On Sunday we asked you about this picture…
Which didn't get any answers as you were all too busy arguing with yourself. I'm guessing the call I got from Monti on Sunday was from Malones, but I couldn;t hear a thing for the racket you were all making.
Sounds like fun, though.
so today, and please, a little effort , if you will..
Oh, before I forget. A big well done to my mate Chuck over in the USA. He's passed all his entrance exams to join the police, and in his final test he was asked to take a gun and go out and shoot nine black guys and a cat.
"Why the cat ? " he asked.
" Hey buddy, we love your attitude. You're in ! "