Well, it seems to be all the rage to be going for something or other.
Brendan Rodgers will go down in history today if Celtic win their 100th major trophy against Aberdeen at Hampden. The showpiece occasion should be enjoyed by both sets of fans, who tend to get along fairly well, largely becuase of a mutual unattraction to another lot , who , come to think of it, are pretty much unattractable to anyone in civilised society.
Brebdan Rodgers will assess his players this morning, before deciding on whether or not there are any hangovers from the european exit in midweek.
The only change of any real significance from what has become his first eleven will be the absence of Scott Sinclair, who was professionally fouled by everybodys favourite other side, Barcelona.
Well, everybody elses favourite side.
The dilemma for Rodgers is whether or not to include Patrick Roberts from the start, or to go with Leigh Griffiths, if the latter is fit.
The prospect of Dembele and Griffiths up front is quite interesting, and whilst both can perform adequatly by themselves, its a bit of a mystery as to why Rodgers won't adapt to include the two of them.
Winning the cup isn't, apparently, the main objective for Rodgers..
"I've been asked if it's about me winning my first trophy. It's really isn't. When I first set out in coaching it was about improving teams individually and collectively.
"When I look beyond my career, what will define me as a coach personally will be about improving players.
"When I'm hobbling about with a walking stick I'd hope to look back and players will know I've done my best for them.
"My ambition is always for the club to win trophies as a result of me being here.
"I'm not taking anything away from it, but what it means to me personally is zero.
"Managers get judged on what they have won, but it's no drama to me.
"People can write and speak about it, but for me it means nothing.
"You look at good coaches. If I was to get the job at Barcelona and stay there for three years. "We'd win things but does that make me a good or bad coach?
"It says I've got great players. 
"There's load of coaches that never get the opportunity. I'm a massive admirer of Marcello Bielsa.
"This is a guy who hasn't had the fortune to be as decorated as some but he's a brilliant coach. He's a wonderful manager and a great innovator.
"I'm not trying to talk anyone down, it's just me personally.
"I never said out to do that when I became a coach and a manager, it was to make players better which consequently makes the team better and then hopefully for the supporters of that team we can give them trophies.
"I know the responsibility here is to win, that's why I came. But what is it for me? If we win on Sunday I'll be happy, I'll have a smile, but then I'll get ready for Motherwell." 
Aye, okay.
Have you seen the way he#s looking at the trophy ?
Probably wondering where the green ribbons are.
Maybe they had a plan for the semi final that didn't quite come off.
That's where Celtic may have tp worry today, as referees Hampden and the League Cup have all given us the heebie jeebies at some point or other.
John Beaton is the referee, and he's already under pressure from Aberdeen, as defender Graeme Shinnie has asked him to protect Dons talisman James Maddison. ( no, I haven't got a clue either )
'If there are nasty tackles, then James needs protection. He got fouled about three times in the first half against Inverness and I asked the referee to protect him a bit more. But he just laughed at me and kind of joked about it.
'James is a great player. He's the type of tricky player that will get tripped and fouled. He knows tackles are going to be coming and he has to bounce back up and get on with it.
Dons boss MacInnes is expecting a spot kick or two, although he's referring to a possible shoot out should the game finish in a draw, one always wonders what the rea;l reason is, after all, this is Scotland.. 
. "We'll practise three times. You're talking about players who probably haven't taken penalties in their career – and they might have to.

Well, thats Aberdeens tactics sussed. Ten at the back and fall over in the box after any breakaways. 


A foul on Maddison will be where  Aberdeens first penalty will come from, and certainly a few free kicks. You can expect a booking for Scott Brown, and probably Erik Sviatchenko. all the other will be at the referees own discretion.
I don't trust this guy, and over on the World Referees website, I discovered the reason behind my gut feeling..
This will be his third Celtic game this season, the others being the 2-1 win at Tynecastle, and the 2-0 win over Motherwell at Celtic Park.
He booked eleven at Tynecastle, and if you like your betting, then you would do worse than predict a similar figure today.
Probably with a sending off.
The scoreline, despite his best efforts should be in Celtics favour. Many are expecting a comfortable win, but as this may be Aberdeens best shot at a trophy, and the week off they've just had to get ready, I'd say it will be a lot closer than we'd like. (7-0 it is then,-Ed )
Aberdeens support have put together a couple of banners for today.
Two are superb, and deserve a lot of praise..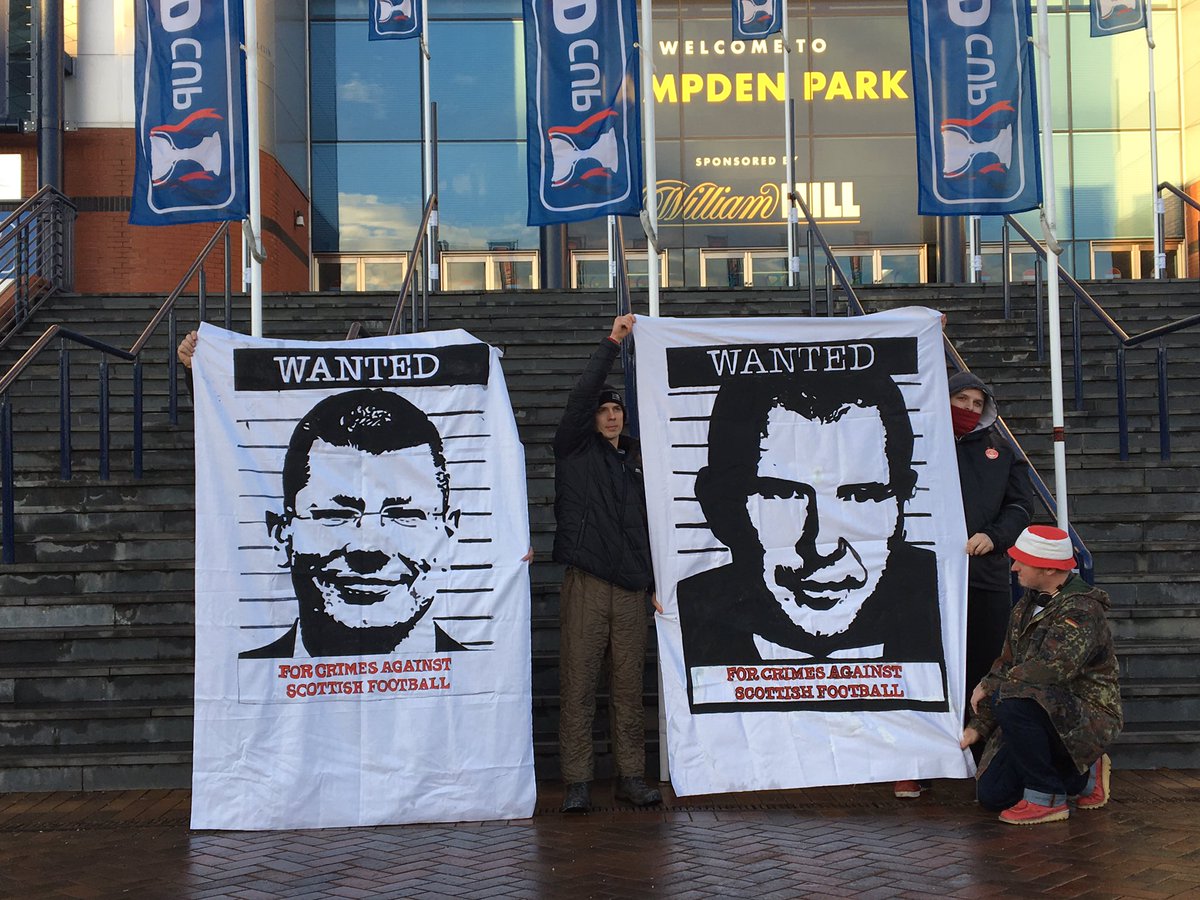 Whereas another simply shows that there are arseholes in every support.
With the football world rocked at recent revelations from Crewe, and probably about to be rocked with more revelations around the country, its hard to believe anyone can see this issue with anything else but horror, and sympathy for those affected by it.
But then again, maybe it isn't.
Wherever it happens, abuse is abuse. It should be condemned by all, and not used to make a point between supporters. victims should be supported, not mocked, and the perpetrators brought to justice.
Some things are beneath contempt, some behaviour completely unacceptable, and whilst the banner is distasteful, it shouldn;t be allowed to distract from the real issue, which is of vulnerable children being abused by those in a position of trust.
For more on this issue, the Clumpany has written a serious and thoughtful article, which covers it better than I.
Ahead of the game today, the papers were battling for the best exclusive, the most interesting interview or the biggest name to feature in their coverage of the first showpiece occasion of the season..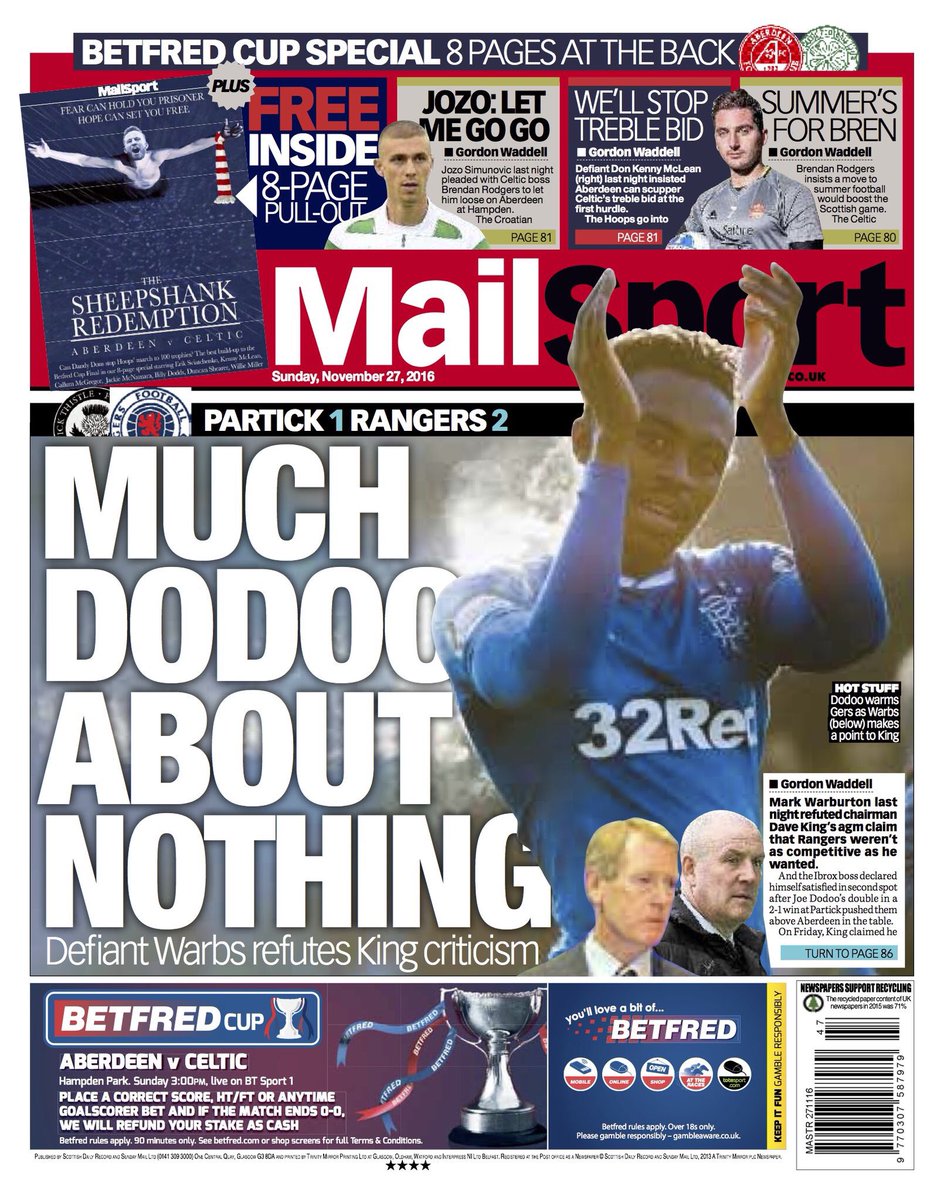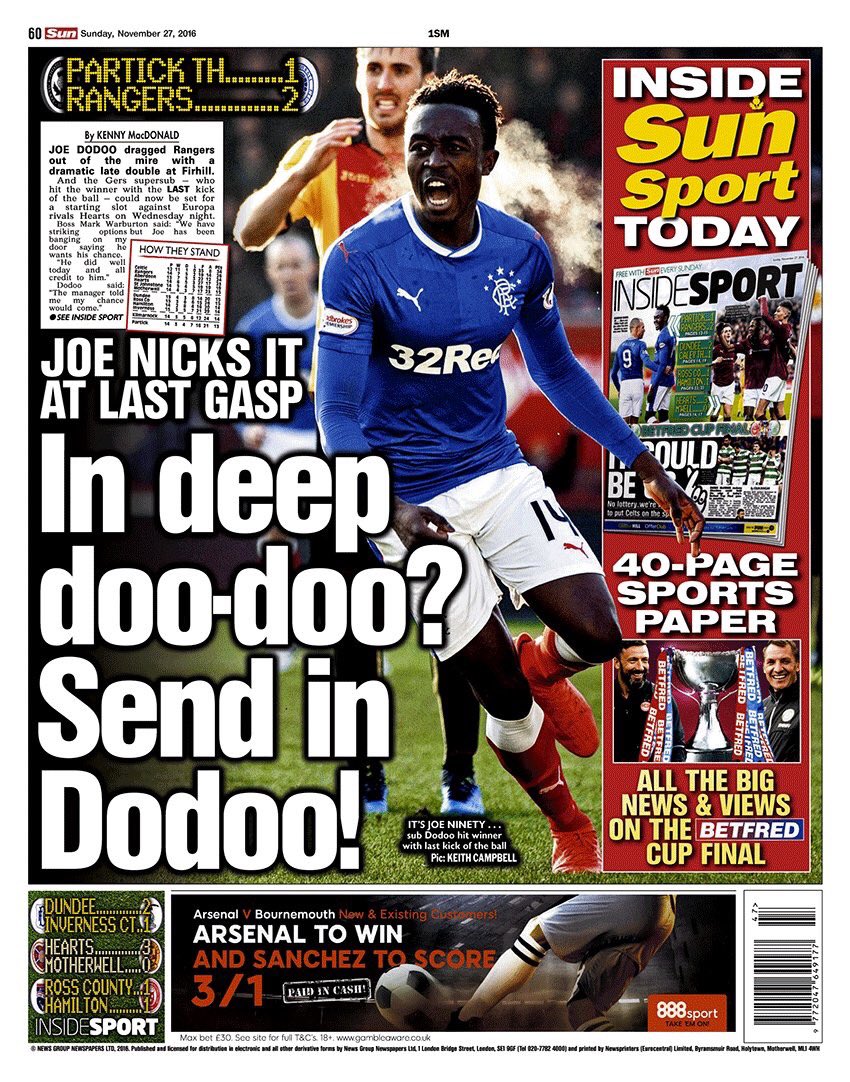 Well, they've got to keep the hordes happy. The 2-1 win over Partick moved them into second place as they continued their habit of winning in injury time. it just shows they are battlers who won't give up, and who will keep going until the last possible avenue of victory is closed off.
I'm talking about the players at Ibrox, not the referees, by the way.
Today should be a good day, the sort of day we all look forward to.
Lets not have it spoiled by the few idiots in the crowd.
A festival of football? a match to remember ?
Why not ?
Lets show the watching millions that our game isnt so bad after all.
As long as Celtic win, of course.
so far, in this tournament, Celtic have not conceded a goal, and the club haven't conceded a domestic goal for weeks. In fact, after Tottenham were beaten, Celtic are now the only undefeated club in British league football.
Forget about the Champions League, that was just a practice run these last few months.
Today is the real deal, the first step to a rare treble.
On Friday we asked you to explain this…
We were told it was the uniform of a golf ball collector in the 1920s, but it seems we were wrong.. and it was in the very first reply we were pointed out the error of our ways..
Today, in keeping with the theme of cup finals, heres one for you.. from the 2000 final between the two clubs..
Finally, may I offer all our thoughts and prayers to the family and friends of Davie Provan, the Rangers defender of the sixties, who passed away yesterday.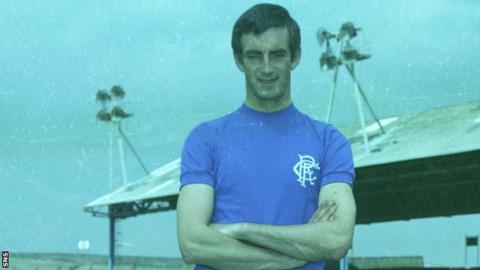 you'll have seen the clip of Jimmy Johnstone turning him inside out, but Johnstone spoke very highly of the man, and by all accounts he was a gentleman.
Rest in Peace.