Celtic Diary Monday October 31; The Assault On Europe
This military jingoism, which started over on the other side of the river can be quite infectious, and no doubt I won't be the only one to use war references as the Celts travel to Gladbach to play the local team.
Actually, thats one thing you can say about the SMSM, that they rarely use that kind of language, as opposed to their English equivalent, who are never shy of telling us that Fritz doesn't like it up him, which frankly makes Fritz pretty much the same as the rest of us.
Celtic need to get a point from this game to keep the campaign alive, and although a defeat won't mean that Celtic exit europe, mathematically at least, it does mean that it will be extremely difficult.
The team, on a high after completing two difficult games and a Cup semi final without losing a goal may yet surprise us, as BT sports have done by putting the game out live on Freeview.
Optimistic now rather can confident, maybe Celtic can sneak a win over there. in the past, Celtic have performed well away from home but always seem to make an arse of it somehow, and usually come away empty handed.
Manager Brendan Rodgers appears to have been working on that;
"I said to the players a few weeks ago, you have to learn how to win 1-0, They're not always going to score four or five or six goals.
"But if you've got that spirit and collective mentality to fight then it gives you a great chance in any game. The game would have been out of sight. That was the reality of it.
"I think there's a real connection now, between the supporters, the club, the team, everybody is pulling in one direction. But there's still room for a lot of evolution of the club, both off and on the field.
"What we showed today was that we can win any game of football.
"What it was like in the past, I don't know. What I know with this group is that they have confidence. They can outplay teams, they can outpass teams, they can press teams, and if it's a fight, they can fight
"They can stand up and be counted, be aggressive. We've come to some really tough places and won."
It will be interesting to see if Kolo Toure starts the game is is held in reserve to strengthen the defence should Celtic do the unthunkable and be ahead in the game with maybe twenty minutes or so to go.
That would make sense, as not only will the Germans see him as a possible weakness due to his mistakes allowing them to score last time out, he didn't have the best game of his Celtic career a couple of weeks back.
Simunovic and Sviatchenko will be our first choice pairing next season, so it makes sense to start them together tomorrow if only for the experience.
Emilio Izaguirre will step in for Keioran tierney, and he is a different type of left back. much more aggressive and certainly more of a physical presence than Tierney.
normally i wouldn't advocate too many changes before a big game, but a different back four, cpmpleted with Mikael Lustig, will mean that the Germans won't be as confident of breaching the defensive line. ( I thought you said you would leave the military stuff to the other lot -Ed )
Will Nir Biton partner Scott Brown in the middle. Probably, but again there is a valdi case for the energy and drive of Stuart Armstrong, who is again, a different type of player from what Borussia would expect.
Tom rogic will start, but this time how about he makes way for Leigh Griffiths on the hour ?
As we nned to score goals, it makes sense to include the guy who can get them.
Dembele will probably start up front, flanked by James Forrest and Scott Sinclair, and the two wingers know they have to keep possesion and take the ball out of the danger zone.
There's goals in the team at any level, but they will need to start the game at pace, and keep it up for the duration, whilst not allowing themselves to be led into a dance by the Germans when not in  possession.
And if Celtic can stop giving the ball away, which is still the sides biggest problem in Europe, then who knows ?
One problem might be the referee. He's Jorge de Sousa of Portugal, and is rather too handy with the yellow cards for my liking. Especially for a game featuring two northern European sides who don't mind a bit of robustness.
| | | | | | | | | |
| --- | --- | --- | --- | --- | --- | --- | --- | --- |
| Sun | 23/10/16 | SEL | Sporting Braga II | 1 – 2 | Santa Clara |  x2 | View events | More info |
| Tue | 11/10/16 | WQE | Kazakhstan | 0 – 0 | Romania |  x2 | | More info |
| Sun | 02/10/16 | SEL | Famalicão | 2 – 3 | Portimonense |  x4 | View events | More info |
| Tue | 27/09/16 | UCL | Dinamo Zagreb | 0 – 4 | Juventus | | View events | More info |
| Sun | 25/09/16 | PRL | Paços de Ferreira | 2 – 1 | Rio Ave | Fourth official | View events | More info |
| Mon | 19/09/16 | PRL | Benfica | 3 – 1 | Sporting Braga |  x4 | View events | More info |
| Sat | 10/09/16 | PRL | Porto | 3 – 0 | Vitória Guimarães |  x4 | View events | More info |
| Sun | 04/09/16 | WQE | Lithuania | 2 – 2 | Slovenia | Fourth official | View events | More info |
| Sat | 27/08/16 | PRL | Tondela | 0 – 1 | Belenenses |   x9 | View events | More info |
| Sat | 20/08/16 | SEL | Desportivo Aves | 2 – 2 | Vizela |  x5  | View events | More info |
Ultimately though, Celtic will come back with something if Craig Gordon keeps another clean sheet, something thankfully he's been getting the hang of again.
The goalkeeper seems to be back to his old self, and told the Sun that he thinks that Celtic may yet surprise a few people.;
 "Of course we believe. We believe we can do it in every game if we get enough of our players playing at the top of their game.
"If we do that, we'll match them. There are possibilities still for us in Europe and that's what we are looking at.
"We'll go into the game and look to keep things as tight as we possibly can against a good team.
"We know they are going to create chances, but if we can limit those and have a threat on the break, we have a chance."  
Which sounds very sensible, very calm and almost very realistic.
We are the underdogs, as Gordon says here, when asked if they are ready for the game;
"What we have learned? We'll see. I don't want to say too much.
"In the debrief after the game, we watched bits of it back and the manager has pointed out areas we need to improve for this time around and we'll be looking at that again now.
"We are certainly going to go into the game as underdogs and nobody will be expecting anything from us but, within our group of players, we know what we are capable of.
I think we prefer being the underdogs.
 Today is Halloween, the traditional marking of the coming of winter where kids go around in ridiculous outfits and demand money from householders to prevent criminal damage.
 Or sweets. You can probably save your windows by handing over a couple of wine gums.
With the Celtic game taking place on All Saints Day, which is tomorrow, I wonder which one will provide the headlines writers with their clever and witty leaders.
Speaking of Halloween, don't let the kids see this, as the popular daily advertising circular the Daily Record has got into the spirit of things with a photo that will keep the them away from the fireplace…
Strangely enough, the paper makes no mention of the other major event that happened on October 31…
Former Rangers FC ? Looks like the real thing to me in the picture.
No matter what happens tomorrow night, theres a timely reminder for us today;
Some good news, as just a mere fifty years since he scored the most important goal in Scottish football history, and still the only one to deliver club footballs biggest prize to this country, there's recognition  for Stevie Chalmers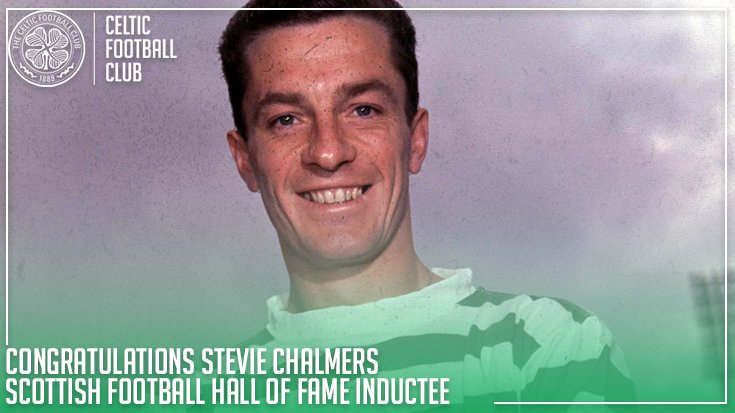 If my calculations are correct, he becomes the one hundredth member of this , er, exclusive club.
Started in 2004, the Scottish Football Hall of Fame is a permanent feature in the Scottish Football Museum to honour the truly great players, managers and officials who have reached the pinnacle of their profession and have made a significant contribution to Scotland's football reputation through their skill, spirit and determination. 
Chalmers takes his place alongside luminaries such as Professor Stewart Hillis, ( Look him up. I can't be arsed ) RS McColl, for selling the papers that contain the articles about football and Terry Butcher, who isn't Scottish but does like it up here. , as well as Andy Goram, George Graham and Walter Smith who have all been shining beacons of respectability within our game.
However, that particular cheapening of the game, and those who achieve something pales into insignificance when Herald writer Matthew Lindsay tries to drum up support for the national team, and gives us another example of the mentality that if allowed to continue unchecked, will kill Scottish football.
The gulf in quality between Scotland and England is, regardless of the latter's far from stellar showings against Malta and Slovenia and even Slovakia before that, considerable. To say that it will be a contest between Premier League and Championship players is no exaggeration.
The defences the respective teams will field underline this fact. Southgate will be able to call on Kyle Walker (Spurs), Gary Cahill (Chelsea), John Stones (Manchester City) and Danny Rose (Spurs). His counterpart Gordon Strachan, meanwhile, will probably go with Callum Paterson (Hearts), Russell Martin (Norwich City), Charlie Mulgrew (Blackburn Rovers) and Lee Wallace (Rangers).
The Scotland backline will certainly be the best available to Strachan. But what are visitors' chances of shutting out hosts who can deploy Dele Alli, Marcus Rashford, Wayne Rooney, Daniel Sturridge, Jamie Vardy and Theo Walcott? Virtually non-existent I would suggest. 
Somebody should explain to Lindsay that although the English can deploy-oho, there's your military jingo again-they can't play them all at once because of the new eleven a side rule.
Local rivals "rangers ", in a desperate bid to raise much needed finace, are now asking supporters to make their season books available for resale if they can't make the game.
They really have no shame at all.
Did you know that if you can't make it to an upcoming Gers game you can make your seat available for resale?  
I'm sure that no season book holder at Ibrox has resold his book to a mate. But this time he can ask the club to sell it for him, and all the club will keep is a 100% admin fee.
How can I make my seat available for resale?
If you are unable to attend a Ladbrokes SPFL Premiership fixture you can make your seat available for resale by calling 0371 702 1972, online at www.rangers.co.uk or in person at the Rangers Ticket Centre. 
Surely no non "rangers " fan would get a hold of someones season book number and phone up to ask the club to sell it for them…? That would be childish.
Can I change my mind after making my seat available for resale?
If your seat has not already been sold via secondary ticketing you can re-activate your smartcard by calling 0371 702 1972 or visiting the Rangers Ticket Centre. There will be no charge to reclaim your seat. If you decide to attend the specified match and your seat has been sold via Secondary Ticketing you will be required to purchase a match ticket (subject to availability) at the full price. 
silly question. how can you change your mind if you haven't got one ?
What are the benefits to me if my seat is sold via Secondary Ticketing?
You will receive varying credits towards your season ticket for Season 2017/18 depending on the level of the ticket purchased on your seat i.e. Adult priced, Concession priced or Juvenile priced ticket sold. Credits raised against your season ticket seat can only be used against your season ticket renewal price for the following season (or season specified), provided your season ticket is renewed within the specified deadline, and credits cannot be transferred for cash or used towards any other match tickets or Club products. 
Or, "We'll knock a couple of quid of your next book, unless we dip into liquidation, and then you can justy fuck off like everyone else will have to. Like the debenture holders did four years ago.
Will my seat automatically be put forward for sale once returned via Secondary Ticketing?
Your seat will only be put up for public sale once all non-season ticket seats have been sold. 
Yes, but we won;t tell you if it is.
Can I request what sales level my seat is sold at?
You cannot specify what level your seat will be sold at. Your seat will be made available for general sale and sold at the price level requested.
When is the cut off for credit to be added to next season's season ticket value?
Credits for season ticket renewals for season 17/18 will be accumulated to the home fixture nearest to 28 February 2017. All credits accumulated after the 28 February 2017 and including season 2017/18 will be credited against season ticket renewal for 2018/19. 
They are going to be selling next years books in February ? They won't even know what division they'll be in by then. Oh wait, silly me. I forgot about reconstruction.
Can I make a Cup match ticket available for Secondary Ticketing?
You cannot release your seat for any non-season ticket matches purchased. 
I'm not surprised they had to clarify that only games which are on the season book can be sold. They're not called the gullibillies for nothing, you know.
 Speaking of that club, and its fans…
The Football Museum in Manchester tells of a visit by "rangers " long before the UEFA cup final of whenever it was…and puts to bed any doubt that whilst they may not be the same club, they are certainly the same fans…check the date on this, spotted by auldheid when he was wandering around Manchester…
The caption used in yesterdays competition was this one
which prompted the winning reply…
By the way, enough of the abuse. I'm tired of ploughing through replies which are just abuse.
There'll be no more warnings, and you may find your posts go missing. And not just the offensive ones.