Celtic Diary Thursday October 13: The Clouds Gather
Thats the international break over and done with now, thankfully, and we can return to some sort of normality as real football, where the fans and the players give a toss, is back this weekend.
Hopefully, that will give our esteemed hacks something to write about that has at least a semblance of truth to it, instead of the guff we've been fed of late.
After all, feeding people on guff is our job, as we don't have the kind of access to the major players in the game that the SMSM has.
Well, us and the Express, which makes our research look positively painstaking.
PSG move for Celtic strike sensation
Celtic striker Moussa Dembele's brace in his team's 3-3 Champions League draw against Manchester City has prompted Ligue 1 champions Paris Saint-Germain to prepare a move for the player, according to the Express.
The French giants are reported to have watched the 20-year-old for Les Bleus'Under-21 outfit, and want to re-sign the former Fulham striker four years after he left for England.
PSG are determined to add more French talent, but could come up against Arsenal, Crystal Palace, Southampton and Hull City in the race to sign Dembele. 
It's now a race to sign him, as opposed to a few clubs monitoring his progress.
Celtic's biggest shareholder Dermot Desmond is on record as saying the club doesn't have to sell the Frenchman, and the Frenchman has said he's happy where he is, but that doesn't bother the Express.
Or anyone else, for that matter.
The big story yesterday surrounded the private tax affairs of a few former Celtic players, and although there were hundreds of others within the game involved in similar ventures, it was the Celtic connection that made the front page. Even though its a fairly tenuous connection, the idea at the Record, who carried out this investigation, is to paint the club in a shade fairly similar to that of another club who had much more serious tax problems.
 A bit of the old whataboutery ? That Old Firm, what are they like,eh ?
Or is there another reason ?
Things do appear to be a little jittery over at struggling new club "rangers ", though its not clear precisely what is causing them to fret.
Various tales have emerged from the crypt from various people, but the biggest clue came yesterday when PR supremo James Traynor, the man widely tipped for the role of the Fat Controller in the new Thomas The Tank Engine movie,
( The Fat controller is the top picture, just to clarify, and the bottom one, I suppose )
threw a wobbly of his own during a press conference featuring manager Mark Warburton and Sky sports hack Mark Benstead, who asked about Joey Barton…
You can watch the incident here…
and I'll pause for a moment while you watch it again.
Now, lets look at what happened here, and its a lot more serious than you would think, -you can stop laughing now- because it shows a desire to control information coming from the club, and it showed us exactly where their major problem lies.
If your PR man steers the press away from subject, then thats the subject the public need to know about, because thats the one thats giving them the most grief , and probably the one they don't have an answer to.
What it also shows is that Warburton isn't being allowed to be his own man, and he is being directed by the PR machine in public, and suggests that he may be being directed by others elsewhere.
He certainly seems to go meekly when Traynor throws his little fit, and unless he battered him behind closed doors, and Traynor is out on is arse this morning, then we can expect more of the same.
Celtic supporters, myself included, have often criticised our own clubs lack of control in press conferences, when faced with daft questions from the media. This incident shows that too much control can be as damaging as too little, but fortunately we have a manager who can look after himself, and if he doesn't want to answer a question, can be fairly dismissive of hacks who dont give up.
Warburton looked like a man who would happily tell all, and may well have cracked under pressure, which would explain the presence of Traynor, who no doubt sat down last night and added another chapter to his forthcoming book-"New Rangers: My Part In Their Downfall"
As for the Record hacks behind their big story, it must be time for Celtic to finally call a halt to this nonsense. It may be the policy of the S?Fa, and indeed , the new Ibrox club, to ignore stories which paint them in a bad light, but this cannot be allowed to be the policy at Celtic.
Apart from the obvious implication of Celtic being involved in these schemes, such a story could have a damaging effect on the share price, and isn't it the duty of the board to act in the best interests of those shareholders ?
Once would be nice….
This time next week, Celtic may well need a deflection of their own….
but we'll worry about that when, and indeed if, it happens.
Despite the rumblings, I'm fairly sure it won;t be this bad..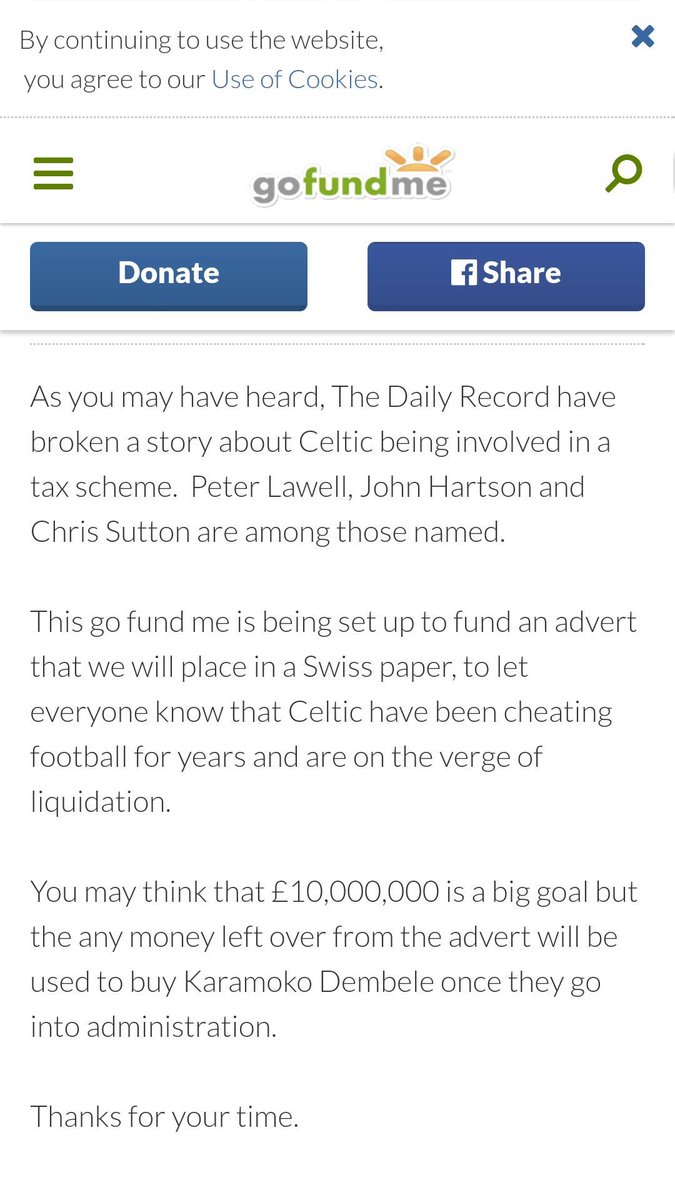 There was more news of clubs being involved in talks about forming an international league, as a way of sticking two fingers up to UEFA, who seem hell bent on turning the Champions League into a closed shop.
Website 101 goals explains it best…
The North European League
The new Champions League changes will only hold until 2021.
At that point it's possible that the biggest clubs in Europe could band together to cede into a new European Super League.
At the same time as that threat looms, it's been reported by Danish paper BT that clubs from Belgium, Holland, Scotland, Denmark, Norway and Sweden are in talks over starting a North European League from 2021.
So which clubs could make up the league?
According to BT, the clubs involved are Ajax, PSV and Feyenoord from Holland, Anderlecht and Club Brugge from Belgium, Scottish giants Celtic and Rangers, plus Sweden's Malmo, Norway's Rosenborg and Denmark's FC Copenhagen.
Indeed, BT have received confirmation of the talks from FC Copenhagen director Anders Hørsholt:
Yes it's true. If we do not act now, we will see the biggest clubs grow larger and stronger while it will be increasingly difficult for clubs like us.
We must therefore look at which alternative international opportunities for FCK in the future.
It is still too early to talk about specific models, but the discussion of leagues across European borders is a theme that we're looking to actively participates in.
If they don't act now, one of those clubs mentioned might not make it.
Stories of the demise of the new "rangers " have been abundant pretty much since the original £60m or so raised by Charles Green disappeared, and as the club have yet to see any investment from the "real Rainjjurrs men", things are apparently a little bit sticky as Christmas approaches.
 From barking about posing a credible challenge to the title this season, the club may now find a different sort of challenge if the rumoured administration should take place.
If it took place tomorrow, and I'm not saying it will, the league table would take on a new look.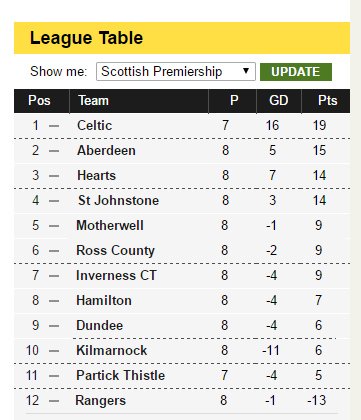 Is it worth putting a few quid on them finishing bottom ? Maybe, and its certainly worth a punt on them not making the top six.
Maybe Traynors little stunt was designed to focus on Barton as a deflection, and not to draw attention to any other problems they might have…
Elsewhere, Police Scotland have released fourteen images of people they would like to talk to about the kefuffle at the end of the Scottish cup final last May.
One of them looks familiar..
Have a look at number 105…then have a look at this..
Rangers manager Stuart McCall (centre), assistant Kenny Black (left) and goalkeeping coach Jim Stewart watch the match from the stands at Hampden
Thanks to Tim Buffy, who noticed the uncanny similarity. 
There were an abundance of excellent answers to yesterdays caption competition,
But they were all beaten into second place by this one, from Doc..
Caption: tavernier tries to recreate Nakamura's moving bus free kick – passengers die of boredom. 
Today, we've found some old pictures that have had colour added to them, enhancing the quality.
will the quality in the picture be matched by the quality of the answer ?